Our First Day Driving
Well, after all the paperwork, presentations, videos and homework, we finally got to get behind the wheel of a truck today. Nothing major, we learned how the company wants us to do pre-trip inspections, how they want us to couple and uncouple, and then we went for a little drive. They split the class up, half of us went out in the morning, two students to one truck, while the other half stayed in the classroom. My trainer has been with the company for 20 years, he is a great guy. He took us for a drive, basically showing us how the company wants us to drive to be safe, how they want us to turn, what to look for when driving, and the proper way to shift.
Learning Things All Over Again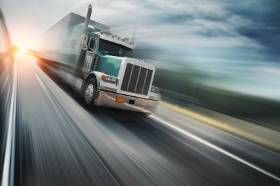 Now, let me throw this out there, not to scare anyone, but so you know what to expect. I had to learn some things all over again from cdl school. The company wants us to do things their way, not the way we learned in cdl school. It was explained in cdl school, by our instructors, that a "button hook" turn is not only dangerous, but also illegal. They taught us to drive straight out, use all of the lane and swing it over, if we needed more space "intimidate" the cars in the turning lane to back up so we could complete our turn. At the company, "intimidating" other drivers is a no no, and we are to "button hook" any turn we feel is sharp enough to warrant it. According to our trainers, if done properly, this is the safest way to negotiate a tight turn, and we will do it that way.
Another thing I have to learn over again is shifting. Not up shifting, but downshifting. In cdl school they showed us the finer points of the double clutch while upshifting, which is the same way the company wants us to shift. Where my problem lies is in downshifting. In school I was not to double clutch while downshifting, at the company, that is how they want it done. So I have to work on my downshifting. All in all, my trainer said for the first day, I did good and was right on track, but he expects it to be better every day, and we must be proficient by the end of the week.
Back To The Classroom
Once we were done driving, it was our turn in the classroom so the other half could go drive. We got to learn all about trip planning and using our new Qualcomm system. Our company is on paperless logs with the Qualcomm , but they still want us to back them up with paper logs, "just in case" the system were to shut down. So we learned all bout our new Qualcomm and all about trip planning. The trip planning I picked up on rather easily, but I am a numbers guy, so I think it came a little easier for me. I think some others were struggling just a bit, but in the end I think everyone got the basic concept.
Information Overload
I will tell anyone out there thinking of becoming a trucker that it's not just driving across the country. I knew, after doing a lot of research, that there was a lot to learn as far as regulations and paperwork, but today I think a few of us got information overload. At one point I actually thought to myself "Self.....how are you gonna remember all of this??" Then I took a step back, took a deep breath, and just continued on. It can get very overwhelming, but thousands of truckers do it on a regular basis, so I know I can too. Just keep that in mind when making your decision. If you don't like paperwork, eh, you better think twice about it!
Uh oh, I have to finish my trip plan from Green Bay, WI to London, KY for my homework tonight, so I better get going!
Related Articles: