Blogs By Author

Blogs By Tag
Today, I became a fully certified CDL instructor (woo hoo!). It feels very strange to be teaching students how to shift a truck when it feels like I just got my CDL license last week. Of course, I've had my license for over two and a half years now, but it sure doesn't feel that way.
No Time to Waste!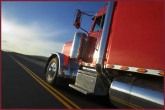 The company didn't waste any time. I was immediately given three students who have never driven a truck before in their life. We first started out on the "training pad" simply moving the truckstraightforward and straight back. One of my students had a tough time with this at first because he was so nervous and couldn't smoothly operate the clutch. But after a few tries and a little patience, he was doing just fine.
Teaching Students how to Shift
After that, we went over to an industrial park to learn proper shifting in a big truck. This was a very intense experience for me. They wanted us to teach the students how to shift with a trailer attached, right from the start. I was probably as nervous as my students, but kept my cool.
I can see why some trainers begin to yell and get impatient. There's no valid excuse for that, but I do understand it, especially if there is a communication breakdown with the student. There's an extreme amount of pressure on instructors and trainers. Just put yourself in the trainer's shoes (my shoes!). I am basically responsible for the safety of three students, the motoring public, the safety of extremely expensive equipment, and my only real useful tools I have are my experience, patience, ability to handle the stress, and my verbalinstruction. It's easy to see why some trainers "crack" under the pressure, especially when the students aren't listening. When instructors run out of words to say and can't get through to a student, it can become an ugly situation.Luckily, since I'm such an awesome guy, I was able to stay calm and keep my composure. Did they even think to thank me? Well, actually, yes they did!
A Shaky Start!
As the first student began to drive, I had an immediate flashback to when I first started learning. He was so nervous, his brain was just frozen and he had no coordination. He didn't know what pedal to press and which brakes to release. It was my job to stay calm and walk him through every single step. Things that seem very obvious and instinctive, such as "put your foot on the brake" or "depress the clutch" had to be explained, sometimes more than once. But I could relate. I was in his position less than 3 years ago and remember the paralyzing feeling very well.
As we moved forward, the truck lurched ahead which spooked the student. His immediate reaction was to hit the brake. Since we were going so slow to begin with, this stalled the truck. My response? "No big deal, dude. Let's start over and give it another shot."
Lots of Encouragement!
Without trying to sound condescending, I immediately began "rewarding" every single thing he did right. It's natural for a student to feel like they are doing everything wrong. The first time the student made a successful shift, I responded by saying "Nice! There you go, man! No problem!" This seemed to ease his fears a bit. He continued to make mistakes, of course. But over time, as he began to get the "feel" of it, he did just fine. Mistakes are automatically a big deal to the students, so I tried to make sure the mistakes were no big deal to me. But I made a big deal out of anything positive they did.
An Unexpected Lesson
As we approached a sharp turn, it suddenly occurred to me that I'd have to teach another lesson simultaneously. This guy has never made a sharp turn in a 70ft vehicle before! He had no clue that we'd need to use the oncoming lane in order to keep our trailer out of the right ditch. The only thing I could do was instruct him how to do it, and trust that he'd do what I said. Luckily, it was a success. A few more turns and a couple more missed gears later and it was time to train student #2.
Some Drivers Are Naturals
The second student simply "got it" from the very start. He was shifting smoothly and with great technique right away. Since he was doing so well, I gave him the challenge of trying to downshift. After a few tries, he picked up on it and was driving like a pro. I still had to guide him through the turns and corners, but this guy made my job pretty easy and less stressful.
Some Drivers Are Not Naturals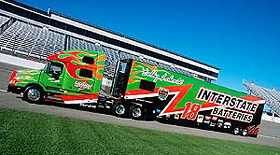 The last student to go was my personal student. The one who will be riding with me for the next few weeks. And wouldn't you know it, he was the one struggling the most. Stalling, grinding, jerking, and nervous tension.
On one occasion, we had to stop on an incline. As he tried to get the truck moving, we began rolling backwards... with a vehicle behind us! That forced me to take some quick and swift action, but thankfully we stopped in time. I may have had a minor heart attack, but there was no harm done!
A Little Practice Changes Everything
We had time to rotate through so each student got to drive 3 times. In the end, my personal student who was struggling the most ended up being the best. Student #1 began having more trouble as time went on, especially with double-clutching (a technique used where the clutch is depressed and released with each shift). He was simply over thinking it and so afraid to do anything wrong that he wasn't able to do much right. Towards the end, he began improving again, but I just didn't have enough time to perfect it with him. I wish we would have had 20 more minutes. I'm sure he would have been doing great.
Student #2, who was originally the best, began getting a bit too confident, especially with his cornering. But with further instruction, I have no doubt he will become a great driver. All in all, he is a natural, at least at shifting.
Finally, my personal student is shifting almost perfectly now. We went out later in the day, just the two of us, and refined his skills a bit. He is now ready to drive on real roads with real traffic, which we'll do tomorrow. He improved immensely throughout the day and will do just fine. Heck, with my help, he'll be the best!
Advice from a Trainer
To those of you who are about to enter truck driving school, I have one very important piece of advice for you: manage your stress! I know it's stressful learning how to drive a truck. But the biggest problem I saw today wasn't the student's ability to shift or corner the truck. It was the lack of rational thought and decision making due to stress. During my time as a truck driver, I've learned that stress management is crucial to driving a truck safely and efficiently. Start managing that stress now. I know this is easier said than done, but it's a very important part of learning how to drive a truck. Stress management is huge.
Don't Force It!
The other problem I saw today was students trying to "force" the shifter into gear.This has a lot to do with the stress and pressure they were under. I finally hopped into the driver's seat and demonstrated to them that I could shift the truck using two fingers (my thumb and middle finger). You don't need to put any force into it at all! If you do it right, the shifter will simply slide into place. If you do it wrong, the problem is either the placement of the shifter (wrong gear) or the RPM's of the engine. Nothing more to it. Trying to force it will only worsen the situation. Admittedly, this was one of my problems when I first began learning how to drive, so I could easily relate.
Improvements Happen Quickly
If you are struggling with your shifting, don't sweat it. All truck drivers have struggled with shifting. This isn't unique to you. No doubt, you will improve much faster than you think. For some people, it takes time for it to "click" and for others, they get it right away. But one thing is for sure; when it does "click" and you begin shifting smoothly, you'll improve at an incredible pace. So stay patient, listen to your trainer, and manage that stress. You'll get it! Millions of people before you have done this and there's no reason you can't do it too!
Until next time, drive safely!
Trucker (trainer) Mike