My First Time Driving A Rig Through The Big Apple
Well, I know it has been a while since I posted a blog. First, let me apologize - I have been meaning to put up more blogs, but being out on the road, I find that sometimes you just don't have time. Most nights, I just want to take a shower and throw myself in my bunk and get some sleep. Tonight, I am at one of our company operating centers, and don't have to get up early, so I thought I would write a blog about my first trucking experience in "The Big Apple".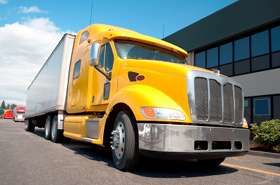 Now, first let me start by saying, I have never been to New York City. Well, not in my adult life. I know I went there as a kid, but you have a very different view of the world when you're little. Fortunately, I did not have to deliver a load into NYC, I just had to drive thru it, but for me, that was enough.
Everything started off great. I dropped a load in Burlington, NJ and was given my next load assignment. I was to bobtail up to Allentown, PA; pick up an empty trailer and take it to Chester, PA; drop it off; pick up a pre-loaded trailer and take it to New Milford, CT. As soon as I saw Connecticut, my heart sank. I knew I would have to drive through NYC. I had an open pick up and drop off time, so I immediately setup my trip planning in such a way that I would be driving thru NYC during the weeeeee hours of the morning. Therefore, there would not be a lot of traffic. "No problem," I thought to myself! How much traffic could there be on the interstate in NYC at 2am??
Trying To Get The Trip Started
I was off for Allentown to pick up my trailer. Now let me say, this is the first time I had bobtailed while it was raining.....it's kinda scary. You really have to slow down and pay attention. I made it to where I had to pick up my trailer, and that is where all my planning went out the window. I opened the trailer to check it out only to find out that it was full of pallets. I looked all over the lot for another empty, but there wasn't one. After going to yet another shipper , and again finding no empty trailers, I was almost out of hours, so I parked for the night and decided to look for another trailer in the morning.
The next morning, I went back to my original location for a trailer, and like a miracle, there was one there!! Now, my trip plan is all screwed up, but that's OK, it still won't be rush hour when I go through NYC. So off I go to pick up my load. I drop my empty trailer in the drop lot and proceed to the security gate to get my trailer. It is then that I am informed that my load is not ready. I had to give them my cell phone number, park across the street, and wait for them to call me when my load was ready. Across the street I go.....and to my amazement, there are at least 15 other bobtails sitting there. I talked to a few drivers, and all of them were waiting on their loads. Come to find out, this is a "common" occurrence with this shipper. Unbelievably, 18 hours later my load is finally ready, at 6 AM, just in time for me to drive thru NYC at rush hour. Uh uh, not me, no siree bob! I pull out my handy dandy atlas and truck stop guide, found my fuel stop in NJ, and drove there to fuel and take a shower.
Things Never Go As Planned
I learned early on that in the trucking industry, things rarely go as planned, and sometimes things seem to go wrong at the worst possible times! You have to expect the unexpected, and this day would really test me. As I am jumping on the freeway to cross the toll bridge into NJ, I jump into the E-ZPass lane since my truck is equipped with a transponder that gets me through tolls and some weigh stations. As I roll up to the gate.....I get a red message that says "toll not paid, Please proceed". What?? Toll not paid??? It was at that moment that I realized the battery had died in my transponder. I immediately got on the phone with my driver leader (dispatcher) and explained the situation. I was told that after this load, I would get routed by an operations center and they would overnight a new transponder to me, but in the meantime, I was gonna have to pay cash for my tolls and get reimbursed with my receipts. No problem.....how much could it possibly cost?
Viewing NYC For The First Time
So off I went. I went to my fuel stop, fueled up, took a shower, and ate. That took up enough time, and at least rush hour was over in NYC. So I jumped on the Jersey turnpike and headed toward Connecticut. As I got closer and closer.....I could see NYC in the distance....and wow, what a sight! The highways leading there are confusing enough, they split in 10 different directions. I just knew I had to stay in the lane that said "To George Washington Bridge." The closer I got to the George Washington Bridge, the heavier traffic got, and the more nervous I got. Then I see signs - "All trucks must use upper level of bridge." Uh, which way is upper level?? OK, common sense, just follow the truck in front of you!
I come up on the bridge, and see NYC across the river. I pull up to the toll booth and stop, and the guy looks at me like I am an alien. "How much?" I ask, and he kinda looks at me with a confused look and says, "Don't you have E-ZPass?" I explain that my battery had died and I had to get a new one. That is when the shock set in......"$65" he says. What???? $65 to cross a stinking bridge? Are you out of your mind???? I paid my toll with some grumblings and off I went across the bridge. The bridge was the easy part. Once across, there are bridges that look one inch taller than the truck, narrow tunnels, narrow lanes, traffic merging from both directions, and really sharp turns. Needless to say, I slowed way down. I am sure I made a few people mad, but I wasn't about to hit anything my first time in the city. After trying to merge into traffic to get to my exit, another truck behind me blocked off the cars so I could get over. Once I was through the really tight stuff, I settled down a little. Looking back on it, it really wasn't that bad. I know I did not go "into" NYC, just kinda went through it. But for me, that was enough! Wow, how I hate driving on the east coast sometimes!
Oh, and in case any of you were wondering - you will need exactly $99.85 to get from Chester, PA to New Milford, CT in a big truck. I learned the hard way!!
Related Articles: