CDL Testing Day From A Trainers Perspective
Well, the day has come! My student is ready to take his and get his CDL license. You can cut the tension with a knife! Here's how the day went:
An Early Start
Just like when I took my CDL exam, we were required to be up early and meet up with other students and the CDL examiners at 6:30am. And just like on my CDL exam day, my student was up before 5am. He woke up and couldn't get back to sleep due to the nervousness, so he simply began going over all of his pre-trip inspection study guides. I was also up early because I was nervous too!
A Long Day Ahead
At 6:30am we checked in and took a seat with about 15 other students and instructors. At that point, we were told that it was going to be a very long day. They only had 2 CDL examiners available for 15 of us taking our exam that day. So basically, it would be an all day ordeal and we needed to be patient.
The High Failure Rate
Then they started to lecture the instructors. Apparently, of the 15 students taking the exam, 10 of them were testing due to failing at least one of the CDL exams (either the pre-trip, backing, or road test) earlier in the week. We were then told that in the past 7 days, only 4 students had passed all 3 exams on their first try. So they were telling instructors that if we weren't 100% confident our student was ready, we needed to leave and come back another time. It was a very stern lecture about how our pass rate is way too low. Talk about making an already nervous group of people even more nervous!
The Long Wait
So once they were done lecturing everyone and we were all checked in, we went back out to the truck and had to simply wait our turn. During this time, we watched others being tested and practiced the pre-trip exam over and over again. It was a long, brutal, anxious waiting period. Finally, after about 6 hours of sitting around and waiting, my student's number came up. Four weeks of preparation and it all came down to three tests and it was going to happen right now. I'm not sure who was more nervous, me or my student! As the instructor, I'm not allowed to be around during the testing. So I took the long walk to the waiting area.
Test #1 - The Pre-Trip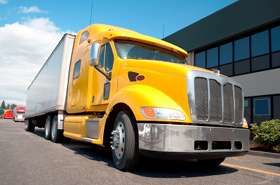 Unfortunately, I couldn't see my student performing the pre-trip exam from my vantage point due to some obstructions. So I was totally in the dark as to what was going on. As I paced around, another instructor came up to me and said "Hey man, you look like an expecting father right now! You alright!?" We both had a laugh and he shared some stories with me about some of his past students.
Then, I saw my student walking toward me. He was alone and his face was bright red. I began to worry even more. I asked him, "So, how did it go?" He said, "I did everything just like we practiced, but I think he failed me!" Awww, crap. Oh well, we'll find out where things went wrong and prepare to take it again. Students get three tries in a one month period, so it's certainly not the end of the world.
The CDL examiner came over and called us into the office. He said, "Good job, you are allowed to have a maximum of 30 points and you only received 2 points. You were a nervous wreck, but you did an excellent job."
What!?! What a relief! Phew! We were then told to go back out to the truck and position it on the pad for the backing test. As soon as we were out of earshot of the examiner I told my student, "Man, you scared the (you know what!) out of me!!!" I guess due to the examiners body language, and the fact the examiner never told him he passed, my student figured he failed something. But in reality, he did fantastic!
Test #2 - The Backing Maneuvers
Once the truck was in position and the examiner was present, it was time for me to make that long walk again and wait. This time, I was able to see my student. There isn't much of a story to tell here. My student performed nearly flawlessly. Each maneuver was done exactly how we did it during practice and was executed with very few issues. I couldn't have been more proud of him during the backing tests. Just perfect.
This time, as he walked towards me, there was a bit more confidence in his face and he gave me a little thumbs up. Even the examiner seemed quite happy. As if finally there was a guy who was ready! Two down, one to go!
Test #3 - The Road Test
Of the three, this is where I was the most nervous. My student is an excellent driver - unless he's under pressure. When he gets nervous, his driving really goes downhill. It was something I struggled with during the entire 4 week period he was on my truck. I couldn't get him to relax and think clearly while under stress. Driving during the exam to get your CDL license is an extremely stressful situation. So I was worried. Once again, I had to wait while the testing was performed. Off they went!
When they returned, I immediately knew something was amiss. My student was clearly flustered and as soon as he saw me, he shook his head no. Well...crap.
We went into the examiners office and he looked directly at me and said "Well, your student passed today. But his shifting is horrendous. Nearly every point he received was due to his shifting. Before he goes out with his trainer, you have to take him out and refine his shifting abilities because he is still shifting like a first week student." The examiner was clearly not happy with my student's shifting, but apparently he did well enough to pass! And with that being the final test, he was done! No more! The paperwork was signed and no matter how bad his shifting was, they couldn't take it away! WOO HOO!!!
A Dampened Celebration
I felt bad because my student wasn't happy with himself. This should have been a fantastic experience and a very happy moment for him. But he admitted that if he were the examiner, he wouldn't have passed himself. He said that his shifting was awful due his nervousness and the fatigue of a long day. The thing is, he knows how to shift and he knows how to shift well. It was a bit embarrassing for me too, as his instructor for the past 4 weeks, but it didn't bother me nearly as much as it bothered him. The bottom line is he got his license and passed all of his exams on the very first try. This was excellent news, especially considering most people don't pass on the first attempt. So really, he couldn't have been that bad.
So that's it! Four weeks worth of work paid off. Four weeks of minor heart attacks, struggles, accomplishments, studying, nervousness, tension, excitement, new experiences, and more information than he ever imagined he could ever cram into his head in such a short amount of time. He's now out of my hands as he continues onto the next phase of training!
Until next time, drive safely!
Trucker(Trainer)Mike
Related Articles: