Blogs By Author

Blogs By Tag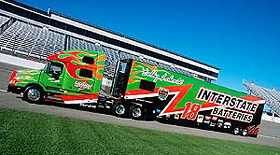 There are a lot of factors that will affect your ability to find job placement in the trucking industry. Not only the obvious ones like employment history, criminal history, and driving record, but also things like your physical health and credit scores.
The trucking industry is quite strict about the people it hires because of the huge liability involved with putting someone behind the wheel of an 80,000 pound truck. So we'll cover some of the major factors that will affect your ability to find work in the trucking industry, and then we'll talk about how you can determine your chances of finding work before making the commitment to enrolling in a truck driving school.
Criminal History
Felonies under five years old make job placement in the trucking industry almost impossible. Felonies over ten years old are workable, but still do not guarantee placement. Some companies will never hire an individual with a drug or theft related felony and others will never hire someone with a violent felony. Misdemeanors are also considered by most trucking companies but are less scrutinized.
Some companies offer a review of the felony/misdemeanor so if it is over five years old you should apply and speak with a recruiter about the details. There is a chance you may be hired.
Alcohol Related Violations
Alcohol violations, such as DUIs and DWIs must be at least five years old to even be considered, ten years is standard. No more than one violation. Trucking companies are fully aware that a "Reckless Driving" on your record is often a plea against a DUI; don't assume your DUI is hidden under this label.
Drug and Alcohol Testing
Positive substance abuse testing histories are very problematic for hiring in this industry. If you have failed a drug or alcohol test within the last ten years you will probably be denied placement. If a company does consider you, they will need to access your "approved" status from a "SAP", Substance Abuse Professional. If you have not met with a SAP, placement is near impossible. All truck driving students will be tested prior to enrollment and will then be placed in a random drug pool while in school. Once students graduate and move on to their new jobs they will be tested again and placed into a new drug pool.
Some companies now require hair follicle testing rather than urine. Hair follicle testing is more expensive, more accurate and more capable of finding prior drug use histories. Do not assume that just because you "quit in time" to register "clean" for enrollment into a truck driving school that you're in the clear. Trucking companies can retrieve several years of use/abuse via a hair follicle. Individuals who are users, regardless of frequency, should be aware that random drug testing pools are established for one purpose, to catch you.
Driving Record
Tickets and accidents in the last three years will be scrutinized. Patterns of speeding or other moving violations, within the last six years, will have a huge impact on placement in the trucking industry. Accidents, regardless of fault, will be considered; you should obtain the accident report from the police station in the district where the accident occurred and make it available to trucking companies when you apply.
Employment History
Employment history is another issue. An unstable work history or lack of a work history will effect placement. If you have been unemployed for a long time, like over six months, you should be able to verify what you have been doing during that time. Trucking companies want to know that while you were unemployed you made good use of your time. They do not want to see individuals riding the couch and collecting unemployment.
Physical Health / DOT Physical
There are health issues that may disqualify you from passing a DOT physical. Seizures, high blood pressure, recent heart attacks/surgeries, diabetes treated with insulin shots, unconfirmed sleep apnea, glasses with outdated prescriptions and even certain medications. You may speak to a physician regarding any issues you have. Some of the disqualifications, such as outdated prescriptions, can be corrected. Others, such as seizures, are automatic lifetime disqualifications. Some individuals with disabilities may be able to obtain waivers from the Department of Transportation that will enable them to drive a semi-truck.
Age
Age is not a major factor in truck driving placement. Those under twenty-three will have a more difficult time due to insurance regulations and those in their late sixties and over will also find placement more problematic, but not impossible.
Different Truck Driving School Scenarios
Along with an individual's issues, truck driving schools themselves also factor in on placement. It is important for you to know where truck driving schools place their students and how many of their students get placed.
Private Truck Driving Schools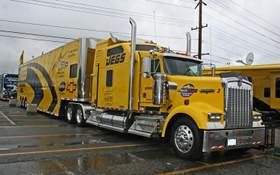 Private schools place their students with many different truck driving companies and they rely on this placement for future profitability. If they aren't placing students they're not doing their job, and no job equals no school. The downfall of these private truck driving schools is that they usually require payment of $3,000 to $6,000 before you enroll. Fortunately, many accept government grants and some even have financing programs in place.
College Certified Programs
College run truck driving schools are usually less expensive than private schools and work with many of the same companies the private schools work with. These programs are not as adamant about placement since their funding is supported by the colleges and not necessarily dependent upon student enrollment. Most of the colleges accept government grants and some offer student loans. The downside of these schools is that their programs are more collegiate and may take longer to complete the program - months instead of weeks.
Company Sponsored Training Schools
The "free truck driving schools" are the most difficult to get accepted into. These schools are sponsored by a trucking companies and they'll have you sign a contract rather than pay to enroll in the school. The company sponsored truck driving schools enroll many students at a time and their profitability comes from both placement and from repayment of uncompleted contract agreements. If the school signs up a class of fifty and only ten go on to complete their contract, the school will still make money because they still charge the forty students that didn't successfully complete the contract.
Contracts vary from company to company but many require the students to successfully complete their schooling, obtain a position with the company, and stay with that company for at least a year. Anyone signing up for a company sponsored truck driving school should understand the contract they are signing and question the school regarding the amount of students actually fulfilling the contract. Many of these schools offer accelerated training programs and that can have an effect on the student's ability to successfully obtain their CDL.
Getting Pre-hires
In a previous article, Understanding Pre-Hires: The What, Why, And How Of This Important Step, I explained the importance of getting as many pre-hires as possible.
Pre-hire letters are acceptance letters from trucking companies to students, or even potential students, to verify placement. The trucking companies are saying in writing that the student, or potential student, appears to meet the company's minimum hiring requirements and is welcome to attend their orientation at the company's expense once he or she graduates from truck driving school and has their CDL in hand.
Pre-hires are an excellent way to "test the waters" and find out if trucking companies will be willing to hire you before you make the commitment to enrolling in a truck driving school. Do your homework before enrolling in any truck driving school and know your ability for placement. If your record looks good, soon enough you'll find yourself on a profitable journey into the trucking industry.
Drive safe, Tanya Bons www.spiritcdl.com