It Takes Two
It takes two special, committed people to make a long distance relationship work. Many of you may not think of truck driving as a long distance relationship, but in all reality it is. My husband and I have always had a long distance relationship, but that doesn't make the lonely nights any easier. You want a person to hold and all you have is phone. Life isn't easy being separated from your "other half".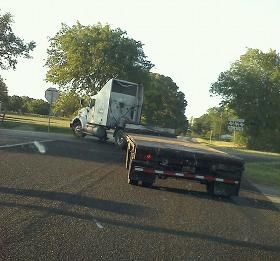 Sometimes being in a trucking relationship is like living on two different continents because maybe your trucker runs nights most of the time and you have to be up during the day to take care of the kids, your job, or your other responsibilities. This makes this relationship a 1,000 times harder. The phone calls are short. One of you is going to bed and the other is getting up to start their day. This makes even those short phone calls so much more special.
Sometimes one or both of you will sacrifice sleep just to stay up to talk to your "other half" which can sometimes lead to strained conversations. Remember to keep in mind that that other person is tired; they've had a long day and probably didn't sleep well without you by their side.
Life gets tricky in this sort of relationship. There isn't the physical contact, and I don't just mean sexually. The kisses and the hugs and the being held while you sleep isn't there, like it is in a relationship where both of you are home every night. There will be times when you cry yourself to sleep, or cry just because you miss them. But make sure you communicate this to your "other half" because it means a lot. Make sure they are aware of how much you miss them.
Something I suggest you avoid doing is constantly telling them to come home, that "I need you now." Now I know I just told you to make sure to communicate to your "other half" your feelings. But constantly telling them this can sometimes hurt feelings. I know it doesn't always make much sense. But I had to learn that saying that can make them hate their job, or hurt their feelings because they feel like they are hurting you.
Just remember why you fell in love in the first place, why you still love them, and keep the lines of communication open. I suggest a body pillow or a stuffed animal to cuddle with it helps ;) If you have any questions you can catch me on the forum - TruckersWife09.
HOS:
Hours Of Service
HOS refers to the logbook hours of service regulations.
Related Articles: