The Unexpected Call
So you just got home, maybe you're sitting in your favorite chair or just sitting down to the first home cooked meal you've had since you left, and your phone rings. The unexpected call. The one that tells you you've got to be somewhere by a certain time. Maybe a driver is sick, or someone's truck broke down, but they need you to come get that load and deliver it. Now mind you, if you're a Hot Shot driver or working for the oil field moving rigs you expect these calls. But when an OTR driver is on home time, it's the very last thing you hope for.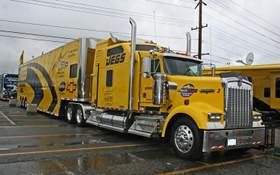 Most drivers won't get this call very often, but hey, it happens! Now your family isn't going to be happy with this at all….. and neither will you (more than likely). The trucking industry isn't immune to these issues by any means. Of course any job is going to have these issues, but with most jobs it doesn't hurt nearly as much as it does with trucking. Home time is rare and precious, and it's awful when you have to leave again unexpectedly. I understand you're going to be upset, but don't forget, so is your family. To your spouse this could be really hard, especially if they don't handle major changes in plans very well. I know I don't.
Now my husband got the unexpected call tonight. He's got to be in Oklahoma tomorrow. Sometimes it can put a strain on everything. Now truckers, I only have one thing to say - don't get upset with your spouse if they are upset….. please. This will make the whole time you're gone even harder on you and your relationship with them.
Now I know this won't happen too often with the major trucking companies, but I'm sure it's going to happen at one time or another in your trucking career. I wanted to write about this because I don't want people to be under the impression that a truck driver won't have these issues, because it's going to happen. So just be prepared for that unexpected call. If you have any questions you can always catch me on the forum TruckersWife09.
Related Articles: