Blogs By Author

Blogs By Tag
Going into the trucking driving field, I knew my life would eventually move at a pavement pounding pace. Just how quickly that pace, and how the entire process transpired, would amaze me.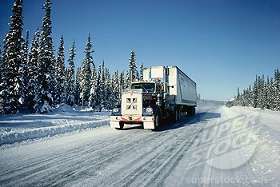 Within the past three weeks I graduated truck driving school, passed my CDL test, and interviewed with a mid-sized carrier located on the shores of Lake Superior. After road testing for the company, I took a drug test and a physical agility exam, applied for a passport, got a TWIC card (a biometric ID card required for un-escorted access to maritime facilities), and completed two days of comprehensive company orientation. Confident with my choice, I signed on with the company, and the following day I climbed into the cab of a 2012 Kenworth T660 with my trainer, Mark, for a 1,500 mile run to the Northeast. Since my last blog post I went from being a CDL student to becoming a wheel-turnin', mileage-earnin' trucker! It's presumptuous of me to call myself a trucker after completing just one trip, but I kind of felt like one while on the road.
Not The Start I Was Hoping For
My run began in northern Minnesota with a pre-loaded flatbed with 40 pallets of ceiling tile bound for Boston. I got a chance to ease my pre-journey jitters by practicing some cornering and backing maneuvers with the split-axle trailer in the terminal yard before we headed out. But those jitters returned tenfold several minutes later when I was cut off by a couple of impatient four-wheelers who decided they couldn't wait behind another semi waiting to make a left turn one block down from me. Those cars raced up to me in mid turn – causing me to come up short and bump my tires up onto a curb and stall the truck.
There we sat, motionless, blocking four lanes of traffic directly in front of the home terminal. At that moment my trainer could've lost his cool and scolded me for getting caught up in such a predicament. But instead he calmly told me to start the truck and ease my wheels over the curb and continue on. I don't remember much of what happened in the next several miles as my head was reeling from the previous situation.
I managed to navigate our rig to a truck stop in southern Wisconsin before shutting down for the night. Though it was only a five hour drive, I was mentally and physically ready to climb into my upper bunk to recharge myself for the following day. The next morning, Mark got us around Chicago, but had me do most of the turnpike driving through Illinois, Indiana, and Ohio. I gained confidence splitting gears with the Eaton Fuller 13-speed in the grades of the Poconos in Pennsylvania and the Adirondacks of New York. I worked on combining down shifts and engine braking to maintain downhill control in the mountains of Vermont.
The Challenges Never End In Trucking
Five out of the six days on the road I battled a constant drizzle, torrential down pours, high winds, sleet, road construction, traffic congestion and occasional diarrhea (from the truck stop deli). Except for a few scuffed sidewalls on the trailer tires, the run went off on schedule without a hitch. Mark convinced me to stick with flatbedding. It pays better and looks cool going down the road. We're headed for Cincinnati this afternoon and after that – who knows?
Finally runnin' heavy, The Blue Hills Trucker