A Family Emergency On The Road
Being a truck driver is not easy. It's far worse when you have a family emergency and you're away from home. All you want to do is be out of that truck. Some drivers will never be in this situation, but unfortunately I was. I've tried writing this article many times, but it was too difficult and perhaps the time was not right for me. I'm ready now, so I will take you back to 2004.
Trouble On The Horizon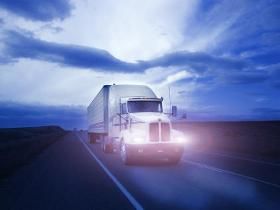 My dad had not been well for awhile and it showed. He no longer looked younger than he was and you could see that something wasn't right. He tired easily, and many things were now difficult to do or took a little longer than it would have normally.
Perhaps it was July when mom and dad came to my home in Iowa for a visit. My little town's convenience store also had a golf practice range. Dad has always enjoyed golfing so we went to the range one evening. I sat on the bench and watched dad go thru the bucket of balls. Each swing seemed to be a struggle for him and then it took a moment for him to catch his breath. I cried some as I watched. I knew that his time to leave us was getting closer.
But I could see that dad was really enjoying himself, so I tried to focus on that. He was happy. That's all that mattered. While I was on the road, dad would have doctor visits and a hospital stay. Some were scheduled, some were not. Sometimes mom would decide not to call me in case I was asleep or in heavy traffic. Instead she would go thru my employer, who would then call me or send the message over my Qualcomm , along with "we are praying for your dad" and other words of support we give each other at times like this. I copied all of those Qualcomm messages. They meant a lot to me.
Staying Focused
It is hard to focus on your job at a time like this. I found myself stopping often at truck stops and rest areas, trying to compose myself before continuing on safely with my assignment. At one truck stop, the clerk asked me if I was OK. "Yes", I lied. After getting my purchase and going back to the counter I told her what was going on and we had a nice talk. It helped knowing that others cared. My employer allowed us to drive one week on and one week off, as long as there was someone to fill the truck during your week off. I liked that setup. I really needed that week of home time. There were also many times I went out a couple of days before my week started or stayed a couple of days longer at the end of the week. In August, on one of my off weeks, I went to Northwest Arkansas to see mom and dad. That voice inside, a 6th sense we have, told me that the time was getting closer now. I can't explain it, but I believe it. I've learned thru the years to listen to that voice. When it was time for me to leave, mom and dad came outside and watched me back out of the driveway and we waved goodbye to each other. This would be the last time I would see my dad alive I told myself. This scene plays out over and over in my head and I treasure this memory. I cried most of the way home. During Labor Day weekend, dad was rushed to the hospital at bedtime. It was my week to be in the truck. They rans some tests and told me I should go to work, so I did. I went to the Milwaukee area and spent the night there. The next day I went to the Twin Cities with a couple of stops along the way and spent the night there. The next day, Tuesday the 7th, my load delivered back in Ames, Iowa. I live South of town. One of the reasons I went to this company was to be home more and swing by more often. I delivered the load and dispatch had two choices for me to choose from, but I said I needed to call my mom first and I would call them back. So I took the truck home for a few minutes and called mom. That feeling was back. I called and she was crying and was getting ready to call me as the doctor had just told her to "get your kids here quickly." I called my employer and said I could not continue with my week. I was very thankful that I was already home but I had to return the truck to the lot and get my own vehicle. I gathered some clothing and whatever else I could think of while I called some friends and neighbors to tell them what was happening. I returned the truck to the lot, put everything into my pickup truck, and left for Arkansas at 4pm. I made it to the hospital at 11pm. Dad's heart is barely working, about 15%. There are other complications too. After a few days we decided to bring dad home and use hospice care. Dad left us on the 13th.
I kept my employer informed almost daily with phone calls and emails. I was told to take as much time as I need.
If you ever find yourself with a family emergency, I hope your employer allows you as much time as needed.
Related Articles: