The Backing Range At Trucking Driving School - It's Like Clown Soup For The Soul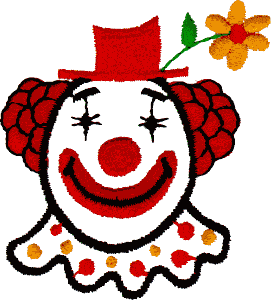 It's your first day out on the backing range at truck driving school and you've never felt so clumsy and stupid in all your life. It's like a circus. Trucks are twisiting and turning in all directions more like they're chasing a chicken than purposely being aimed at a target. It's hilarious. And fun. And embarrassing.
Getting your truck driving career off the ground is like eating a big fat faceful of humble pie. But driving a rig sure is cool! So try to enjoy the experience as much as possible and most importantly, be prepared to embarrass yourself nearly to death about 10,000 times!
As Natural As Three Left Thumbs
There's nothing that comes natural when learning to drive a rig. The progressive gearing, air brakes, double clutching , wide turns - it's all clumsy and difficult at first. But learning to back these things up? Are you kidding me? That's the worst. I mean, the stupid thing bends in the middle! Whose idiot idea was that???
There's A First Time For Everything...Unfortunately
So here we go. You're backing up a rig for the first time and you discover right away that you turn the wheel to the left and the trailer goes to the right. Great! How could that be confusing? On top of that, you turn the wheel but nothing happens for a few seconds. It takes the trailer maybe two or three seconds to begin reacting to your steering inputs. Great! Nothing like having to watch your clumsiness unfold in slow motion.
So you take a shot at backing up in a straight line. Soon after you begin rolling you realize the trailer is veering off course and you make a correction. Unfortunately it takes a while for the trailer to get the message. When the trailer finally begins to react you realize you had forgotten something - turning the wheel to the left makes the trailer go to the right! Crap!
The trailer was getting off track but now it's waaaaaay off track! You figure there's only one thing you can do - wind that steering wheel the other way like you're cranking on a money-making machine. Finally the trailer starts to listen and it begins going in the direction you want it to go, but it's too late. You made a mess of it. You look around and you realize:
You've squashed two orange marker cones
Your truck is supposed to be straight but it's nearly at a right angle
The instructor is running at you, waving his arms, and yelling "Left! Right! Oh for God's sake stop!!"
Half the class is watching and they're all pointing at you and laughing their a**es off!
You're not sure, but you may have peed a little
Perfect. "I'm an idiot!" you think. Welcome to trucking. Check your ego at the door and join the rest of the clowns in the class. It's going to be a fun ride.
Even God Has To Be Laughing
Looking down on the backing range from above must look like God is stirring up a big pot of knucklehead stew. Nobody can seem to get those trailers to go where they're supposed to go. Everyone that's watching is either laughing, yelling, or pointing at something dumb that someone is doing. Everyone that climbs out of a truck after taking their turn is looking for a place to hide before they die of embarrassment.
You Can Do It Boy!!
For the instructors it's like watching a three year old diligently trying to figure out a Rubik's Cube. Their tongue is sticking out, their fingers clenching hard, their face so serious! You know there's no chance on Earth they're going to figure it out anytime soon. But the fact that they're trying so hard is what makes it so adorable!!! Cute little truck driving students. When they finally start making progress you just want to make them raise their arms in the air like a little kid and say "Soooooo big!!!!" :-)
Having Fun Makes Learning Easier
Listen, when you get out there on that backing range you're going to be humbled in a big way. Learning to back up a truck is really, really tricky for everyone. Some pick up on it more quickly than others, but in the end you'll get it just fine. It doesn't matter when you get it, as long as you do.
Have a ton of fun out there and have a great attitude about it. Learning to drive a rig is such a cool experience. So many people grow up dreaming about having that chance, so enjoy it. And most importantly, be patient with yourself and stay confident. There are two things you can pretty much count on when learning to back up a rig:
You're going to figure it out just fine in the end
You're going to look like a total idiot until you do :-)
Advice From An Experienced Driver
Get out there and have fun! Be the best idiot you know how to be. We were all idiots when we first started out in trucking which is why it's so fun watching you take your turn. The experienced drivers that are now your instructors have paid their dues in the trucking industry and deserve to be rewarded. So when you get out there and try to back up that rig for the first time, remember you're doing more than just having fun and learning a new trade. You're also giving your instructors plenty of fun stories to tell in the instructor's lounge while you're not around to hear it!
You know how people say, "I'm not laughing at you, I'm laughing with you." Well you can forget that. We're definitely laughing at you! But hey, we took our turn and gave people something to laugh at. Now it's your turn. Get out there, enjoy learning your new trade, and give those instructors something to laugh about! :-)
Related Articles: