Trucking Is A Competition Between Drivers. Can You Hang With The Big Dogs?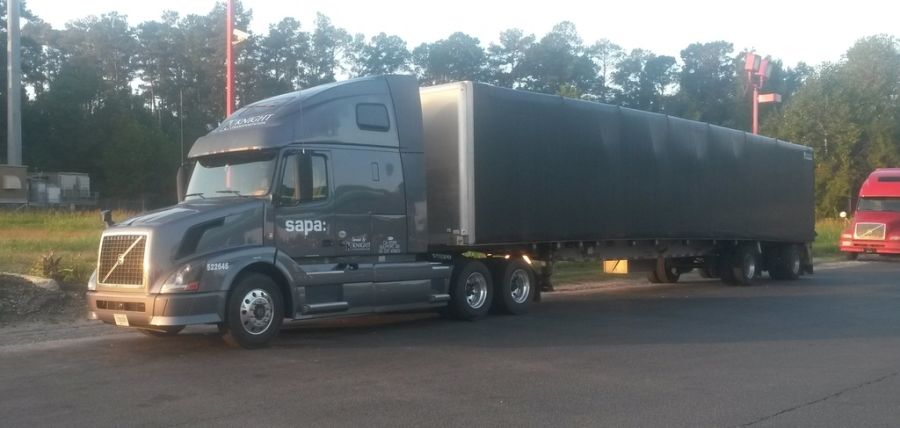 Have you ever paid much attention to the announcer or the commentator during the broadcast of a professional sporting event? No matter the sport, the announcer will have a ton of statistics at his fingertips, and he will constantly be giving them out when discussing the game or the players themselves. In sports, the numbers mean a lot. I have a friend that I grew up with who is now a successful baseball coach, and he once told me that baseball was strictly a game of numbers. Coaches rely on numbers and statistics when determining which player to put in the game, or which players to trade or acquire. In the world of professional sports the amount of time a player gets to play in the game, and ultimately the amount of money he earns is based on the statistical likelihood that he will help the team to be successful. The top performers command the top pay, and they see the most action in the game. There are always people on the bench. They are part of the team, but they don't see as much game time, and they always earn less. The business of sports is completely performance based.
It's not a huge stretch to compare the trucking industry, a completely performance based enterprise, to the business of professional sports. We have a front office (Managers, Bean Counters, and Sales People). We have a team out there on the field (Drivers). We have several layers of coaching staff (Dispatchers, Planners, Safety Personnel). We have competitors - we are in a competition.
Trucking is a commodities business where everyone is trying their best to beat the other guys. Each team wants to move the most freight efficiently and profitably, while the other teams are all putting forth the same efforts with the same equipment, the same rules, the same roadways, and the same customers. It seems there is no place for distinction when we are all doing the same thing with the same objectives and the same means to accomplish it.
What distinguishes a team in professional sports? Seldom will you hear anyone speaking glowingly of the team as a whole. Most of the time you will hear people carrying on about an individual player or players on the team that helped bring them to success. That's why they reward individual players with honors like "MVP awards" or the "Heisman Trophy." These are individual rewards for outstanding individuals who have that mysterious ability to give a team that winning edge. They have the numbers to statistically show their exceptional value to the team.
A Driver's Performance Is Always Being Measured
I don't know if you are aware of it or not, but as a driver you are being measured up all the time with all sorts of statistics. In fact there are layers of management above you that are being measured up in the same way. Trucking is a game of numbers, just as any other commodities business is – the numbers are very important. In our forum we recently got a report from one of our Moderators (Rainy) where she shared with us a photo of the diamond ring she got for her two year record of "on time deliveries." Somebody that she has probably never even met before was keeping track of her numbers, and then she got rewarded for her accomplishments. You would be surprised at all the statistics that are kept regarding your performance as a driver.
I once got a call from the safety guy at my home terminal. He called to congratulate me for consistently being on the list of what Knight Transportation calls their "Three Star Drivers." This is merely a short list of drivers who earn the maximum amount of bonus money available due to several metrics that they are measured by. These metrics (numbers) consist of:
safety (that number should be zero – meaning no accidents)
productivity (freight miles delivered)
efficiency (benchmark goals of fuel mileage)
Everyday we are being measured, and at the end of each quarter we get rewarded for what we've accomplished. The interesting thing about this phone call was that he wanted to visit with me about my fuel mileage. Listen to what he had to say:
"I noticed that you are doing remarkably well with your fuel mileage, so I started digging a little deeper into your numbers and discovered that you spend the majority of your time driving on the

interstate

while in eleventh gear. All our other drivers spend the most time in twelfth gear. Could you tell me what's up with that?"
I had to explain to him that I had discovered I could get better mileage by putting my Volvo auto shift transmission into manual mode so that it would hold eleventh gear while cruising on the interstate. It seems the speed our trucks are governed at kept the engine running at too low an RPM for maximum efficiency while running at top speed in twelfth gear. Now, to say that he was surprised that I had figured this out is quite an understatement, and he told me that he was going to look into this further and if I was correct he would start teaching the other drivers about this phenomenon. But the person who was surprised the most was me. I simply couldn't believe they had the ability to monitor how much time I spent in each individual gear while I was driving! You are being measured up in all kinds of ways, and the numbers are important.
Distinguishing Yourself As A Driver
Okay, I have rambled on long enough just to try and lay a foundation for the point I'm laboring over. Your performance as a driver is what distinguishes you as a Top Tier Driver - an individual player who is likely to score when given the ball. You can separate yourself from the competition (the other drivers in your fleet) and stand out as a top competitor by putting up the proper numbers. I've heard my dispatcher speaking about how he distributes loads among his drivers. Let's say he has a difficult load going to some important customers in the Northeast with multiple stops and critical appointment times. He has three drivers to choose from:
1) A new driver who hasn't really established a track record yet.
2) A driver who has been around awhile, but has been known to be unreliable under pressure.
3) A driver who consistently produces a performance record that is stellar.
Let's throw in a little more information on this scenario, because it is important for you to understand how dispatchers think. This load the dispatcher has available has about 1,500 miles on it. The new driver hasn't had a lot of work this week – so far he has driven 1,100 miles. The experienced driver who isn't always dependable has turned about 1,800 miles, and this would really cap off his week nicely.
Mr. "Over Achiever" has just gotten back from a 2,200 mile run, yet due to his excellent clock management skills still has hours to operate on. Now, if this were a game where the dispatcher always wanted to play nice and fair he would probably let the new guy have this one so he doesn't get discouraged about his low paycheck and start looking for greener pastures. Or maybe he would be kind to the average gentleman who could benefit from just the right amount of miles to put him in the money this week.
But the dispatcher knows that he is being measured up just like these drivers are, and he wants to keep his performance record up there at the top. After all he's getting paid based on his overall performance, and the last thing he wants is for someone to drop the ball on this critical load so that it looks bad on him. He makes the call like a smart coach would, and his star player gets the ball!
Trucking Is Competitive
Trucking really is a competitive business. Unfortunately a lot of drivers spend years in this business never really understanding that part of their career. There are a lot of things you can do as a driver to keep yourself up at the top of your game:
I never ease up and rest on my laurels.
I'm always trying to improve my record and my performance.
I make the sacrifices necessary to be the "Go To Guy."
I'll drive all night if it means I can get a load delivered a day early.
I'll park in the customers yard and sleep if it means they have got to unload me before the guys who slept down the street enjoying the comforts of the truck stop. "First In – First Out," that's a mantra of mine.
The quicker you can get yourself unloaded, the quicker you are available for another load. Consistently conducting yourself in that fashion helps your dispatcher know what he can expect from you, and it keeps you at the front of his mind when he has something really good to offer.
What A Coincidence!
You want to hear something incredible? My phone just rang while I'm writing this. I was taking the time to write this because things are a little slow on my dedicated account this week. It's my dispatcher. Here's our conversation:
Dispatcher, "Hey man, I've got one load today, it's a 1,578 mile run. Do you want it?"

Old School, "Sure, but don't you have some other drivers that are sitting here waiting?"

Dispatcher, "Man, you are my first round draft pick, always. Are you going to take it or not?"

Old School, "I'm all over it!"
Sorry guys, I'll have to wrap this up now. I've got a load to take care of!
Related Articles: