Blogs By Author

Blogs By Tag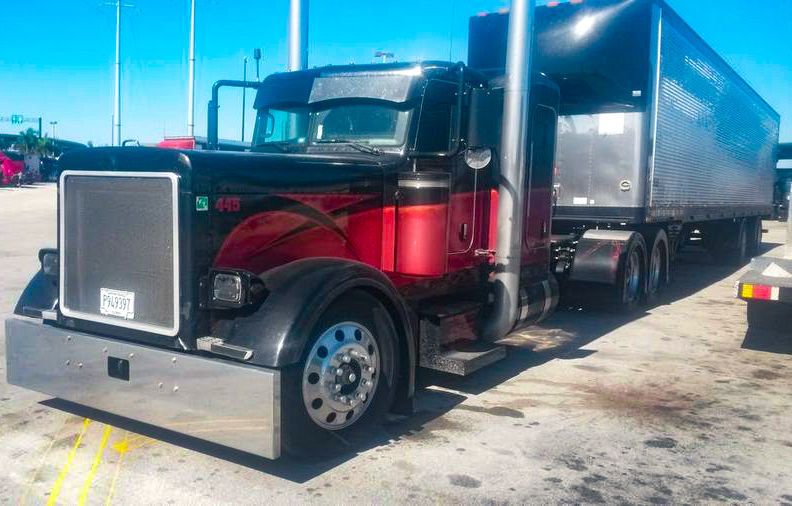 I often park at the only little truck stop in Delhi, Louisiana because it's near the location of the SAPA plant that I am a dedicated driver for. This is a small town with an agricultural economic base to it, and many of the local truck drivers are owner/operators hauling grain and other such Ag/Timber related products. That picture at the top of the article gives you an idea of the type of company I keep while here at this truck stop. Many of the drivers here are not company drivers.
Recently, while spending the night here, a beautiful Glider-Kit Peterbilt rig backed in next to me with his big chrome sun visor and huge Texas Blade bumper shining and reflecting the multitude of running lights on his rig. As he got settled in next to me, I noticed he had what appeared to be an almost five foot tall shifter with a chrome skull as the ball, and it had a tongue stuck out of it's mouth that he could flip up or down for the splitter!
Everything about this rig shouted out, "Hey, look at me, I am a Real Trucker!" I glanced down at my 5 inch long shifter on my Volvo's automatic I-shift transmission. It is attached to the side of my driver's seat and it has four selections on it: R N D M (Reverse, Neutral, Drive, and Manual) I kind of felt like the pimple faced kid on his first date who had to borrow his dad's station wagon just to take his girl to the drive-in movie. After getting parked at the show, the high school's star quarter back pulls up in his rumbling GTO and parks next to him with some hot looking girl snuggled right up next to him! I felt emasculated!
It got me thinking about how many new truck drivers are getting their careers started in an automatic truck these days, and does that make them any less of a truck driver than those gear jamming macho men who know all about double clutching and floating gears?
Well, the answer is a resounding No! And I want to lay it all out for you here.
Shifting Gears Is Not A Real Skill
First off, let's get this thought out of the way. Shifting gears is really not a real skill. If you start your career with an automatic restriction on your license, you are not missing out on a much needed skill required to make you a real truck driver.
I can drive just about anything you throw me into. One of the first trucks I ever drove was a long nosed Pete with a six hundred horsepower Cummins and an eighteen speed transmission. I know all about how to handle those things. Most new truck drivers consider shifting gears a real skill, but that is just because they have so much trouble getting the hang of it all. Just because something is a little tricky to learn at first doesn't qualify it as a skill required to be a "Real Truck Driver."
Auto Shift Transmissions Are Here To Stay
Several years back I would have encouraged new drivers to go ahead and try to not have the automatic restriction on their CDL. Nowadays, I am not too concerned about it. Of course if you can keep from having the restriction, that would be smart, but it is not that important anymore. Almost everywhere we look these days folks are changing their fleets to auto shift transmissions. I am convinced the auto shift is here to stay. They have finally gotten it down so that it really works well and is holding up like it should.
One thing I like to make sure that people understand about these new auto shift transmissions is that they are still the same basic rock solid design of the manual shift transmissions. They are still a regular gear box with a clutch that transfers the power to the drive shaft.
Some folks get confused when I say they have a clutch because they don't see a clutch pedal. I am just referring to the fact that there is no Torque Converter like we see in automotive automatic transmissions. These stout transmissions used in these big rigs are basically the same standard transmissions as they've always been with the exception that they change their gears automatically while disengaging and/or engaging the clutch, all while making sure the RPM's are at the proper level also. They are efficient and sturdy, and are proving to be a valuable way to save on fuel.
Since the trucking business is a commodities business, it is one of those operations whose hard fought profit margins are pennies on the dollar. Anytime a trucking company can figure out how to shave a little off their operating expenses they are usually on board big time, and the advent of the modern auto shift transmission has made that possible.
I am sorry for the skeptics, but auto shift transmissions are here to stay.
Driving Skills Aren't The Only Important Skills
As new drivers in truck driving school we usually get all caught up in the fundamentals of driving a big rig. We sweat the details of matching our RPM to our road speed and determine when it is best to switch gears based on what seems like complicated data like that.
Then we make matters worse by worrying ourselves crazy over how to time that double clutching rhythm so that it all works out smoothly. It drives us crazy trying to keep all that straight while we are also doing our best to keep that big old truck between the lines. We are watching our mirrors like hawks, swinging wide on those tight right hand turns and driving ourselves batty trying to make sure we are turning the wheel in the right direction as we are backing up to a loading dock.
It's the driving fundamentals of it all that drives us crazy at first, and we let that overwhelming stress make us think the way to be a really good truck driver is to somehow get ourselves to the point of mastering all these seemingly complicated tasks. I remember one fellow in truck driving school with me who would literally have sweat just dripping off his face every time he got behind the wheel. It just put him in an immediate state of anxiety – it was overwhelming for him.
Usually after driving a big rig for a few weeks, the fundamentals of handling that rig all fall into place and we don't even think about them anymore. They become more or less "muscle memory," but as total greenhorns those things seem like monumental challenges. If you were to sit down with just about any new driver after his first four or five months solo and ask him to tell you what he thinks are the things that are hindering him from success as a truck driver, it is doubtful that he will mention his lack of shifting expertise. It is doubtful he would mention anything even related to actually driving the truck. The skills that make us into "real truck drivers" are usually based in our approach to the job.
The Other Important Skills And Traits They Don't Teach
It isn't so much the physical skills we learn that help us be successful at this, but rather the social skills, time management skills, and character traits related to this job that help to make us into "real truck drivers," or a Top Tier Driver as we like to refer to them.
Here's a list of some things that I consider to be the most important skills for success in trucking. It is certainly not an exhaustive list, but it should give you some idea of the types of things that will help you to be successful at this career.
Trip Planning
Communication
Problem Solving
Getting Along With People
Time Management
Stress Management
Conflict Resolution
Staying Calm Under Pressure
Prudent Decision Making
Patience
A High Level Of Commitment
None of those things are taught to us in Truck Driving School.
Well, you might get a little bit of trip planning if you are lucky, but for the most part these things are vitally important to success in this career, yet none of it is taught to us in truck driving school.
Why is that?
Well, the reason for the schooling is mostly to help make sure we can operate safely in a big rig and understand the rules we need to obey as commercial drivers. Truck driving school is designed to make sure you get your CDL. That alone is a nice accomplishment, but to be honest, it is an accomplishment that just about anyone is capable of.
Where you start to see the "Real Truck Drivers" rising to the top is when they can maintain the level of commitment it takes to see this job through day in and day out. A life of success at trucking does not come easy, and there are many who have been able to get their CDL, yet never have any success in trucking.
I recently saw a statistic about driver shortages that was questioning whether we really had a shortage or not. They took the numbers that the industry claims for driver shortages and then compared them to the number of new CDL holders nationwide for the last few years. Guess what? According to the analysis we shouldn't have a shortage of drivers at all. What it didn't take into consideration was how many of those new CDL holders lacked the skills to be "real truck drivers." That number is alarming.
Success In Trucking Takes Commitment
You see, success as a truck driver is far more than something you learn at school, or something as mundane and repetitive as shifting gears. Success at trucking comes to those who have the commitment to see things through. This is a career that separates the doers from the dreamers. People who don't mind getting right down in there and mixing it up with the best of the best so they can learn how to be the best at what they do are the type of people who learn to excel at this career.
I will make all kinds of sacrifices that others won't, just so that I can squeeze out some extra time in my day to make something favorable happen for me out here on the road. I remember one time a fellow driver came up to me at a job site and shook my hand saying that he had learned something from me that day. I was amused, but not sure what he meant.
He said he had left the truck stop early and come to the job site thinking he would be the first one in the gate. Lo and behold, I was there already. He had never considered sleeping at the gate! Now that was a simple solution in my mind that solves all kind of potential problems. And since we had to end up waiting several hours on the crane that was supposed to be there at eight o'clock that morning, he was burning up hours on his fourteen hour clock while I was still off duty.
My friends, if you are starting your career with an automatic restriction on your license, I just don't think it is all that big of a deal these days. Of course it would be nice if you didn't have it, but it is not a deal breaker. There is no reason for you to think less of yourself as a truck driver if you are driving a truck with an an automatic transmission.
I drive one myself, and I love this thing. It handles all the many situations we get ourselves into out here such as steep downgrades and slick roadways with efficiency and ease. You will learn how to have total control over your rig with that automatic transmission and your left leg will certainly come to appreciate those trips through heavy traffic.