CDL Training - One Test Down, Two More Remaining
So today was a big day for us. The Secretary of State examiner came out for our pre-trip exam. This day was a complete cluster from the start though. First, the Secretary of State said they'd be there at 7 am so we were told to show up by 6:45 am, no later. I arrived at 6:30 nervous as all hell. We were expecting to do the pre-trip inspection , the yard skills test, and maybe even start on the road tests. Well, 7am rolls around and the tester still hadn't arrive. Then comes 8 am, then 9 am, then finally at 10am he comes strolling in the door as if it were no big deal. Meanwhile, we were all shaking in our boots and wondering where in the world he was.
He didn't waste much time and the pre-trip inspections began. I was the 5th person to go, so I had to wait it out for a while. Finally I was called and made that long walk out to the truck. If you haven't read Rhonda's post on her pre-trip inspection exam, you should definitely do so. It doesn't sound like much has changed since she took her test.
Anyway, this tester was a complete jerk. I get into the truck and I say "Hi, I'm Mike, how ya doin?" He just looks at me and says "I need your permit and drivers license." Okay...this is going to be interesting! After he gets my information and explains what the test is all about, he began shooting questions at me. He was extremely thorough asking about everything from the suspension, brake systems, air system, steering system parts, etc. He wanted the answers quick and just like Rhonda's experience, he would rush me along to "save on time."He was very blunt and rude when asking questions.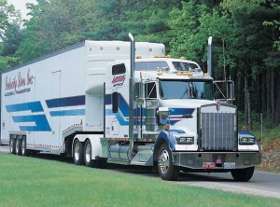 For example, when I explained about the brake drum, one of the things I said was "the brake drum must have no more than 1/4 inch of material missing." This is what I was taught in class by a teacher who is also a certified truck mechanic and has been working on trucks for over 20 years. The examiner said "How can you check something you can't see?" I stated that you are able to put your finger inside and feel for a lip. If the lip is greater than 1/4 of an inch, the drum needs to be checked by a certified mechanic. He quickly shot back and stated "First of all, it's impossible to judge that with just your finger. Second, why would you want to stick your finger on something that's potentially very hot?" My only response was "Well, if this is a pre-trip inspection , the brake drum should not be hot." He just rolled his eyes and we continued on. Apparently all of my classmates had a problem with this and my instructors were a little put off as to why he gave us trouble for it. As Rhonda said in her blog, I'm not a mechanic. I've simply memorized the parts I need to know and how to check them. For him to snap back at me was a bit of a surprise and didn't help to calm my nerves.
Even something as simple as the pedals, he was very abrasive about. He said "Tell me about the pedals" so I indicated that "The pedals must me well grooved, free of oil, grease and debris, and have free range of motion. The brake pedal must be firm and the clutch must have at least 1 1/2 inches of free play." Not even a half second before I finished he looked at me straight in the eye and said "You know, I don't understand what's with you guys. Everybody talks about the brake pedal and the clutch but nobody wants to mention anything about the accelerator pedal." Ummm, how do you respond to that? What else can I say about the accelerator? It should go "vroom vroom" when I step on it? C'mon! I already stated it needs to have free range of motion, well grooved, and free of oil, grease and debris. And why did he have to be such a jerk about everything? These are just two examples.I'm sure there's a reason, but it's beyond me. I said everything by the book, so I truly believe there is nothing else I could have done to please him.
I finished doing the air leakage checks on the truck. Everything went fine there. A couple more quick questions and he started writing on a sheet of paper and said "Ok, you're done." Ummm, sooo....did I pass?? I actually had to ask him and he said, "Yeah, you did an acceptable job." Ok, goodbye. So yes, I passed! I wish I could tell all you who are a bit behind me that the pre-trip is nothing to worry about. But it was quite intense and a very nerve-wracking experience. It's definitely not something I want to go through again.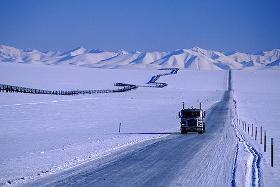 Once he was done testing everyone, we expected to go out to the yard and test out there. But he walks inside and then all of the students waiting outside start hearing some yelling. We had no idea what was going on, but didn't like to hear any yelling while the examiner was inside talking to the instructors. The examiner comes storming out of the building, gets in his car, and takes off. This was supposed to be a two day examination. Pre-trip and yard today, then road tests tomorrow. Well, the examiner said there was a mistake in the scheduling and he was going to be gone the rest of the week and somebody else is supposed to fill in tomorrow. My instructors called the Secretary of State and nobody is coming out. In fact, they don't even have us scheduled at all in the system. It was their idea to come out a week early, and now they are saying nobody can come out? You can imagine the frustration not only to us students, but also for our instructors. We had to resubmit for testing and have no clue when they will be coming in to give us our yard skills tests or our road tests. We will hopefully find out either tomorrow or the next day. What a mess.
So needless to say, it was a good day since I passed my pre-trip exam, but also extremely disappointing since we now have to wait possibly a week or more before we can finish testing. I'll tell you one thing though, I really hope we get a different examiner when they come out for our testing next. Not only does this guy seem like he hates his job, but considering he got into an arguement with my instructors today, I don't want him coming back. Aye.
So that's where it stands now. We will still have class everyday, but will spend all our time driving and practicing in the yard. No more pre-trip!! Believe it or not, we all passed the pre-trip exam. I give 100% credit to my school and the fantastic instructors for preparing us for it. The pre-trip isn't easy folks, so if you have a pre-trip exam coming up, be sure you know everything. It's pretty intense. Or maybe it was just our examiner, I don't know.
I'll let everyone know when we're taking our road tests once I find out. This really sucks though, I was all siked up to take everything this week and get my CDL. But hopefully the extra time will help refine my skills and get me even more prepared.
Until next time, drive safely!
TruckerMike
Related Articles: