Blogs By Author

Blogs By Tag
So, this will be my life moving forward. When I'm not driving, chances are I'll be at a truck stop somewhere. Here is my first experience, and one I probably won't ever forget. Not because something extremely dramatic happened, but just because I'm soaking everything in right now.
After delivering our load this morning, we were told freight is light and there was nothing for us yet to pick up. We headed over to a TA Truck Stop just outside Los Angeles, CA. My first impression is that this truck stop is extremely busy! I don't know where all these trucks come from! Luckily, we were there early and got a spot pretty easily.
My trainer and I got some fuel, which also gives us a free shower. We went in, grabbed some Subway, then went back to the truck for a quick nap as we were both pretty tired. After that, it was time to grab a shower. I took a shower once before at my companies terminal and those were very nice. But this would be my first shower at a truck stop. First my instructor and I had to use a little kiosk which would give us a number. When our number was called, there would be a display showing which shower room to take. The estimated wait time was 114 minutes. Did I mention they were busy!? Turns out that wait time was not even close. I got my shower room in about 20 minutes.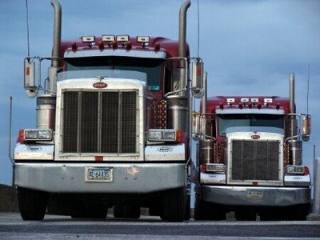 They actually aren't all that bad. It's not a home shower, but my shower room was clean. For those of you who aren't familiar with the showers at truck stops, I'll describe it a little for you. I was assigned shower room #7. So I walked around, found the correct door and outside the door is a little keypad. You have to enter the pin number they gave you to gain access. Once inside, there is a deadbolt lock for added security. The room looks a bit like a hotel bathroom, but not quite as nice. Tile floor, white brick walls, a sink, mirror, power outlets, toilet, and of course the shower. The appearance wasn't too bad. I mean, it looked like it's been used a lot and it isn't a 5 star hotel, but it beats what I had in my dorm at college! Heck, I didn't even get a private bathroom there. It may have looked old, but everything was in working order and it was clean (no hair laying around, no surprises in the toilet, no standing water or other fluids around, etc.). Luxurious? Nope. Does it get the job done? Absolutely!
The shower itself wasn't bad. This particular shower had a cheap shower head (the kind you'll find in locker rooms), but there was plenty of hot water and the shower head had no obstructions. They also provide you with a clean towel and washcloth, along with a little bar of soap if you need it. I didn't see any shampoo or conditioner there, but I didn't really look for it as I have my own. Pretty straight forward stuff. I'm sure there are very nice truck stops for showering and really bad ones for showering. But from what I understand, this particular truck stop isn't the best one around, and I thought it was just fine. Though, I'm easy to please. I left feeling clean, and that's all that matters to me.
After goofing off in the truck for a bit and listening to the CB chatter, we grabbed some dinner. I got a meal that had pork tips on top of mashed potatoes smothered in gravy. Yum! Plus it came with all you can eat soup and salad. I have to say, not a bad meal! I couldn't finish it all, that's for sure. Ran me about $12 after taxes and everything. So I can see how the food expenses can add up real quick if you eat out for every meal. An investment in a fridge or electric cooler for the truck is definitely a must if you don't want to go broke buying food.
We aren't in the best area of town and this truck stop can get sketchy at night (per my instructor), so we grabbed anything we'd need from the building (drinks, snacks, etc.) and headed back to the truck before it got too dark. We cranked up the CB to listen in on the lovely conversations. If you're easily offended, don't ever plan on turning the CB on in a truck stop. Just about everything is dirty jokes, people cussing, arguing, saying degrading things about women, making racist comments, talking about buying or selling drugs / prostitutes, etc. A lot of it is just people talking big on the CB, but I have no doubt that drugs flow through here. There are also people walking around trying to sell random stuff. CB radio's, DVDs, shirts, GPS systems, and all sorts of other stuff. Heck, there was even a pickup truck with a big grill on a trailer selling ribs, steaks, and other food. And per the CB radio, their ribs were excellent.Crazy! My trainer got a $300 digital camera for $50 one time at a truck stop.His CB was also purchased for cheap. Is the stuff stolen? Who knows! But I'd just assume it is.And I heard the "lot lizards" myself on the CB looking for work. Although I still haven't seen one around. I'm sure I will in due time.I don't want to scare anybody, I just want to tell you what it's like and what I'm seeing. This is a very unique life out here and I don't think everybody can take it. Personally, I think the chatter on the CB is either annoying or hilarious. It fluctuates. But it's quite hard to offend me. So it doesn't really bother me at all.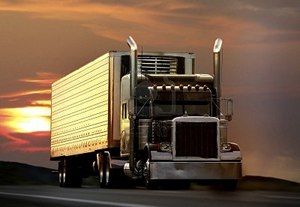 This lot is patrolled by both private security and police. I see a private security car / truck pass by about every 5 minutes or so, and a police car about every 20 or 30 minutes. One thing I saw that made me upset is a cop that was writing tickets to truckers who were idling. There is a 5 minute idle law in California. If you idle longer than that, they'll write you up. I saw it happen. Yet when the cop was standing outside talking to the driver, do you think he turned his squad car off? Nope. Do you think those who made the law turn the heat / AC off in their house when they sleep? Nope. And did you know if there is an animal in the truck alone they are allowed to idle? Yeah, animals have more rights than people out here. Absolutely crazy and very aggravating. Luckily, the truck I'm in has a power unit that runs all of our electricity and AC, so we don't have to worry about it. But it's still upsetting to see these guys getting tickets. All they are trying to do is stay cool so they can get a good nights rest and be safe to drive the next day. But the state of California wants them to sleep poorly in the heat then go out driving on their roads. Makes no sense.
It's definitely interesting and I've met some really nice people already. I know the "old timers" say the brotherhood isn't as good as it used to be, and I'm sure they are right, but it seems it's still around a little bit. Other than listening to the junk on theCB, everyone just sort of talks to each other inside the truck stop. You don't need to be invited to a conversation, you just join in. I had a fun day meeting a lot of these truck drivers out here and most of them offered me some great advice. I've noticed a good sense of humor is a must in this industry, along with thick skin (a lot of friendly razzing goes on). Everybody I've met so far has both.
Anyway, time for me to catch some Z's. Hopefully we'll get dispatched out tomorrow morning with a new load. I'll write more about these truck stops when I've visited a few others.
Until next time, drive safely.
TruckerMike