Blogs By Author

Blogs By Tag
Earlier I said I'd go into more detail on what I brought, what I should have brought, and what I could have left at home. My recruiter sent me a checklist of what to bring. If your recruiter or training department does the same, follow the suggestions. Just remember that room can be limited in your truck. Not all sleepers are the same size, and not all trainers are as good as mine when it comes to sharing available room.
In addition to changes of shorts and socks (or whatever you wear) you will need a jacket, gloves, work boots, and depending on the time of year - jeans and shirts. I found that I wear my jeans for at least a week. I change socks and shorts every other day (not trying to be personal or gross here, just letting you know what works for me and what my trainer suggests). I just don't get 'em that dirty. I brought some white tee shirts and two colored pocket tees. Forget white, they show all of the dirt. First chance I had, I bought three more colored pocket tees. Much better. I also dress in layers: t-shirt, flannel shirt, jacket with inner liner removed, and for cold, cold days I put the liner in the jacket. This works well for me. I have a pair of lightweight slip-on shoes that I wear daily. You're not on your feet, so all you need are comfortable shoes for driving and light walking. Some people wear sandals or Crocs. Since I am writing this in March in Michigan, not too many wear anything other than shoes right now.
I have a smaller bag that I put my overnight kit in along with some other things like my daily pills (us old guys seem to take a lot of them!) a couple of books, and of course my trusty laptop. Speaking of laptops and cell phones... my trainer would not let me use my cell phone while I was driving for the first week - even with a legal hands free device. Smart move on his part. When you first start driving your mind is so full of stuff and you have so many new things to concentrate on that you really can't talk on the phone, too. Now that I have been driving for a couple of weeks, I do use my phone while I am on fairly empty stretches of road.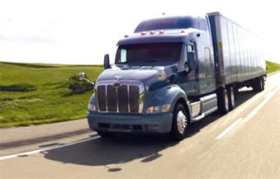 Make sure you bring 12-volt chargers and power supplies for your phone, ear buds, laptop, and any other rechargeable device you may have. My trainer's truck does not have an inverter, so I use only 12-volt power supplies. If you don't have Internet access, you are in a tough spot. Truck stops do have wireless Internet, but you pay for it daily, monthly, or yearly. Each truck stop company (Petro, Love's, TA, etc.) have their own program. I choose Verizon wireless broadband. I am not plugging Verizon, it's just that my cell phone uses them and I used their wireless broadband in my other job. Its $60 a month with a year contract. The coverage is excellent, and as an added bonus, it's encrypted. This means that if you do online banking, it is harder for someone to get into your laptop and steal your personal information. If you have an iPod and have room for it, there is nothing like good music to relax you at night while going to sleep.
You never know where you are, so your family and/or significant other can't really mail you things. You can and should mail them cards, postcards, or letters. Phone calls are great, but nothing says "I miss you" like a personal letter. My wife wrote me three cards plus my birthday card and hid them in my bag. What a sweetie she is! I do miss her and am looking forward to bringing her on my first solo trip. No! That isn't what I meant when I said I would tell you what to bring.
I could have left my towel at home. I could have also left a couple changes of clothes too. Pack light. You don't know how much room you will have. Truck stops sell almost anything you can think of. It's just expensive. If you go near a WalMart or large grocery store, you can stop there and get things you forgot.
Well, it's late and my trainer is supposed to show up Friday and pick me up. Gotta go and get ready. By the way, my trainer is on his three-day home time in central Michigan. I am staying at a dive motel on the freeway at my company's expense while he is at home. Not much to do except to relax and enjoy the still bed and fairly quiet nights.
Take care, good trucking, and God bless.