Blogs By Author

Blogs By Tag
If you're considering joining your husband in over-the-road trucking, there are a lot of things to think about. I've recently decided to join my husband, Dee, as he embarks on twelve weeks at a time OTR. We've only been at it a week but I wanted to share what I've learned to date. Maybe this information will give you a better picture of what it takes to live in the sleeper berth of a semi, whether it is just your husband traveling or you have decided to join him.
What To Take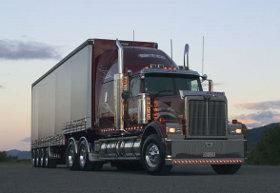 There is very little storage in a sleeper cabin so you must pack lightly. If you are anything like me, you have a wardrobe for every season and enough clothes and shoes to fill at least two closets and a large dresser. You cannot bring most of that. Stick with what you need for the season, which will mean several pairs of jeans (maybe 6), some layering clothes like tank tops and long sleeve shirts, a couple of sweaters, and socks and underwear for winter. Fortunately, summer clothing takes up even less room. Now, sleepers are different on different trucks, and you may know ahead of time what you have, but even the biggest ones are limited and you will not be living like you would at home.
Dee and I elected to bring a 700 watt microwave, which works perfectly with the 1500 watt inverter the company installed and costs less than those AC/DC inverters. We also brought a small fridge (because of space limitations we were forced to buy one that plugs into the AC/DC port), a small electric skillet, a plastic, four drawer chest we bought at Walmart, and shower caddies. I ordered canvas caddies that are usually sold to college students, with mine being a little bigger because I'm a girl and we just need more stuff. They work well when we have to go into the truck stop to shower. Also, my regular blow dryer works in the truck. That inverter really is a God send.
As for food, I keep some canned soup, bread, chips, etc on hand. Eating out every day will be very costly so it is better to eat in the truck as much as possible and treat yourself to a restaurant meal maybe once a week. You will probably find yourself snacking on cheese, fruit, whatever you fancy, more than eating regular meals. Dee and I keep a 2-1/2 gallon jug of water in the truck and refill our bottles as we drink them. If you don't want to gain a ton of weight, especially since you are sitting in the truck a lot, you will learn to drink water most of the time.
Organization
When you first move into a truck you will make every effort to organize so that there is "a place for everything and everything is in its place." It won't take long, however, before you are stuffing items into any available space and lose all hope of keeping things organized the way you envisioned. My utensil drawer now also holds a bag of chips and some cough drops. As long as stuff isn't falling on our heads and I don't have to hold it in my lap, I don't care. I still have to move the laundry bag and my coat to my seat in the front in order to get into bed. So be it.
The Hygiene Challenge
Okay, so this might get a little personal. But I'm telling you this for your own good. Hygiene is important. Some truck drivers have a habit of not showering for weeks at a time and you can tell. Staying clean is important to your sense of self pride and the image you portray to your employer and customers, or those of your husband.
Truckers drive for hours and hours at a time. They cannot stop to go potty every couple of hours. Most of them have a jug or something to pee into. They are able to use milk jugs. A lady is not going to be able to manage that. For me, I bought a large metal coffee can with a plastic lid. It took some time to learn to use it effectively while the truck was going down the road, but I've managed. I have a shawl I brought with me and I hang it between the seats to block any view of me taking care of business. It isn't pretty, I know, but it works.
I keep all my toiletries in my caddy, and I pull that out each morning to clean up. I use a plastic cup and bottled water to aid me in brushing my teeth, and I have facial cleaning clothes designed to remove makeup to clean my face. I can use my blow dryer and/or my hair curler to get my hair in order. Dee fills up the fuel tanks at designated places the Company has accounts with. The truck stops offer a free shower with a fill up, or sometimes if you purchase a certain amount of merchandise. They also have club cards that you should keep handy because each purchase gains you points you can use at those places.
Once Dee fills up and parks, we go in with our shower caddies. We have thus far shared a shower. The shower rooms are big enough (like a regular bathroom) that one of us can shower while the other waits. I take longer so I go first so I can blow dry my hair while he showers. But I just found out from Pilot (which, so far, I have found to be a pretty awesome place) that we can request team showers, which means we get two shower rooms for the price (free with fill up) of one. There are driving teams out here - one drives while one sleeps, and the wheels keep turning, almost 24/7.
These truck stops also have professional driver lounges with televisions and couches (most of the time) and laundry facilities. I just did two loads of laundry. It cost $4.50 per load to wash and dry. The small bottle of soap cost nearly $5. You can see why truckers hit the local Walmart whenever they can. If your company has terminals scattered around the nation, it is preferable to get routed to those when possible. There, you can watch TV and do your laundry without having to pay.
It is worth investing in some hand sanitizer and moist wipes. Having those on hand helps you to feel like you are staying clean. I also have a bottle of Febreze, mostly because the last driver in this truck smoked and the smell is lingering in the curtains. This particular truck has a place to hang a roll of paper towels and we use those a lot. I keep a canister of Clorox wipes and a small box of garbage bags too, but not much more than that. There is just no room.
I think that pretty well covers the basics. In my next article I will tell you about shippers and receivers, and the hectic schedule that truckers must chase. So far, it's been quite the adventure.