Maverick Transportation Review

Maverick Transportation
is based out of North Little Rock, Arkansas and began operations in 1980 out of a small home office. Today, Maverick Transportation owns more than 1,000 trucks operating in the flatbed, refrigerated, and specialized hauling industries throughout the United States and Canada. In addition to accepting experienced truck drivers, Maverick Transportation hires inexperienced drivers who recently graduated from an approved truck driving school.
Comparing Maverick Transportation To Other Companies
Maverick Transportation video about their company culture
Terminal Locations
Maverick Transportation headquarters and the main terminal are located in North Little Rock, AR. There are smaller terminal locations located in:
Fort Smith, AR
Green Bay, WI
Gary, IN
Madison, IL
Middletown, OH
Laurinburg, NC
Minimum Qualifications
You must be at least 21 years old to drive for Maverick Transportation. Your hiring area, driving record, job stability, and job references must match up with Maverick's requirements and will be evaluated when you apply. Experience is nice but not essential and they do offer a student driver program including flatbed training. During training, they will teach you the proper securement techniques required of a flatbed driver. Their extended training program is available to those without flatbed experience or to those who might need extra flatbed training. There are also training programs specific for their refrigerated and specialized hauling divisions. Additional requirements include, but are not limited to:
Have recent verifiable driving experience or recent completion of a qualified truck driving school
Have a valid class "A" CDL
Be at least 21 years of age
Pass a DOT physical, or provide your own that has been completed in last six months
Pass drug screen
Have a stable verifiable work history
Have an acceptable driving record
No DWI/DUI convictions in the last five years
No drug convictions in the last five years
No felony convictions in the last five years
No reckless driving convictions in the last 5 years
Hiring Area
The hiring area for Maverick Transportation changes on an as needed basis, but Maverick generally hires from areas east of the Mississippi river and west of Interstate 95. For current hiring locations, please visit the following links: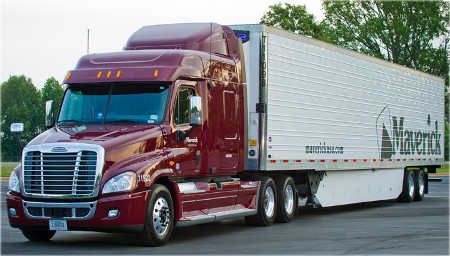 Operating Area
The operating area at Maverick Transportation includes all of the lower 48 United States as well as Canada, but most freight stays east of the Rocky Mountains.
Company Training Duration
You will spend approximately 7 days at the company terminal to complete orientation and training. At that point, you will be issued a company trainer and will spend about 3 to 5 weeks on the road before becoming eligible to upgrade to a solo driver.
This video talks about Maverick Transportation's culture and training program.
Forced To Team After Training?
No, drivers are not forced to team after training. During training, the truck is operated as a solo truck and not a team truck, meaning your trainer will always be in the front with you.
Type Of Freight
The largest division at Maverick is the flatbed division, but they also run a specialized freight division which is mostly glass hauling. In 2009, they expanded into the temperature controlled industry.
Pay
During training, drivers will earn $550 per week as a set salary. Depending on the division you choose to drive for, you will start out earning between $.32 and $.40 / mile with a $.03 / mile raise after 3 months and $.05 / mile after 6 months. From there, you will earn an additional 1 cent per mile every year for the next 5 years. All drivers are also eligible to earn performance and incentive bonuses.
Always make sure you compare pay rates to other companies in the industry:
Benefits
The following benefits are offered to all drivers:
PPO health insurance
Dental insurance
Vision insurance
Voluntary disability insurance
Life insurance
Cancer insurance
Paid vacation time after one year
401k retirement and profit sharing plans
Tuition Reimbursement
Maverick Transportation offers tuition reimbursement up to the full amount of your loan. Payments are made monthly beginning 30 days after your hire date as long as you are actively employed with Maverick. Tuition reimbursement is paid at the end of each month.
Hometime Policy
The majority of drivers get home every week or every other week, normally on weekends while under a load. However, this will vary based mostly on where you live and can also be affected by the driving opportunity you choose.
Rider And Pet Policy
Maverick has a strict "immediate family only" passenger authorization program. Immediate family includes your spouse, brother, sister, children over the age of 13, or parents. There is no cost to you for this. Pets of any kind are prohibited on all company owned equipment.
Team Opportunities
Maverick Transportation does not offer a sizable team freight network.
Canada Border Crossing Policy
Maverick transports freight in to and out of Canada, so you will be required to obtain either a U.S. Passport, or a Passport Card (PassCard). You need to have a certified copy of your birth certificate and it must have the raised seal.
New York City Dispatch
Depending on the division you choose to drive for, you may be requried to enter NYC to pick up or deliver freight.
Hazardous Materials
No, Maverick only requires a Class A CDL issued in the state that you reside in.
Drop And Hook
Maverick Transportation does not have a significant amount of drop and hook freight.
Forced Dispatch
Lease drivers are not forced dispatched but company drivers are expected to haul any load assignments sent to them.
Local / Regional / Dedicated Opportunities
Most drivers are home every week or every other week, usually on weekends while under a load. Some specific regional, dedicated, and even some local positions are offered. The availability of these positions will depend on what freight lanes you live near.
Average Age Of Equipment
Trucks are usually less than 2 years old.
Transmission Type
Most trucks now operate automatic transmissions, although there are still some manual 10 speed transmissions in the fleet.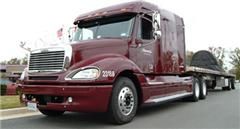 Speed Of Trucks
Maverick trucks are set between 65 and 70mph.
APU / Idle Policy
APU units are now being installed on any new trucks purchased by Maverick.
Electronic / Paper Logs
Electronic logs are used.
Check Out Other CDL Schools & Company Profiles
Maverick Transportation recruiting video