May Trucking Review
May Trucking Company began in Payette, Idaho in 1945 hauling sacks of cement to construction sites. Today, May Trucking Company is headquartered out of Salem, OR with a fleet of more than 900 tractors, providing transportation services for refrigerated and dry products throughout the United States.
Comparing May Trucking To Other Companies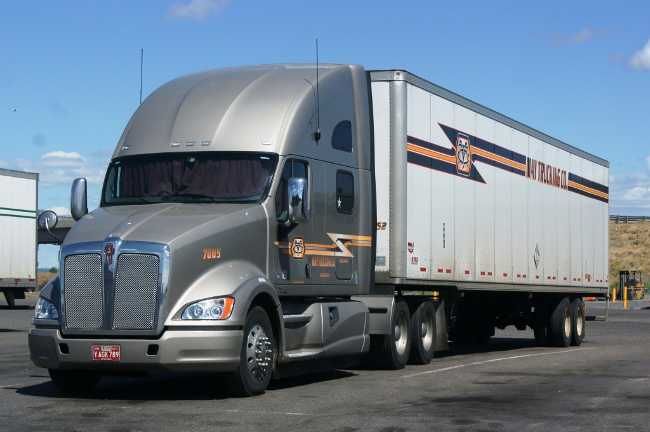 Terminal Locations
The company has operating centers located in:
Salem, Oregon (HQ)
Layton, Utah
Payette, Idaho
Denver, Colorado
Pensacola, Florida
Phoenix, Arizona
Minimum Qualifications
The minimum qualifications to become a driver with May Trucking are as follows:
Have recent verifiable driving experience or completion of a qualified truck driving school
Have a valid class "A" CDL
Be at least 21 years of age
Pass a DOT physical, or provide your own that has been completed in last six months
Pass a drug screen
Have a stable and verifiable work history
Have an acceptable driving record
No DWI/DUI convictions in the last five years
No drug convictions in the last five years
No felony convictions in the last five years
No reckless driving convictions in the last 5 years
Hiring Area
May Trucking hires from the following states:
Arizona
California
Colorado
Florida
Georgia
Idaho
Illinois
Indiana
Louisiana
Minnesota
Missouri
Mississippi
New Jersey
Nevada
New York
Ohio
Oregon
Pennsylvania
Utah
Washington
Wisconsin
Wyoming
Operating Area
The Dryvan division operates in 11 western states while the Refrigerated division operates longer routes throughout the contiguous 48 states. Drivers are able to choose their own division.
Company Training Duration
The training duration depends entirely on you and your individual circumstances as training programs are custom built for each trainee. As a general rule, nobody is allowed to drive solo for a minimum of 3 to 4 weeks, but training can last much longer than that as well. Much discretion is given to individual trainers.
Forced To Team After Training?
No, drivers are not forced to team after training. In addition, training is always done with your trainer in the passenger seat. Training is not done in a team operated truck.
Type Of Freight
May Trucking Company operates both dry van and temperature controlled freight.
Pay
During training, drivers will earn a base salary of $420 per week. After training, drivers will earn 30 cents per mile with a raise to 31 cents per mile after 6 months. At 12 months, you will receive another raise to 35 cents per mile with a ½ cent raise every six months thereafter.
Benefits
MTC offers all Company Drivers the ability to participate in a comprehensive affordable medical, dental, life, and prescription insurance plan, 90 days after hire. In addition retirement (401k) participation is offered with a company match after 6 months of employment.
Tuition Reimbursement
Tuition reimbursement is offered paid out at $100 per month.
Hometime Policy
Generally, you receive one day off for each week out with a minimum of 2 weeks out at a time. The dry van division is considered to be more hometime friendly than the refrigerated division.
Rider And Pet Policy
May Trucking Company's rider policy allows you to take a rider for a specified period of time and you are eligible to take on a rider as soon as you solo out.
Pets are not allowed on any company equipment.
Team Opportunities
Team freight is available mostly in the refrigerated division. May will match you up with another team driver if you do not have someone to team with.
Canada Border Crossing Policy
May Trucking does not operate in Canada.
New York City Dispatch
May Trucking does have the occasional load into NYC in the refrigerated division, but it is not forced dispatched.
Hazardous Materials
You are not required to have a hazardous materials endorsement.
Drop And Hook
Approximately 70% of freight is drop and hook, mostly in the dry van division.
Forced Dispatch
Drivers are not forced dispatched.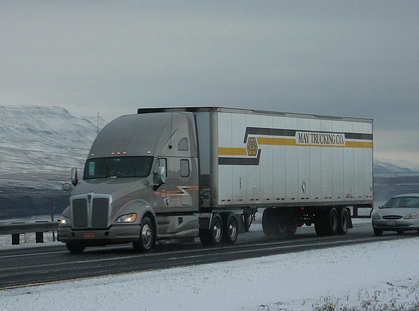 Local / Regional / Dedicated Opportunities
While local positions are rare, a wide range of regional and dedicated positions are available. Depending on your home location, you may become available for a regional or dedicated account within your first year.
Average Age Of Equipment
Average age of a truck is 24 months old.
Transmission Type
Most trucks are 10 speed manual Eaton Fuller transmissions.
Speed Of Trucks
Between 61 and 65mph.
APU / Idle Policy
Most trucks are not equipped with an APU. Idling is allowed during uncomfortable temperature ranges.
Electronic / Paper Logs
Electronic logs are being implemented.
Check Out Other CDL Schools & Company Profiles