US Xpress Company Profile

On January 21st, 1986, US Xpress hauled it's first load. At that time, the company operated 48 trucks. The company now operates more than 8,000 tractors and 22,000 trailers making it the nations 2nd largest privately owned truckload carrier. The company is based out of Chattanooga, Tennessee and hauls dry van freight throughout the United States.
Other Hiring Trucking Companies
Terminal Locations
Terminals are located in the following areas:
Chattanooga, TN
Headquarters
Colton, CA
Lincoln, NE
Oklahoma City, OK
Grand Prairie, TX
Richland, MS
Olive Branch, MS
Markham, IL
Springfield, OH
Loudon, TN
Ellenwood, GA
Jacksonville, FL
Lexington, NC
Richmond, VA
McCoole, MD
Camp Hill, PA
Kearny, NJ
Minimum Qualifications
The mininum hiring qualifications at US Xpress includes but is not limited to the following:
General Requirements
Must be 21 years old
Must hold a Class A CDL
Must pass a D.O.T. physical
Must pass a company road test
Must not have tested positive on a drug test or refused a drug test within the last 3 years
Must not have tested positive for drugs or alcohol while operating a Commercial Motor Vehicle
Must be a United States citizen or possess an appropriate work visa
Must be able to read, speak and write the English language in accordance with D.O.T. regulations
Driving Record
May not have more than 3 moving violations in the past 3 years
May not have more than 2 moving violations in the last 12 months
May not have any license suspensions in the last 3 years related to moving violations
May not have any DUI or DWI convictions in the last 3 years
May not have multiple DUI or DWI convictions
May not have a conviction or citation for the following: Leaving the scene of a crime
May not have more than 3 preventable minor accidents within the last 3 years
Criminal History
An applicant may not have any of the following convictions:
Sale or possession of a controlled substance in the last 5 years
Murder
Sexual assault of any kind
Armed robbery or felony theft
Perjury
Any other "aggravated" conviction
NOTE: All other felonies and misdemeanors will be evaluated for substantial relationship to the job.
Work History
The Recruiting Department will review and evaluate the following points of your work history:
Multiple violations of company policy
Termination from previous employer
Unexplainable or excessive gaps in employment
Indication that applicant is not eligible for rehire by previous employer
Documentation of excessive complaints
NOTE: An applicant with a dishonorable discharge or discharge for bad conduct from the the military will not be considered for employment.
Miscellaneous Info
US Xpress Driver Careers Check out the US Xpress driving careers homepage.
US Xpress Equipment US Xpress operates some of the best equipment on the road.
Recent CDL Graduates Find out about the USX driver training program.
Hiring Area
US Xpress hires drivers from all of the lower 48 United States, but their main hiring area is from the Mississippi river and east.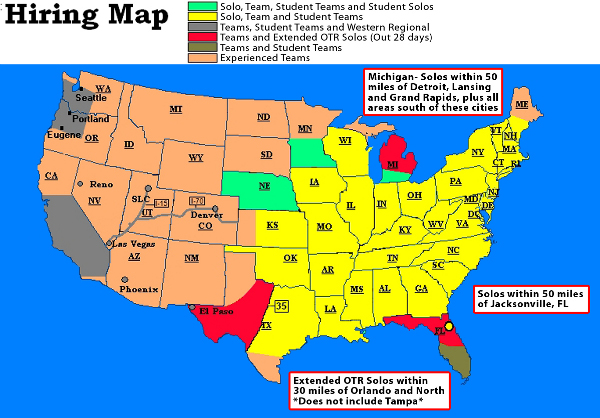 Operating Area
All of the lower 48 states and Canada.
Company Training Duration
All recent CDL grads will spend a minimum of 160 hours with a certified US Xpress driver trainer, which normally takes about 4 to 6 weeks.
Forced To Team After Training?
Some locations will require new drivers with no experience to team for 6 months. However, most areas East of the Mississippi River, except for Florida, will not be required to team.
Type Of Freight
The majority of freight is dry van, but some refrigerated freight also exists.
Pay
Drivers will initially earn $58 per day during the 3 day orientation and the 150 hour training period. After that, drivers will earn pay per mile based on a complex sliding payscale. Shorter loads will pay higher than longer loads with a maximum pay of 31cpm during the first year.
Benefits
After 60 days, drivers become eligible for health, dental, and vision insurance as well as company provided life insurance, 401k, and direct deposit.
Tuition Reimbursement
Recent CDL grads are eligible to receive $150 / month up to $4,000.
Hometime Policy
OTR drivers are typically out for a maximum of 28 days and earn 1 day of hometime for each week out.
Rider And Pet Policy
Drivers are allowed to have an approved rider or pet.
Team Opportunities
Team freight is abundant at US Xpress and those who wish to drive a team truck will have many opportunities to do so.
Canada Border Crossing Policy
While some freight does travel into Canada, drivers will not be forced into crossing the border.
New York City Dispatch
Drivers are not forced into NYC.
Hazardous Materials
A hazardous materials endorsement is encouraged but not required.
Drop And Hook
Approximately 60% to 70% of freight at US Xpress is drop and hook with 98% no-touch freight.
Forced Dispatch
While drivers are normally given a choice of load assignments, there are times they may be forced dispatched.
Local / Regional / Dedicated Opportunities
Local, regional, and dedicated opportunities are available but depends completely on where you reside. Some areas have opportunities available immediately following training while other locations don't have any local, regional, or dedicated positions at all.
Average Age Of Equipment
Most trucks in the fleet are under 2 years of age.
Transmission Type
The entire fleet uses automatic transmissions with manual override modes.
Speed Of Trucks
Trucks are limited to between 62 and 65mph.
APU / Idle Policy
Many trucks are equipped with APU units with more being added as new trucks enter the fleet. Otherwise, trucks may idle if the temperature is above 80 degrees or below 60 degrees.
Electronic / Paper Logs
The entire fleet is currently switching over to electronic logbooks.
Compare US Xpress To A Similar Company