Another Night Of Driving And A Very Close Call
Thursday, December 10 2009 finds me making more night deliveries and I am thankful for the opportunity to earn a few more dollars. I have trips tonight and all is going well. The truck is running great, and I have the heat at the blue/red mark. Chilly out tonight and I don't need much heat in the cab as I'll get sick. I find that if I have it come in on the floor vents and not at the top, that is working best for me. Having two light spring jackets is warm enough for me too.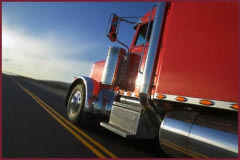 When I am returning from my first delivery, the interstate is fairly empty and I'm not sure where all the traffic is at tonight. Don't care as my job is easier with fewer vehicles to worry about. South of the tunnel that goes through the mountain, you will find a lot of trucks with their flashers on as they climb the incline with their loads at slow speed. Its about four miles of incline.
Since I am empty, I can keep my speed at 65 but no faster; our fleet is governed at that speed. I can see a truck way ahead of me rounding a curve. I watch my mirrors for traffic so I know where they are before I move into the left lane. Since most traffic likes to do 10 mph over the limit, I don't want to slow them down. I have plenty of time before I get closer to the truck. There is nothing behind me, unless some jerk is driving without headlights. That has happened before and I can not do anything about it.
Now I'm closer to the truck and closing in fast. I'm still in the right hand lane and watching my mirrors. I can also see flashing lights ahead about a mile ahead. I turn on my left turn signal and let it blink a few times before moving over into the left lane, just like they taught in school. I'll stay in this lane after I pass the flatbed so I'm not near those flashing lights.
Its 8:15 and I can see the lights to the tunnel about 2 miles ahead. I'm approaching a slow-moving flatbed and just seconds before coming along side of him that driver moves into my lane!!! Tractor first in my lane, trailer still in right lane. It's an incredibly stupid move. I slam on the brakes and "talk" to that driver. By hitting the brakes when I did, it prevented me from either slamming into left rear corner of the trailer and pushing it forward at an angle an jackknifing that truck and blocking I-540 for hours, or just slamming dead center into the rear of the trailer. It all happened so fast. I had about as much time as you would when a deer suddenly jumps out in front of you.
I didn't see for sure what that flatbed had on, but it looked like those blue metal pipes and I saw large pieced of wood too. Maybe the wood was being used for the bracing. At this point I didn't care what the flatbed had on - it almost became a passenger of mine and I was far more concerned with preventing a wreck.
Somehow I missed hitting this jerk. My skill? Luck? My guardian angel driving my truck at this moment? Not my time for an accident? When this jerk was completely in the left lane, I flashed my brights at him. He in turn, flashed his work lights at me. I took this to mean "What is your problem!!??" This jerk had plenty of time to get in left lane after I passed him. I moved into the right lane and passed him on his right. We were still about 3/4 of a mile away from those flashing lights at the tunnel.
Naturally I am glad I avoided this accident; it was going to be a bad one. I could have wound up in the hospital, or worse. And because I would have slammed into him, I may have been the one charged with failure to keep control or reckless driving to name two. Tickets need to be given out for "your stupidity caused an accident!"
Was this driver a new driver? Maybe real tired? Misjudged the distance? Not watching his mirrors? Does not care? I will never know. But this makes me paranoid now because it is not the first time in this area that I have seen jerks in slow lane jumping out into the fast lane in front of faster-moving traffic. One of these days, northbound I540 is going to be blocked for hours due to someone making a very stupid move.
Related Articles: