Blogs By Author

Blogs By Tag
What comes after the first year of driving? We are told by everyone that the most important things to remember when starting a career as a truck driver are to keep your driving record clean, don't get any tickets, and stay with the first company you work for at least one year. After that, the doors will open up for you within the trucking industry and you will be able to look at other opportunities. Maybe you're looking for a company that better meets your needs for home time, better pay, better equipment, or maybe you'd like a local driving job closer to home? Then again, you might like the company you started with. You may not want to go anywhere because you get along with your DM (driver manager, or dispatcher) great, and that's the most important person in a driver's career. After a year of experience on the road, those are now options you have at your disposal.
You First Year Is Complete. Congratulations!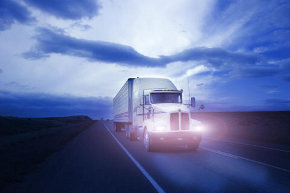 By this time, the end of your first year, you are more comfortable with maneuvering your truck in all types of traffic situations. You have survived your first year on the road through a variety of adverse weather conditions, from sunny clear roads to snow covered, icy highways and byways. Lonely roads where you won't see a soul for hours on end, to heavy inner city first gear clutch riding where it takes 4 hours just to go 3 miles. We have all been there at one time or another. Be vigilant! Don't let your guard down.
You have reached a very important milestone that you should be very proud of. Many never reach this point, but now is not the time to relax. Many reach this goal and breathe a sigh of relief, become too comfortable, and mistakes begin to happen. They become over-confident with their new skills. Pretty soon they stop watching their mirrors when switching lanes and cut off other traffic, or end up clipping telephone poles, fire hydrants, or even worse - that four wheeler that sneaks up on your blind side while trying to make a right hand turn. Now you may say "I am always very careful". Really? Can anyone truly say this? We all have a lapse in judgment from time to time and fail to do the little things that keep us and others safe on the highway. It happens. Just remember what got you through your first year and continue to do that. Treat every year the same as the first and you will go on to a long lasting, accident-free driving career. Keep your guard up at all times.
More Options are now open to you
The first year is up. Maybe you stayed with your first company for a few years and you're ready to take on a new challenge. "What are my options?" you may ask. There are several to choose from and all of them come with their own inherit risks, rewards, issues, and responsibilities. Thus far you have experienced the easier part of truck driving, if any part can be considered easy, by being a company driver. The other options I will only mention briefly because each one would need an entire book or website to explain in detail. But there is plenty of information out there, I will leave that search up to you. Two of your options are to become a Lease Operator - which is an Owner Operators that leases their truck to a company. Or you can become an Owner Operator with your own Authority - meaning you are licensed to book and transport your own freight.
Before making a choice to dive into owning a truck you had better spend MANY hours researching this. Those that choose to step outside of the realm of being a company driver feel that they are ready to assume the risk involved with having their own truck. This is a very important decision and it is filled with risk. Here are a few questions that you would have to ask yourself:
Do you know how to run a business?
Are you ready to give up even more of your free time, which you seldom have now as it is?
Can you force yourself to put money away and not touch it except to use for business use only, without saying "I need the money for [insert excuse here] and I can put it back next week"?
Can you stay away from home for 3 to 5 months because you run a business and you are the only employee?
Can you budget an entire month of expenses instead of only looking week to week?
Can you hold your temper in check when you are being treated like dirt?
If the answer is "NO" to any of these questions then stay where you are as a company driver. Fail with any of the above questions and they will ruin you in the end. Sure there are many more questions that could be asked, but they aren't necessary at this point.
Many will caution against leasing or owning a truck, and with good reason. Some people make good company drivers, but don't do so well owning their own truck. But no matter what path you choose, make sure you do your research because it's your career and you have to live with that decision.
Your Pay Expectations As a Company Driver
Your first year will be the hardest. Your mileage pay will depend on the company. But many new drivers can expect to make $28,000 to $32,000 the first year if you are doing what you need to do. After that you should make anywhere from $3,000 to $5,000 per year extra each year after the first year and if you are lucky capping out at about $50,000 on the top end. Sometimes if you are very lucky you can make more, but it's tough to do.