Bad Directions, The Wrong Entrance, and A Coon Dog Cemetery
The first delivery of my first full solo week was to Simpsonville, South Carolina. This one, thankfully, went very smoothly; the directions were accurate, it was easy to get to, and they had me unloaded quickly. This trend, however, would prove to be of the one-in-a-row variety. My next pickup would be at International Paper in Newberry, SC.
Newberry, I learned, is home to a witness who reported a sighting of a reptilian monster in 2005 called "The Lizard Man of Scape Ore Swamp". The Lizard Man is described as being seven feet tall with green, scaly skin and glowing red eyes. The woman in Newberry reported to the police that she had seen two creatures resembling the Lizard Man near her home. The responding officer, in an effort to calm the frightened woman, told her the creatures "just like to check on humans from time to time". While I cannot claim a Lizard Man sighting in Newberry, I still had a bizarre experience of my own there.
Bad Directions And Wrong Entrance Again!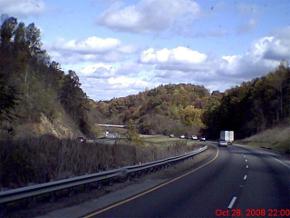 My directions said to go 4 miles past the first light in Newberry and the shipper would be on the right. What they should have said was to go .4 miles after the light. I saw International Paper on the right, just as I zoomed past it.
Newberry is a town with narrow streets and many of them are one-way. It was probably not designed with a truck pulling a 48-foot trailer in mind. I finally spotted a street that (almost) appeared to have adequate width to make a left turn, so I gave it a shot. I had to back up a few times and go up on a grassy embankment to avoid taking out a stop sign, but I finally made it back to the interstate and re-entered Newberry to try again.
Déjà vu! I turned into the wrong gate again and the only way out would be to do a blindside backing maneuver out into the street. I could not believe this! I was starting to feel like God's hacky sack!
I panicked for a while and looked around, in hopes of seeing another elderly white-haired man. I began to calm myself and then resolved to do what I had to. After a couple of failed attempts, I managed to get out of there no worse for the wear. While I was fuming at myself for making the same mistake twice, I was happy that I'd been able to clean up my own mess this time. Nevertheless, I was starting to see that a goal worth striving for might be to NOT get myself into these predicaments in the first place.
The Coon Dog Cemetery
I picked up lumber in Newberry, which delivered to Littleville, Alabama. Littleville, mercifully, went very smoothly. On the way to Littleville, I saw a sign for the Coon Dog Cemetery on Highway 72ALT near Tuscumbia, Alabama. At first, I thought it was a joke, but it is a legitimate burial site exclusively for coon dogs.
A man named Key Underwood who, sadly, buried his faithful coon dog Troop, with whom he had hunted for 15 years, established the Coon Dog Cemetery in 1937. The burial spot chosen by Underwood was a popular hunting camp where coon hunters from miles around would gather to plot their hunting strategies. Soon, other hunters followed suit and chose this site as the final resting place for their beloved coon dogs.
Out of one hunter's devotion to his faithful coon dog, the Key Underwood Coon Dog Memorial Graveyard was born. It is the only cemetery of its kind in the world. Today, more than 185 coon dogs from all across the United States rest in this northwest Alabama memorial.
While I may have had an initial chuckle, I learned that the memory of a loyal coonhound is no joke to an avid coon hunter. When a columnist interviewed Underwood in 1985 and asked why he didn't allow other kinds of dogs to be buried there, his reply was:
"You must not know much about coon hunters and their dogs if you think we would contaminate this burial place with poodles and lap dogs."
The following is an excerpt from an actual coon dog eulogy:
"and the coons don't go up no slick barked trees

and the carbide don't run out

and there ain't no bull nettle and saw briars

and old master always knocks the coon out

and lets Ole Red grab him and give him a good shake;

and then he gets a pat on the head
Related Articles: