Blogs By Author

Blogs By Tag
Being a CDL instructor or a driver trainer is a very unique experience. I've heard people claim that the best way to learn something inside and out is to teach it. After going through this whole experience, I definitely agree with that statement. I learned more about truck driving over the past 4 weeks than I have in the previous three years combined. It was an amazing learning experience for me. Here are some of the highlights I learned along the way.
Expressways Are Easy
Some new drivers are nervous about driving such a large vehicle on the expressway. Actually, this is the easiest part of truck driving. Yes, there are extra challenges when driving a huge vehicle (blind spots, merge points, dumb 4-wheelers, etc.), but quite frankly, anybody can learn how to drive a truck straight down a highway. When learning how to drive a truck, it's all the other stuff you should be concerned with. Taking turns, managing stop lights, predicting what other cars and trucks around you will do, backing into tight spaces, city streets, tight pickup and delivery locations, and a million other things. The expressway is the fun part. Enjoy it! But be ready to learn as much as you can about the other 99% of trucking.
Don't Worry About What Others Think
My student really struggled with this, and when I first started driving, I did too. Driving a big, slow truck is much different than driving a car. You have to take turns slowly, you accelerate slowly (if you're on a hill you might not be able to speed up at all), it takes you longer to pass, it's harder for others to pass you.... Basically, you are always in the way of people, always going too slow, and nobody ever wants to be behind you. That's life as a trucker. You will make people upset. But the more you try to rush and the more of a hurry you're in, the more you will make mistakes and increase the likelihood of an accident.
It Ain't Easy Bein' A Rookie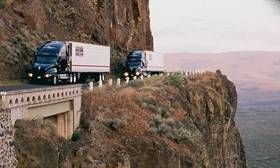 But it's not just the 4-wheelers. As a new driver, it will take you a while to get the feel of the truck. You'll miss gears, you'll take turns much slower than other truckers, it'll take you longer to back into docks and parking spots, and you'll do things that make itpainfullyobvious you are a rookie. On rare occasions, you might even get somebody on the CB radio who yells at you, gives you a hard time, makes fun of you, or tries to intimidate you. Ignore it! Every driver was new once (although some drivers will never admit that). You can never take a turn too slowly, but as soon as you take one too fast you'll know it because your career will be over. You can never get out and look too many times at a truck stop when backing up. But if you decide not to get out and look, and hit Bubbas truck, you'll know it!
Truckers are plucked from the general public, just like everyone else. Some of them are really nice and are willing to lend you a helping hand while others are jerks that feel they must prove something. Don't be intimidated, and leave your ego at home.
Every time my student got intimidated by somebody, be it a 4-wheeler or another trucker, I'd ask my student "What is that guy's name?" He could never give me an answer. You have no personal connection with anybody out there on the road. If they think you're stupid, who cares!? You don't know them, they don't know you, and chances are you'll never see them again in your life. It's ok to be a rookie and do things extra cautiously. In fact, it's a requirement.
Learning The Lifestyle
The hardest part of driving a truck, ironically, has nothing to do with driving a truck. It's all the other stuff that goes along with it. Using dirty public restrooms, sitting at shippers and receivers for hours on end with poor facilities and crabby employees, the erratic schedules, missing a sporting event, missing friends and family, living in an extremely cramped space (with a stranger while you're in training no less!), the paperwork, the rules and regulations, and a million other things. The list goes on and on. This is not an easy lifestyle. Nor is it glamorous. It takes some getting used to, but give it a chance. At first, you might not like it. Try to adjust and go with the flow. Because over time, you'll learn some tricks to make it easier and more manageable. You'll adapt. And after a while, the lifestyle becomes a part of you. It gets into your blood and you wouldn't want to have it any other way. For many of us, this lifestyle is like a drug and we become addicted. No, you won't understand that early on. But if you stick with it and keep a positive attitude, the payoff will be worth it.
Sharing A Truck
Remember, this is a temporary situation. Sharing a truck with a total stranger can and will test your patience at times. Maybe you'll get lucky like I did and have a great trainer with a personality to match. But that might not be the case. As long as your trainer is safe, just stick it out. After company training you'll never have to share a truck ever again. And remember, your trainer is giving up his personal space and freedom to have you on board. This isn't a cakewalk for your trainer, either.
For more info about sharing a truck with your trainer, check out my blog post on types of trainers and how to deal with them.
This Was A One Time Deal
While I did enjoy the experience, this is the last time I will ever be a trainer. I simply love my personal space and laid back lifestyle. Training a new driver is stressful and takes a lot of work. Yes, the money was good. And yes, it was very exciting to see my student grow and improve over time. I got a lot of satisfaction out of helping my student start his new career. I also learned a ton along the way. However, I am glad to be back in my truck, by myself, where I can sing loudly, talk to myself, and fart freely!
Until next time, drive safely!
TruckerMike