An Icy Night On The Prairie
An ice storm hit Dallas today, and its my day to make that run. I pull up the Texas weather before leaving. I know it will be an interesting drive and I will shut it down if it is not safe, or if I do not feel safe. There is also a chance that law enforcement will close the roads. I get to use another rental truck that is a 1999 International 10 speed with 653,875 miles on it. I do not hook up my CB because some of the connections are missing or broken from the truck, so I don't think I can get it to work. I also discover that the weather radio, which most semis have, does not work either. Of all nights, tonight I would be needing that weather radio. Ironically, my CB also has the weather radio, but of course that won't be working tonight, either.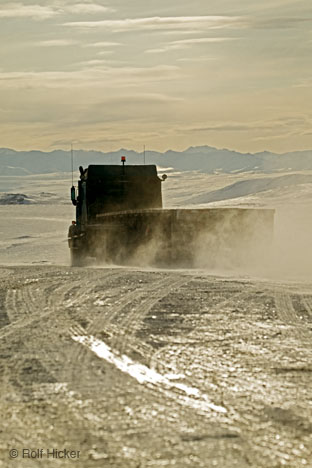 I leave at 4 pm for my 5 ½ hour drive under normal conditions. I mentally prepare for an extra hour to cover fueling and bad roads. I do have my winter coat with me, and the temps will get colder as I head toward Texas. Might need it if I break down or have to sit where I do not want to be. I soon discover that the heat in this truck works really well. It is either on or it is off. There is no in between to get comfortable. Even with throwing the heat through the defrosters, I was melting. So I cracked open my window and the passenger window--the switch for that window is on the dash. If I get too hot, I get sick. At Webber Falls, OK there were snow flurries. Another 15 miles was my Route 69 turnoff. I am hungry and I need to get fuel. I want a full tank for the "just in case" things that come up. I go North on 69 toward the Flying J and the Citgo truck stops in Checotah. I decide to use the Citgo because the Flying J is busy. My food selection here will be almost zero, but I do not have a choice. I must get back on the road right away. There is a dusting of snow on the ground and I slide into the truck stop on the icy pavement. Other trucks are sliding too. There's just enough snow on the ground to make it greasy. A semi from Colfax, IA is next to me at the pumps on the left. I put in my CB at the fuel stop and find out it does indeed work in this truck, and I am thankful for that.
Soon I am back on the road with my drink, my munchies, some water, and some extra water. Lots of wind now so my windows are up. I arrive at McAlester at 7:30 and that is 3 hours from Dallas. I turn on the weather channel on the CB and I'm able to get some Texas reports after the McAlester weather. I am going to be on bad roads and it does not sound good for any area. Wow!! The heat in this truck will cook you out! I am sweating and I do not have any type of a coat on. And the heater fan is not on at all. I used to carry a thermometer in one of my trucks, but I know its near 100 degrees in here. I flip the switch on the dash and crank the passenger window open all the way with a 20mph NW wind blowing in on me. I go about a mile like this then the window goes up.
At 9:10, I cross the Texas line and the northbound truckers are warning us about the conditions we are heading into, and it is not good. I also saw ice on the road at the line and slowed it down to 9th gear - about 45mph (4 + 5 = 9). I had also been reaching out and touching the back of my mirror to check for ice. I am not in 9th gear long as it is too fast so down I go to 8th. The wind is blowing stronger and there is not much weight in the trailer. I really do not want to use my jackknife training. That training was scary enough in a controlled situation at the training grounds. There are very few 4-wheelers out and that makes us truckers happy. Roads are getting worse. I get to mile marker 48 at Anna at the three truck stops, and suddenly the northbound truckers are yelling on the CB, "BRAKE CHECK!! SLOW IT DOWN! YOU WILL BE COMING TO A COMPLETE STOP!!!" I gear down some more and now traffic has stopped. The ice is worse now--more greasy than anything and the plows have not been out to treat this area. Now it is 10:15 and I am 30 miles away from my delivery. I barely move for about 40 minutes, but I am finally able to get into the left lane and a little bit further up the road. The road curves to the left about a ½ mile away. A long line of vehicles are ahead of me, and now behind me too. CB chatter says two tractor trailers pulling doubles could not get up that greasy incline and got stuck. One perhaps even jackknifed. I see a lot of flashing lights up there, but not a lot for a jackknifed truck in my opinion. I do see the plows are out doing their thing, so both directions of traffic can move when they are done. I call my receiver and tell them what is going on. Will also call again when I get there so someone can unlock the gate for me. I sat on this road for two hours.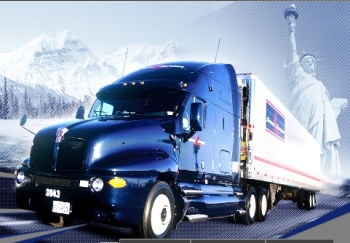 About the time we were able to move, the woman in the car ahead of me gets out and walks to the pickup beside her and uses that driver's cell phone. Then she comes to my truck and wants to know if I can jump her car as it will not start. ARE YOU KIDDING??? (The batteries are not under the hood in a semi and how would I move to line up with her vehicle to help her????) She left the lights on when she shut the car off. I get out in the cold temps and wind and see if I can start her car, just in case she only flooded it. Yup, its dead. We did have a nice man stop to help and he had a portable jumper cable machine. He asked me not to move my truck until he was done (Now just how am I to move this 70 foot rig when the right hand lane has at least one mile of traffic in it, and there is a line just as long behind me? Just where did he think I was going?????) We get the car started and off we go. I was sure glad to get back into that very hot truck. Temps are near zero.
At the incline there was a lot of sand on the road and I had no trouble getting up it. I also had on my power divider for better traction on my drivers. This would be like 4-wheel drive on our personal vehicles. I reach my destination at 1 am. It took four hours to get here from the state line. There is solid ice on the driveway and the gate is open for me. I get backed into the dock, get out, and make it inside the building without falling and breaking anything. When the trailer is unloaded, I move to the other side of the lot and go to bed. I have had enough fun tonight and do not need any more. I am very tired from trying to make it here safely.
The next morning the local news is saying the Fort Worth police had 2,145 accidents yesterday. I walk to my eating place by the receiver and have steak and eggs. I also watched the news and they were reporting all the accidents. Sure was a lot of them. When I started for home, the Texas roads were still the worst, but the road crews did a great job of clearing them overnight. Once I crossed the line, it was 70 all the way home.
Related Articles: