Blogs By Author

Blogs By Tag
I reached 300,000 miles in October 2005 on my trip to Dallas. I was very excited to reach this milestone, considering I had never planned on driving even one mile in these humongous beasts! For this trip I got to take a rented International 10 speed tractor. I noticed that the front bumper is not hanging properly on the right side but it is not that bad. Slight shimmy at 60 mph but again, its not that bad. It does need to be watched though, and written up. There was also a gauge showing brake pressure for the foot brake. It was neat to see how many PSI you were using when applying the brakes. There were 3 more that I do not get to see a lot---temperature readings for front axle, the rear axle, and the transmission.
Heading South Toward Ft Smith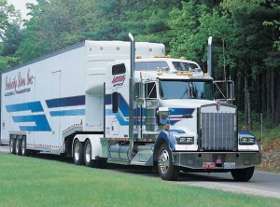 I am on the road at 4pm and heading south on I-540 to Fort Smith. There's a lot of hills and I find myself playing leap frog with another driver. His load was heavier than mine, so I'd pass him going up the hills, and he'd pass me going downhill and on flat ground. For an hour we played leap frog. I don't like this game, but we've all been there because you just want to keep your speed, so this will happen at times. 4-wheelers don't understand this and aren't happy about it when they're behind two semi's doing this. It was my plan to get fuel on the way, so I pick one of the truck stops and suddenly found myself sitting on the highway waiting to enter the truck stop!!! This is not good. Every semi in Oklahoma must be here for fuel! OK, I know that is not possible, but it seems like it. I've never seen this happen before and I'm not sure what's causing such congestion, but finally I was able to enter the truck stop and bypass the pumps to turn around. I wasn't about to wait in line. West bound and down on I-40, I watch the lightening in the distance, a long ways off. I'm still wearing sun glasses and not concerned at this point because the weather is still nice where I'm at, but I'm keeping an eye on the weather moving in. When I get on U.S. 69/75, there are a lot of trucks heading south. A lot more than normal in fact. At least there's a lot of freight moving - which is good. I wonder what is going on, why all the freight now and where is it all going? I must also be more alert with all this traffic on the road.
At one point I pass a trucker who had his TV sitting on the passenger seat and he was watching it! This is unprofessional and unacceptable! You need to be focused on your job, not watching TV. I know some people may think its not any different than eating, drinking, using your phone, or talking on the CB.
The Weather Is Moving In
I tuned into the weather channel on the CB because there is lightening to the south and west. And it now its starting to look nasty. There is a chance of hail and 60mph winds in this storm. I can do without the wind! The storm was passing thru Oklahoma City and many other places too. I just want to avoid it if it is possible. But it is moving my way, or shall I say I'm moving toward the storm. It'd 5 1/2 hrs to the receiver and I arrived at 9:45. I am pleased with the time of arrival and there's no bad weather - yet. It doesn't take long to unload and then I am back on the road heading north to I-40. Lightening all the way too. I stop at Eufula for fuel and get 165 gallons. A 4-wheeler followed me from the truck stop and stayed behind me. I keep an eye on him because we are the only ones on the road and most 4-wheelers are anxious to get around a big truck. But not this vehicle. I slow down, they slow down. I speed up, they speed up. Do I call 9-1-1? I am catching up to another semi after a few miles of this "game". Now as we are approaching an exit and the 4-wheeler decides to pass me. He gets just ahead of me and is directly behind the other semi in left lane. Suddenly, with barely enough room to spare, the 4-wheeler swerves between us to get off at this exit! The stupidity of driver's is amazing!!! Naturally I am glad we didn't hit, but it was a very close call. I see it has rained when I get to I-40 and I drive in rain all the way back to Arkansas. Just rain. No wind, no storms. Don't need that after my close call. Very little traffic at this point so it was calming to be alone in the rain with my tunes on the radio. I make it back to the yard safely once again.
300,000 miles in the book and it wasn't easy, especially with moves like the one tonight by that four wheeler.