Some Days Are Better Than Others. Some Are Best Forgotten.
As I write this, I am sitting cozy in my jammies (Dee grins every time I say jammies) in the sleeper cabin while munching on a sandwich from Subway. While Dee decided to brave the fourteen degree temperature and whipping winds to take a shower, I have chosen to stay warm and comfy and let you know how things have been going. It's been a harrowing week. This 34 hour restart is just what the doctor ordered.
Weathering the Weather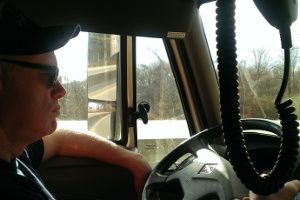 The week started well enough. Fresh from our last restart we got a four hundred mile run and then an eleven hundred mile run right on the heels of that. But I had not been feeling well and a head cold zapped my energy. All week I've been trying to fend it off and Dee has been trying to help (though he had no idea how he could) but it finally caught up with me. I've spent more time laying in bed and even sleeping than helping with navigation. Our usual camaraderie on the road has been reduced to sniffles from me and curses from Dee as he tries to find his way while avoiding contact with four-wheelers whose drivers are busy texting and expecting him to be the responsible one.
We have been blessed for weeks with avoiding foul weather, though it has chased us through many a state. It began with a thirty four hour restart in Chicago that we spent at my mom's house. We arrived Friday afternoon with a load that was to deliver Monday afternoon so we were there for the entire weekend, during which a significant snow storm blasted the entire area. But by the time we returned to the truck Monday, the snow was cleared and we didn't have to deal with it. For the next couple of weeks it continued this way. Storm alerts would ding my phone, the radio would call out advisories, and somehow, Dee and I always managed to pick up or drop our load and escape the area before it hit.
Then, Thursday Arrived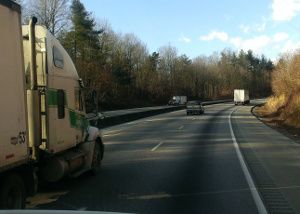 We were scheduled to drop off our 1100 mile load Thursday morning in western Missouri. When we sent the empty at receiver message we soon got an assignment to pick up another load, but we had to dead head for 300 miles to get it. This in itself is unusual, at least for us, as we have never dead headed for more than 100 miles before. 300 miles meant a six hour jaunt just to get the load on the other side of Missouri. Then we had to haul the shipment to Ohio for a scheduled appointment the next night at 11:30.
By the time we picked up our load we were winding down on hours so we hit the nearest truck stop for the night. We calculated the hours we would need to arrive near our scheduled time because if we have learned anything, we have learned that arriving early will only cause you to wait longer and burn hours. We did not want to get stuck at a receiver with no Hours of Service available to get to a safe haven. This meant we needed to leave the truck stop around 2:00 p.m. so that we would have plenty of hours for the 400+ mile trip, a fuel stop, his forced break, and any potential delays. Our appointment was for 11:30 p.m.
Our first bad sign was arrival at a yard situated in a city block with little room to maneuver. There were trucks lined up in their staging area and signs that instructed arriving drivers to park and walk to the guard shack. We had arrived nearly two hours early in spite of our best planning, though it is better to be early than late. Dee parked and went to the guard shack, where he received a loaner safety vest and four pages of rules. It was like the ten commandments of the almighty receiver to the lowly trucker.
- Thou shall not run thy truck when not in thy truck.
- Thee must wear thy safety vest at all times.
- Once thou are unloaded, thou MUST leave the premises. NO OVERNIGHT PARKING.
You get the picture. There was extravagant use of capital letters and red ink. These people were very serious about pickups and deliveries.
The guard instructed Dee to train his CB onto channel 17 and listen for his name to be called. After dutifully acquiescing to the rules, we sat and waited. And waited. And waited. More than two hours later I asked Dee if he was sure it was channel 17 because we had not heard a peep from it. They had not called a single truck into the gate, and there were plenty of them waiting. Just as Dee was about to go ask, a voice came over the speaker; "Okay, drivers, sorry for the delay. We've just been informed that it's going to be a while because the warehouse is backed up. We don't know how long it will be, probably a couple of hours, so just rest up and we'll get you in as soon as we can."
Tired and Tormented
Now, we had arrived with around six hours left on the clock. We had been there for more than two. If we didn't get inside and unloaded within a couple of hours we were going to have a devil of a time getting to a truck stop. We would surely receive a citation from the DOT. I'm not so bothered by the occasional hit but it drives Dee crazy. But their instructions clearly stated that we could not stay there. They even suggested that we use the "Safe Haven" rule to get to a parking location. I looked up this rule that I had never heard of. Everything I found indicated that this rule may ONLY be used in emergencies emanating from severe weather, an accident, or other similar emergency, and that delays by shippers or receivers were not considered those types of emergencies.
A few hours later they finally called us in and, after traversing the insane landscape of this tightly packed warehouse complex, we bumped the dock and got unloaded. We had 31 minutes to get out of there and find a safe haven. But while we were sitting at the dock it had started snowing quite heavily. I told Dee, there's the storm my phone warned us was coming. With our DOT clock flashing a red warning light at us, Dee got tense as he always does in these situations. We made our way out of there and to the highway. We traveled at about forty miles per hour because by then, the snow was heavy on the roads and the plows were unable to keep up. In short order we encountered a rest area and Dee told me he was pulling in. As we guessed, there was not an empty spot to be found. Finally, at nearly four a.m. and with two minutes left on the ever flashing clock, Dee pulled the truck over in front of another truck that was parked on the exit ramp and shut down.
In The End, It All Ends
We optimistically hoped that we could drop that load and maybe pick up another for delivery Monday before we shut down for restart. Because of yet another delayed delivery at a receiver, that hope drained away and was replaced by the prayer that we would find shelter before the snow storm got worse and all the spots were taken. By the time we shut down, we were just glad to be done, and completely exhausted. Saturday morning we had to sit there, hoping still that another pickup might come, realizing soon that it wouldn't, and finally, after our ten was done, driving a few miles up the road to the truck stop we will call home until Monday morning. It's been a hectic week. But the good news is, they have showers, a Subway, and a Pizza Hut with pretty good pasta. We have movies to watch and sleep to catch up on. I plan to snuggle up with my big trucker and forget this week so we can look forward to next. At least I am with the man I love. And that is saying something.
Related Articles: