What Is This Thing We Call Trucking?
Is it Pain, or is it Pleasure? Is it Work, or is it just Weariness? Is it a Living, or something more akin to a Lifestyle? Or perhaps it is a mix of all the things I've mentioned here, and more besides.
Trucking is not a career for the casual observer, seeking a job, to just jump into without much consideration. It takes considerable Commitment to make it in this industry. The statistics show that approximately 95% of the new entrants to this career never make it past the one year mark. That is an astounding number of failures at Trucking!
Have you ever tried to research Trucking as a career on the internet? Goodness gracious, you would think this is the absolute worst thing one could ever choose to do for a living! Many a truck driver talks as if they have thrown their life away in this pursuit. Not too long ago the New York Times wrote an article about Truck Drivers titled "Throw Away People." Then even more recently USA Today published a tediously lengthy two part article about Trucking titled "Rigged." Their basic premise, and they came to this after interviewing a bunch of truck drivers, was that today's truck drivers are "Forced into debt. Worked past exhaustion. Left with nothing."
What is wrong with this career, or perhaps more suitably phrased, "'what is wrong with the people who choose this career?" Has the American Worker become so soft and fragile that we can no longer appreciate hard work and the rewards that come from that exercise? I recently drove my big rig past the Hoover Dam. What a colossal piece of engineering that was and a great accomplishment by American workers. My mind drifted back to those days when there were great men doing great things here. Men like R. G. LeTourneau, who had both the Brains and the Brawn to get great things done. My how the mighty have fallen!
Most of us spend our days at a keyboard pecking away our existence at menial tasks that do little in terms of actually producing something useful. I always enjoyed being involved in manufacturing. There was a certain thrill for me to take raw products and turn them into something useful that people wanted to part with their money for. I find that now days when I am driving my truck I am delivering those raw products to many of the same suppliers that I would purchase materials from back in the days when I was in the custom sign manufacturing business. I still remember the day when I pulled my rig into the Eastern Metal Supply warehouse in Houston, TX to make a delivery and the plant manager "John" saw me and recognized me as one of his customers from years ago. We used to attend the industry's conventions together in various parts of the country, and always enjoyed each others company. He came over to me, shook my hand, and then took me into his office and we had a nice chat. Then he gave me a tour of their facility just because he knows I love the manufacturing business. When I finally got back to my truck the fork lift operator asked me, "Man, who are you? That guy never talks to the truck drivers who come in here, and he certainly doesn't invite them into his office!"
To be a successful Truck Driver, I am convinced one has got to embrace the whole lifestyle of it. This is not a job that you work at for eight hours a day and then forget about it. You don't go home each day, in fact if you are an over the road driver you may very well work fourteen to sixteen hours a day and only go home once a month or so. Sure, that can be tough, I'll not deny it. But to keep on doing this all the while, and being miserable at it is silly. If you don't like it, go find a different job. You may say, "I can't flip burgers and make this kind of money." Well, money isn't everything, but if you choose to go for the money then why not figure out a way to enjoy yourself out here?
I get very wearied from all the vicious libel that truck drivers post online about their employers and their poor miserable lives. Hello! We are not slaves, we do have the power of choice. That means you can choose another career if you like. It also means, and this is important in this discussion, we can choose to enjoy ourselves out here while doing this job!
Who in the world do you know who gets to do the things you do and see the sights you see while you are working? This may be one of the last of the jobs where you are totally unencumbered by other people who are watching and supervising you. I wouldn't even know what to tell you if you asked me who my boss was. How many jobs is that true of? Pretty much I decide how much I am going to get done, and I am therefore rewarded based on my choices and decisions. If I were to complain about my paycheck, I have no one to point the finger at other than myself. For me, one of the greatest things about this adventurous career is that it is totally like being self employed, only it comes without all the burden of being responsible for other employees and paying the colossal bills involved. There is a freedom and liberty to this career that is unparalleled in my estimation.
I take the steps to enjoy myself while I am on the road. I always take walks in whatever area I am parked. I familiarize myself with the many areas I go to. I learn of their fascinating histories. Some of the towns I go to are quite old and have an interesting past. I was recently in Waynesboro, Virginia. Do you know anything about that town? Look at what I found on my little walk through their town.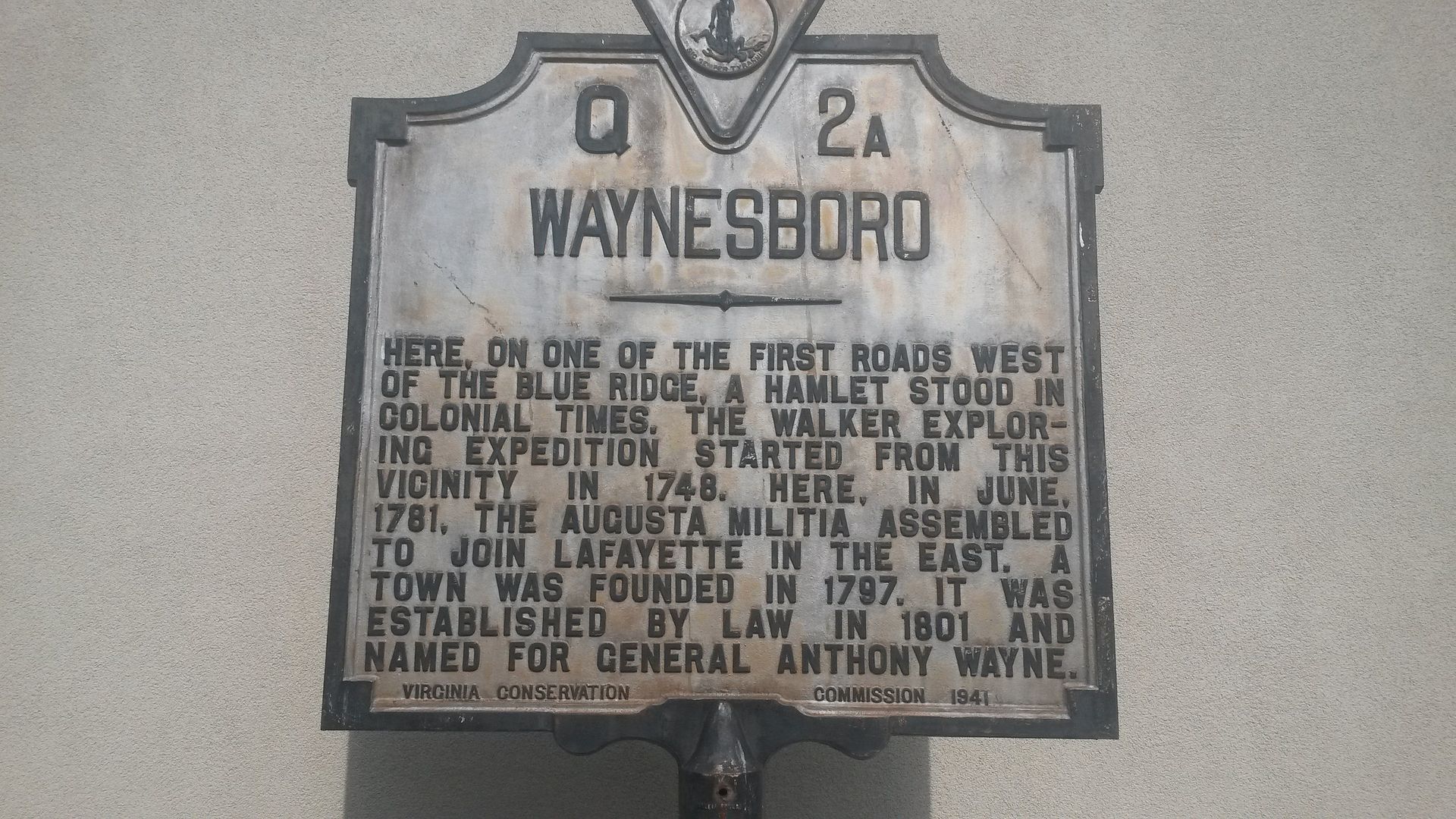 I often stay the night in Fort Payne, Alabama. It happens to be a good stopping point on my many trips up into the Northeast parts of the country. I had been there several times before I discovered their history. It may not be the kind of thing they are excessively proud of, but it is their history nonetheless. And I enjoyed getting to know more about the area. Check out this story on these historical markers there on HWY 35.
I find simple pleasure in this lifestyle that most truck drivers never even notice. I see the beauty of the landscape as the seasons change, I enjoy the complicated challenge of managing one's time so that you can be productive and profitable at this. I enjoy the people I meet along the way. I have made so many friends out here on the road. Some of them are always glad to see me when I periodically appear into their lives unannounced. There's a quaint little restaurant in Cressona, Pennsylvania with only a handful of tables in it called Jean's Place. She genuinely seems to enjoy seeing me when I do show up. She will sit at my table with me and visit. She always wants to know where I've been, and where I am going.
I enjoy sometimes meeting up with my truck driving friends, people like Paul Anderson, who I recently met up with in Lexington, Virginia for a brief visit and a meal as our paths momentarily crossed each other's...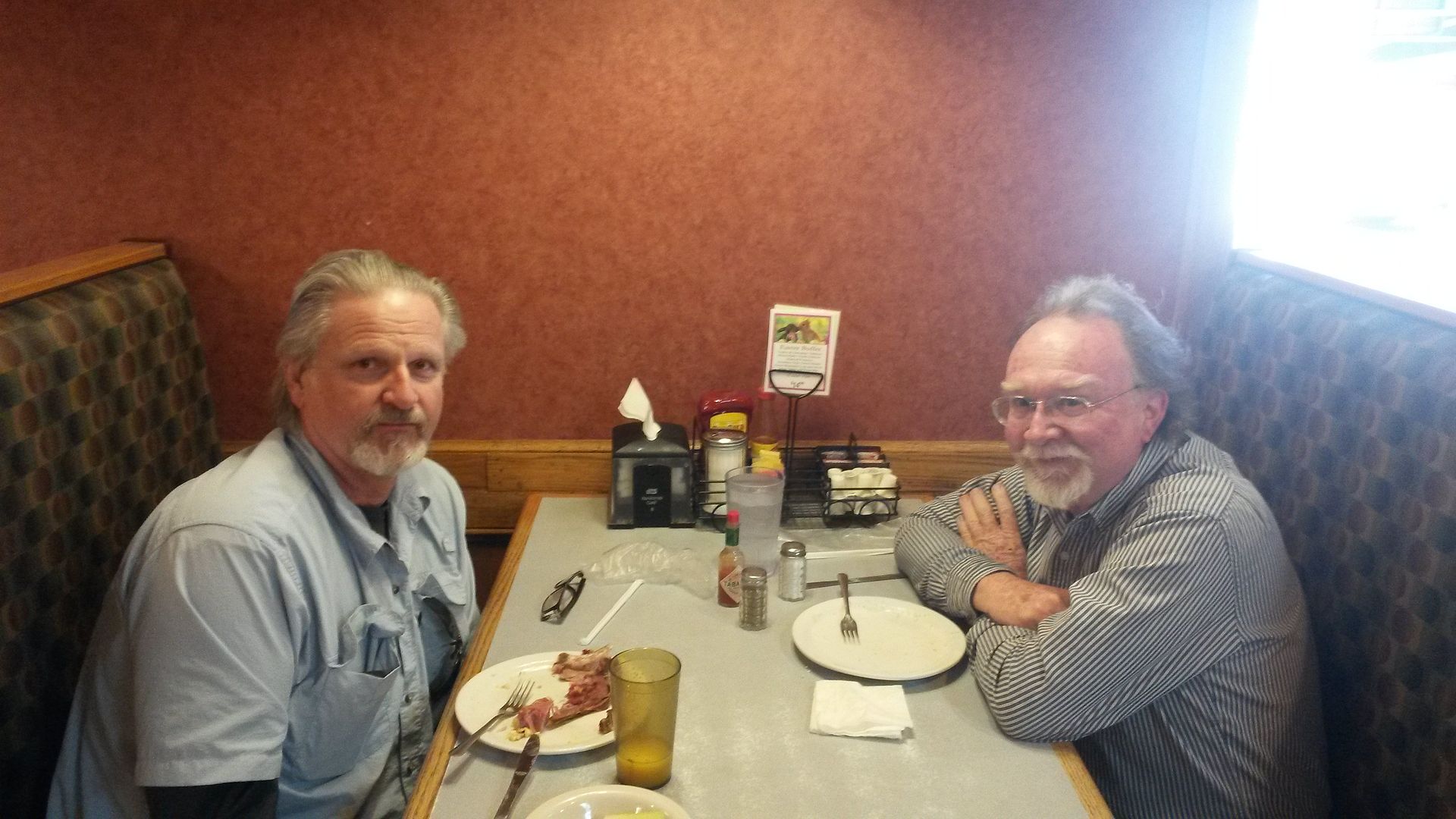 I enjoy the simplicity of this lifestyle. Am I a bit quirky? Maybe so, but man, I think people ought to enjoy the way they make a living. After all, that is how we spend much of our time. Look at what I did with this meal the other day - I was preparing myself a meal, and I realized that I had prepared it just as if I was having my best friends over for dinner. I tried to place it on the plate so that it had a sense of appeal to it! Silly? Maybe so, but it was an unconscious effort on my part. It was some simple fare of summer sausage with cheese and crackers, yet I turned it into a feast for the eyes and the body...
I enjoy the many things I get to see and witness out here, the sunrises and the sunsets, the unexpected surprises that happen at times, like this rainbow that appeared at the truck stop where I was taking my rest. After I had driven in a hard rain for most of the day, it was a welcome sight for this weary truck driver to take in before I closed my eyes for the days repose...
Oh, there are a lot of things I miss by being a truck driver. I miss my dear wife at home...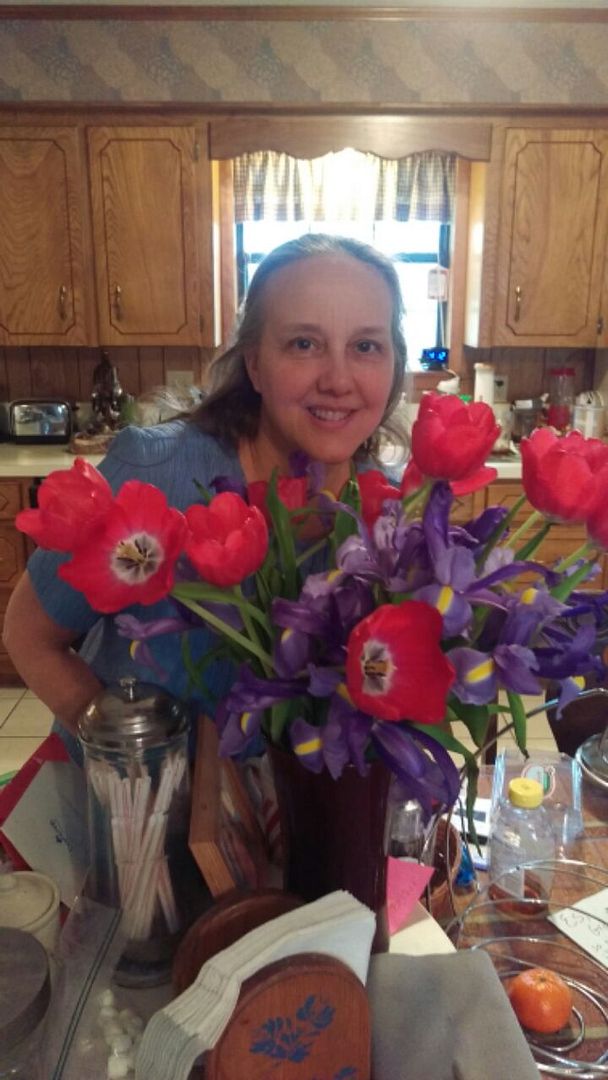 I missed getting to see my daughter Sarah and her husband Austin win a hamburger cook-off contest...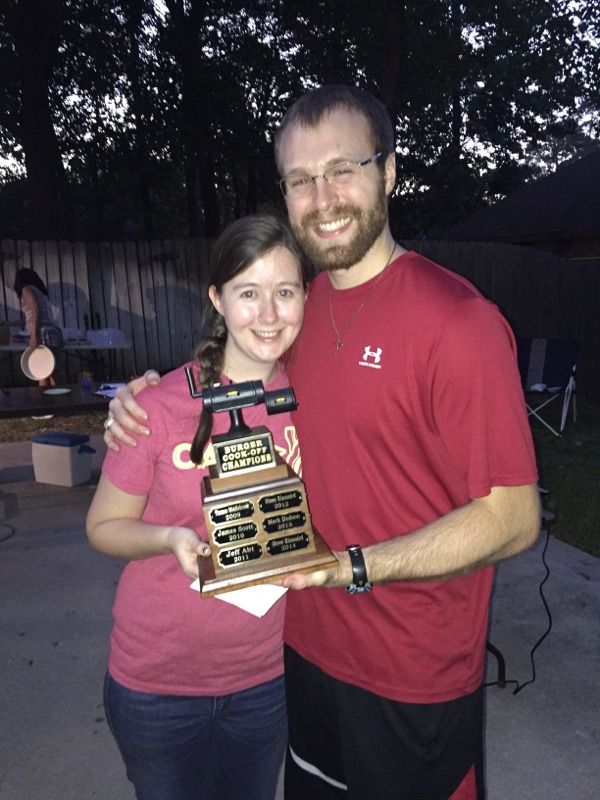 I miss my daughter Esther, and her husband Andrew, and their goofy Rottweiler "Lucy", who thinks she's a lap dog...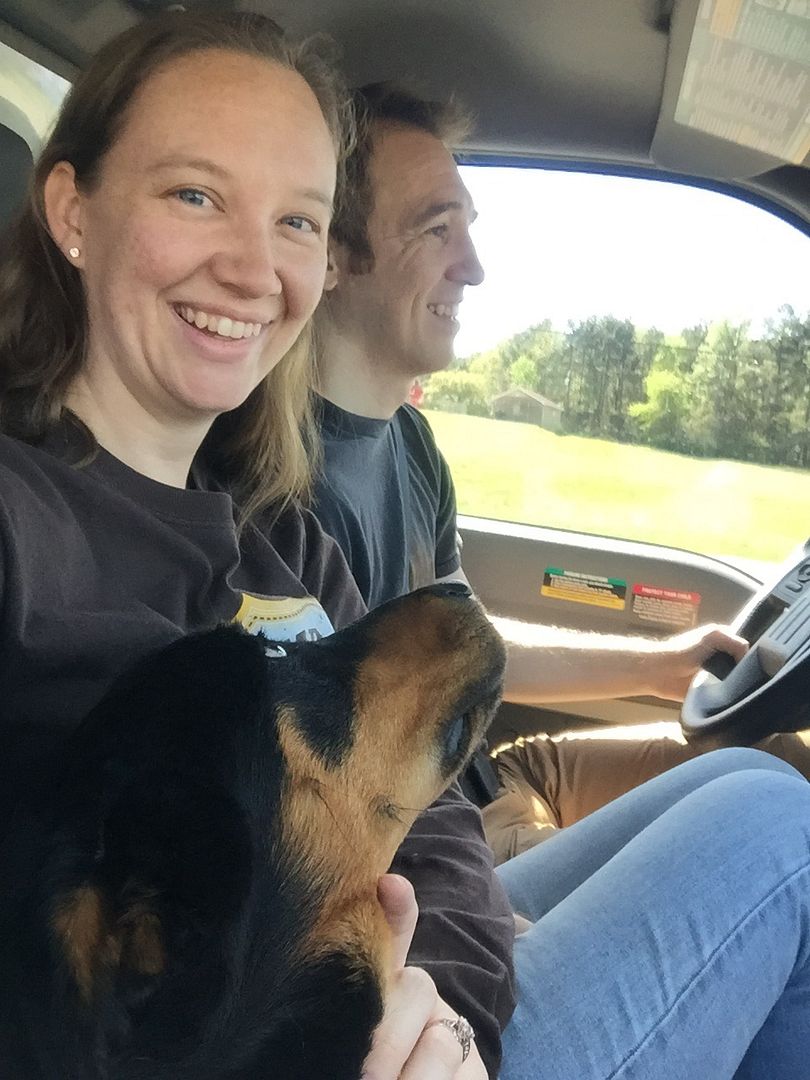 I miss my daughter Abigail, who I caught "horsing around" with this Sinclair Dinosaur while we were at a truck stop together once...
Yes, there are problems with pursuing this career, but goodness, who doesn't have some sort of problems in their lives. I certainly don't consider myself to be miserable, or a "throw away person." I'm actually quite proud to be an American Truck Driver. I find the career suits me. I think anyone who spends a little time reading the things I post will realize that I don't see the world through rose colored glasses. I don't sugar coat this career and try to fool myself into enjoying it. I genuinely am quite happy out here making things happen for the benefit of my family. I have enjoyed much success at this, and realize it all the time when I hear from the many folks who are just out here suffering their way through the muck. It takes a special person to succeed at this. I have been blessed in this pursuit, and I try to do my best to help others realize the way to success at this. I spend a lot of time here in the Forum helping folks manage the maze of getting started in this career. Some of them survive, some of them go by the wayside, but it is the ones who thrive at it that make me the most proud.
What is this thing we call "Trucking?" For me it is pleasure, adventure, satisfaction, and financial rewards that my family is benefiting from. Don't interview me if you want to hear about how terrible this job is!
Related Articles: