Blogs By Author

Blogs By Tag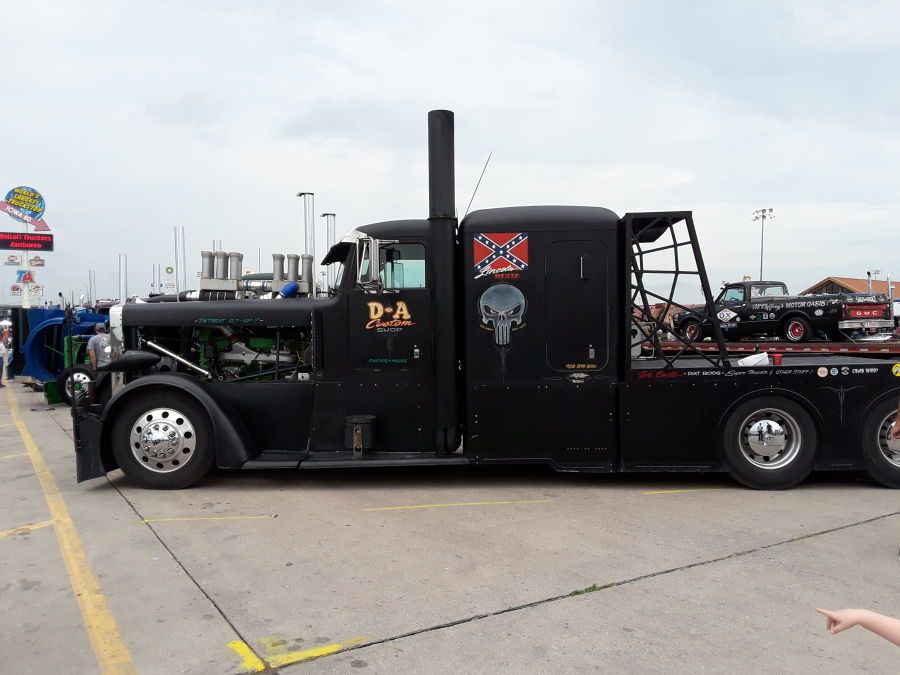 You've been in CDL school and training for weeks or even months. You've been frustrated, humiliated, and even had difficulties getting along with your trainer while on his/her truck. You've longed for the freedom of getting your own truck and going solo. Perhaps you planned how you would set up the truck, what TV and appliances you would buy, and started buying little necessities while on the road.
But now that the day is finally here and you're getting your own truck your nerves are rattled, your stomach is in knots, and you wonder how this company can hand you the keys to a $200,000 truck. "What are these people thinking? I can hardly back this thing up, I still can't downshift, and I'm not completely sure if I'm getting all the Macros right!"
Most People Don't Feel Ready To Go Solo
If this sounds like you, you are absolutely not alone. I went to orientation in September, got my CDL in October, and after months of team training, I was dropped at the terminal to upgrade to my own truck. Still, I felt incompetent and requested to have extra help with backing. My company assigned me two different instructors to coach me for a few hours each. Also, a trainer friend of mine took me to a truck stop and let me practice with his truck and things still didn't click. Then on Valentine's Day, I headed out on my first load.
The load was delivering 100 miles away, but I headed out 24 hours early, and parked outside the customer's gate. I was the only truck there, and an hour before my appointment, I pulled to the gate to find a speaker. I hit the button, and got nothing. Frantic, I messaged dispatch to apprise them of the situation. There was no way I was going to get blamed for screwing up my first load.
Every ten minutes, I tried the button again, and nothing. Am I in the right place? After another twenty minutes and two more messages to dispatch, a man came toward me. The gate was not working properly, and he had to come from the other side of the plant and manually open the gate for me. Luckily I had plenty of room to get into my first dock. What luck, I was the only truck there.
Then the tandems wouldn't slide, probably because they were frozen. I rocked the truck, tapped the pins with a hammer, and even sprayed them with Windex until they retracted. I was so nervous, it took me 15 minutes to back into a door that was a straight line back with no other traffic or pedestrians around. When I pulled the brakes, I sighed with relief. I did it! Whoo hoo!
Before I knew it, a pre-plan for my next load came across my Qualcomm. What? Do they realize I am still not finished this load? I still have time to screw up the paperwork! I requested directions for the next load and the Qualcomm yelled at me that I was too early to do so. It couldn't send me directions for the next load, because I technically was not assigned that load yet, so the directions it sent were to the receiver where I was currently docked. What confusion I created in my own head. An hour later I was on my way to the next location.
That night seems like a thousand years ago, but I remember the anxiety and the desire to do a great job. I can sit back and laugh at how I must have annoyed dispatch that night, although the guy was really nice and understanding. That first load was very easy compared to many others that came later.
Navigating Can Be A Nightmare
Some roads are very dark and the signs are confusing, so missing turns was a common practice for me. Even trying to follow the directions the company gives was confusing because it said, "I-80 West 90 miles to US 6 West for 20 miles". It doesn't mention that the two highways merge at many different points, so is that 20 miles of I-80 included in the 90 miles or what?
It was so dark in Nebraska, I kept looping around between US 6 and I-80 for about sixty miles trying to find a shipper. After seeing several low clearance signs, I got more nervous and just gave up. I messaged dispatch that I would find the place in the morning. The appointment was the next afternoon, so I had plenty of time, but I was trying to push to be the best. That night I couldn't sleep because I expected my Fleet Manager to call me in the morning and ask why I wasted so much time and fuel getting lost. He didn't.
One lesson I learned early on is to not take unnecessary risks. At that point finding my way in the dark was too dangerous for me, so waiting for daylight was the smart thing to do. Always take the easiest and least dangerous choice. Park away from other trucks, don't turn if the street looks too narrow, and if you are ever in doubt about something, don't do it!
Going Forward Can Be Tougher Than Going Backward
New drivers always assume backing is the problem, but sometimes going forward is as well. I had never driven on service roads because we don't have them in the Northeast. One night I drove the wrong direction when I pulled out of a truck wash. I didn't realize I was going the wrong way until two lanes of oncoming traffic were in front of me! I turned into a car parking lot to avoid collision. Mistake! It took me 45 minutes to figure out how to turn around in that small lot.
Getting lost became the norm for me, and what does a woman do when she is lost? She asks for directions. But that is a dangerous choice also, because well meaning locals will give you directions for cars, not trucks. When I was lost at Fort Knox, I asked an MP how to get back to a gate and he gave me directions taking me to an 11 foot bridge. One sweet woman in Texas told me to follow a road to "the first big county road" and make a left. That big county road was a narrow gravel road that looked more like someone's driveway.
My point is, you are going to get into all kinds of predicaments that are going to frustrate and scare you. Just get through them safely. As time goes on, the brain switches from fear mode to analytic mode. I no longer fear being in a bad situation, I scan my environment and calculate various ways to get out of the situation. Now I have the experience to know how much room I need to make a turn. I know how to back up strategically, like whether it would be a better idea to back up straight for a bit before making a maneuver. I also look for wide areas that I can park for a moment and use Google Earth to get a satellite view so I can make better informed decisions.
Backing At It's Worst
Some customers are so busy with yard dogs, cars, and pedestrians that I would creep slowly when backing up and I would blow my horn constantly. Others were so tight that those with decades of experience needed others to guide them into the door.
It is rare we go to grocery stores, but as a newbie I went to one in New England that was so tight I had to do a 90 degree alley dock - blindside! It took me forever, and terrified me. I kept getting out to look, even though an employee tried to help guide me. I then messaged dispatch that I was never going there ever again and they can fire me for it if they want.
After a while the fear and nervousness subside, and once again the "I have to make this happen" problem solver comes out. No one else can help you do it. Sure there are times yard dogs can put that trailer in a door for you, or other drivers can help guide you. But there are also plenty of times when you are all alone and have to figure it out.
I'd be lying if I told you I never broke down crying while punching the steering wheel. I did a lot of that my first two months. Since then, I have been to many of the same customers and now wonder how I could have been so aggravated. Those hard customers are no longer hard. And as aggravated as I was in the beginning, it is now a cool way to gauge my accomplishments. Think about it. The same customers I found impossible, I now just zip into without issues. That means my skills have dramatically increased, and that fills me with confidence every day.
What's The Best Thing About Going Solo?
After weeks or months of being on the road with a trainer you're tired of being told what to do, where to put your stuff, and being confined in a rolling closet with a stranger. It's time to go solo and you finally get your freedom. You can sleep naked if you want, throw your trash on the floor, organize your stuff, and screw up all day without input from someone else.
Once I started running solo I was much more relaxed than I was with a trainer. There was no one to disappoint when I messed up, and no snide comments such as "Why are you grinding my gears?" I could now grind all the gears I needed to in order to gain the experience to shift properly. I could make those wrong turns without someone complaining that I shouldn't have gone that way. Yeah, okay, thanks Captain Obvious!
See also: Important Tips When Going On The Road With A Trainer Or Going Solo
The absolute best thing about going solo is making mistakes.
Yep, you read that correctly. A trainer can lecture you for hours, but some mistakes you need to make on your own. For example, new reefer drivers sometimes forget to fill the reefer fuel before heading to a customer. Some customers are very particular and will send the driver away for not having a full tank of fuel. Just imagine arriving at the customer early only to have to drive 20 miles back to a truck stop then 20 miles back to the customer. Now you are late! I thought my Fleet Manager would flip out, but he laughed and said, "It happens to everybody, but it only happens once. The driver learns quickly." The good thing about that trip is that I was still an hour early, thanks to Old School's posts about trip planning. But had I not found this website, I probably would have been late that day. And perhaps my Fleet Manager's reaction would have been different.
A Great Story
Yesterday I delivered to a customer but the load I was picking up was not ready. I dropped my trailer and headed down the street to a parking lot nearby. How did I know that lot was there? Because over 2 years ago I was on I-270 in Columbus, OH when an accident shut down the highway. I ran out of hours and followed a bunch of other truckers off the road. They must have known where they were going, right? All of the trucks started backing into hotel and fast food parking lots. Lots way too small for me to try.
Then I saw an industrial park sign, which means trucks! Eureka! My troubles are over, there is usually parking in industrial parks even if just on the side of the road. Nope. I was told by several security guards and drivers that no parking was available anywhere "except the corner gravel lot". However, there was a no truck parking sign there. Here I was out of hours, and no parking available. So I risked it. I parked, sighed, and was prepared to deal with police if they arrived.
As soon as I lay in my bed, I heard a noise that didn't sound good. In the driver's side mirror I saw the trailer sinking into the gravel. Forty-six thousands pounds of beer was leaning so far to the left that I could see the top corner of the trailer. I started crying, trying to figure out how to tell my Fleet Manager. They would have to tow me or the trailer could roll. At best this would be an accident on my DAC, at worst it would roll over and get me fired, possibly ruining my new career.
Then my Jersey Girl came out in me, "If my career is dying, it's gonna die my way!" I stuck that truck in gear, switched on my differentials and turned hard to the right. The trailer bounced a little, but I pulled out of that sinkhole. After a few breaths, I slowly drove down the street and miraculously found a hotel with a huge parking lot across the street.
I took almost an hour doing a pre-trip inspection on the truck and trailer, but found nothing. My heart finally stopped racing, and I got some sleep. The next morning, I drove through some construction and a tire hit a very shallow pothole. All sorts of alarms beeped and the Qualcomm messages came flying, "Trailer tire pressure is low, please pull over when safe and inspect the tires". I did, but found nothing. So I almost flipped the trailer, and bounced the tires in a sinkhole with no alarms, but a slight dip in a construction zone, and the truck started screaming. That made me laugh.
But thanks to that dilemma, I now know of a great 24/7 parking lot that happens to be right next to a customer.
Crazy Stuff Will Happen
The bottom line is that crazy stuff will happen. Stay calm, solve the problem, and learn from the mistakes. Having years of experience is not going to stop that crazy stuff from happening, but you'll be better prepared to stay calm and handle it the right way. One thing you can do when you're new is call an experienced driver for advice. I suggest that everyone befriend drivers within your company. Get their phone number and make sure you list what times of day those people prefer to drive. It isn't hard to set up your own 24 hour helpline if you take the time to meet people. Once in a while it's best to swallow your pride and ask for help.
Good luck, safe travels, and remember... you are definitely not alone!