CDL Training - My Second Day of Truck Driving School!
Hello once again everyone! On day one of my CDLtraining, I told you my class went through pages 1-34 in the Illinois CDL Study Guide.
Today, we went over pages 34 to 61. Before we got started, our instructor gave us a little verbal quiz from the info we learned yesterday. He called on us randomly and asked questions. We weren't allowed to look in the book or at our notes. We actually didn't do too bad! There were a few questions we stumbled on, but for the most part we did very well and I think he was pleased. I kept getting all of the hard ones, and my instructor even commented on that. But I did very well and I think I really impressed him with my answers. I don't care what you say, brownie points are good!
I did get one question wrong though. He asked; "who is required to carry a medical card?" Oh great, the one thing I didn't review last night! My answer was; "Anybody operating a vehicle that has a gross vehicle weight rating of 26,001 lbs. or higher." WRONG! Luckily he didn't tell me to get my head out of my ass! The real answer is, "most operators of commercial vehicles with a gross motor vehicle weight of 10,001 lbs. or greater." Whoops! Now I know. Luckily only one guy in my class knew the answer, so I wasn't alone on that one.
After about an hour of quizzing us and going over some of the things we had trouble on, we got started on new material. Like yesterday, we took turns reading out loud in class and periodically the instructor would stop us to tell a story on a specific subject, tell us what to pay extra special attention to, and give us real world tips. I found today to be much easier than yesterday as a lot of it was common sense. There are still some specifics to memorize, but for the most part, it came pretty easily to me. Less in the way of numbers, and more in the way of concepts.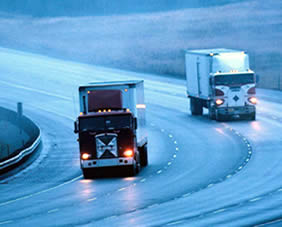 Today was almost all about "defensive driving" techniques while in a big rig. We watched several videos on jackknifing, winter weather driving, how to make turns and drive in a congested city, some more on backing techniques, etc. The video we watched on winter driving sort of freaked some of my fellow classmates out. Now, we're all from the Chicago area, so we aren't new to snow, ice, and cold. But this video was not shy on showing some very bad accidents involving semis. The video about rollover accidents was the same way. It was very interesting to see some of the reactions in class. I thought one guy was going to puke and walk right out.
I think it was a bit different for me, because I've watched many truck accidents on YouTube. I'm a bit desensitized at this point after watching so many. The shock factor has already passed. I've actually searched for them, and some of the accidents on YouTube are very serious, including accidents that resulted in fatalities (caught on tape). Don't get me wrong, I'm not some sort of sicko who gets his jollies off on death and destruction. But I think it's important to watch these videos, if anything, for educational purposes. If somebody had to die, the least we can do is try t olearn from their mistakes so it'll save our butts.
Anyway, after h emade everyone feel better, we moved along in the book talking about how to handle accidents, fires, and other emergencies, as well as city driving, turns, braking techniques, mountain driving, driving in extreme weather conditions, and just defensive driving in general. It was good real world stuff. He'd often get off track and say, "for exam purposes, this is the answer. But in the real world, this is how it is..." Then he'd go off and tell a story about the subject. I like that he tells us how it will be out there, not just what the right answer on the CDL exam is. Keeping in mind, safety is always at the forefront of his stories.
The last section we covered was all about buses. Snore. I don't have much interest in driving a bus, but we're required to know some of the info on buses that could be on our exam. Why do I have to know that "no rider may stand forward of the rear of the drivers seat" on a bus? I have absolutely no idea. But apparently this question comes up a lot.
At the end of class, he gave us all a pop quiz from things we covered yesterday, which was 25 questions. I got two wrong....GRRRR! And I missed the stupidest questions. Actually, the second question I missed I'm still contending. Here's what they were:
What is the BAC (Blood Alcohol Concentration) of a commercial driver? A. .08 B. .02 C. .00 D. None of the above.
Now, first of all, the wording on that question is terrible. What is the BAC of a commercial driver? Do you mean what is the legal limit until they get a DUI? My first answer was D - None of the above. The legal BAC for a CDL holder is .04, I know this. But then I changed my answer to C - .00. Why? Because if a CDL holder is found to have any alcohol in his or her system at all (even a .01 BAC), they are placed "out of service" for 24 hours. Basically, a .04 is a criminal offense. Anything under that still isn't allowed, but it is not a criminal offense. So, instead of going with my first instinct, I changed my answer. The correct answer was in fact D. Crap! That's what I get for over analyzing the question. I think I was the only one in the class who got that one wrong. As you can see from my pic, I was so embarrassed!
Here's the other question I missed:
What emergency equipment are you required to have in a commercial vehicle? A. Fire extinguisher, spare electrical fuses, circuit breakers, reflective warning squares, seat belt. B. Road flares, CB radio, reflective warning squares. C. Fire extinguisher, spare tire, extra headlight bulb, reflective warning squares. D. None of the above.
Ok, I don't even know where to start with this cluster of a question. I paraphrased answers B and C as I don't remember exactly what they were, but it'll get the point across. First of all, we were taught that the three emergency items you must have are a fire extinguisher, spare electrical fuses (unless equipped with circuit breakers), and three reflective warning triangles....not squares! So, initially I chose answer A, but then changed my answer to D. Why? Well, I could handle electrical fuses and circuit breakers both being in the answer, but the seat belt and the reflective warning "squares" really threw me off! Turns out that was the correct answer (whatever!). My entire class began hounding the instructor (every one of us got that one wrong). I mean, where did the seat belt thing come from? After he was unable to really justify that question, he agreed that it was a bad question and has put the question in "contention." HA! So instead of a wrong answer, we got an asterisk for getting it wrong. So I really only got one question wrong, and that's just because I'm a bonehead and read too much into it. I still claim I got the second question correct. That's my story and I'm stickin' to it!
After that, our day was wrapped up! Tomorrow, we will start the air brakes section. This is going to be a tough section, but I've already read through it a few times so hopefully I'll pick up on it quickly. We're movin' right along. As long as successfully pass my test and get my CDL permit on Friday, I'll be in a truck on Monday! Sweet!
Until next time (which will be tomorrow), drive safely!
TruckerMike
Related Articles: