CDL Training - Hopefully Taking The CDL Test This Week
Last week was pretty busy for me. But things are starting to get a bit repetitive at truck driving school. We're mostly alternating all day between backing up in the yard and driving truck out on the road. My road skills are becoming quite refined and I'm starting to feel very comfortable driving trucks now. I know I still have a ton to learn, and I'm looking forward to getting on with a trucking company and going out on the road with a trainer. I'm sure I'll be overwhelmed once I'm out there.
We did manage to get out onto the expressways last week for a little bit. While I didn't find it all that challenging compared to busy city driving, I enjoyed the change of scenery, and it was nice to get on the road where most of my time will be spent as a trucker. It was also great practice for being completely aware of what's going on around the truck. Using the mirrors is even more important on the expressway. Things change around you so quickly that if you don't constantly pay attention, you might lose sight of a car that's in your blind spot and not even know he's there. We were doing 55 around the Chicago expressways and people in Chicago drive much faster than that. So besides the other tractor trailers on the road, we were being passed constantly with cars cutting in front of us, etc. It was nice not having to worry about shifting or making turns, but all the attention must be spent on constantly being aware of the cars around the truck. Things change very quickly all around you.
We should be taking more of our CDL test this Thursday, but the weather forecast doesn't look all that great. We are supposed to have some mixed precip all week and possibly a significant snowstorm moving in on Wednesday into Thursday. So I'm not too sure what will happen if the weather is bad. I'd really hate to be delayed even further. Hopefully the weather will give me a break and I'll be able to take all of my road tests and get my CDL by this weekend.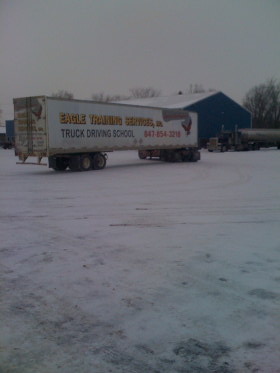 Since I already have my pre-trip exam out of the way, there is really no more studying I can do at this point. The only CDL exams left are the yard skills test and the road test. So I'm going to start studying for my HazMat endorsement this week and get that test done. I don't really want to haul dangerous materials, but there are a lot of HazMat loads which aren't all that dangerous. For instance, paint is considered HazMat. When I'm out on the road, my HazMat endorsement could mean the difference between waiting on a non-HazMat load or getting the load right away. So it seems like a pretty good idea to get that endorsement.
Applying to companies has been a tough road. Many companies are on hiring freezes and others are being very selective on who they hire. I am set up with an orientation date in early March for a company already, but I'm currently working on other options too. I should get some decisions this week on a few of my top choices, so wish me luck!
I'm starting to get anxious about getting my CDL and finally hit the roads with the big dogs. Hopefully that's only a few weeks away!
Until next time, drive safely!
TruckerMike
Related Articles: