My First Truck Driving Job: The Trip to Trucking Orientation
This was quite an experience! The trucking company I got hired on with gave me a confirmation number to take a Greyhound Bus about 500 miles to their main truck terminal. This is where orientation would be held. Since my last orientation with another truck company was cancelled just 24 hours before I left, I was nervous. But I finally arrived at the bus stop and was ready to go.
I arrived at the bus stop at 7:15am with my confirmation number in hand and my heavy luggage on my shoulder. They said to show up an hour before the bus leaves, which left at 8:30 am. No problem. Well, when I arrived, nobody was at the bus stop to give me my ticket. There was a sign stating they open at 8 am. Not a big deal, I can wait. Well, 8am rolls around and nobody is there but me. So I'm starting to get a bit nervous. Then 8:10, 8:15, 8:20 .....and I'm still the only one around. I decide to give Greyhound a call to see what's going on. The customer service rep I spoke with said I should just wait for somebody to show. And if nobody shows up, that I'd still be able to get on the bus and get my tickets at the first stop. Phew! That's a relief.
It was now 8:30 and I'm still the only person waiting for the bus. But then, a ray of hope. I see somebody walking from the parking lot with a Greyhound shirt and hat on. As he approaches, he has a funny look on his face and says "You aren't waiting for the bus are you?" "Ummm....yup." He then tells me the bus was cancelled due to a lack of riders and that I should have been notified! He told me he'd see what he could do.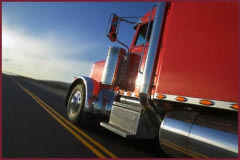 I step into his office and he proceeds to tell me that the only other bus he has available is at 2 pm. That's ok, I can wait. However, the bus has a total of 6 hours of layover time at various cities and I have 4 transfers along the way. I would arrive at my destination at 8 am the following morning. Seeing as though my orientation was supposed to start at 7am the following morning, I wasn't real happy. I called my recruiter and told her about my situation. She luckily indicated that it wouldn't be a problem. They will just notify the orientation crew I'll be late.
As I contemplated the situation, I decided to give my parents a call. They should at least be able to pick me up so I don't have to wait around at the bus stop for another 5 hours. They came to pick me up and we discussed the situation. Well, my father and I are involved with general aviation as a hobby. In fact, my dad helps run a flying club and knows people who have some real nice airplanes. He gave one of his flying buddies a call to see if he could fly me the 500 miles so I didn't have to take the bus. His friend said absolutely!
So instead of taking a 16 hour Greyhound Bus ride with 6 hours of layovers (one layover was from midnight to 4 am!) and being totally exhausted for my first day of orientation, I was going to head over there in style. A nice twin engine Cessna, a great pilot, and I was at my location in under 3 hours. Yeah, that kind of worked out!!
So, I had some dinner and arrived at the hotel. We were told hotel rooms would be shared with another individual. I guess I got somebody in a good mood. When I checked in, the girl behind the counter said; "Would you rather just have your own room?" Hmmm, geeze, let me think about that one. I'm a little scared of the dark, but yeah! My own room sounds good! So I said "yeah, if the price is right." She got me all set up and gave me a key to my very own hotel room. The company I'm going to work for owns this hotel and lets us stay free of charge during orientation (hence the double occupancy). So I got my own room at the companies expense. Nice!
So all in all, this day turned out to be pretty good. I got a little scare in the morning, but I was able to avoid the wonderful Greyhound Bus and come in on a twin engine airplane instead. It also allowed me to arrive 13 hours sooner than I otherwise would have. Then to top it off, I got my own hotel room for orientation! Time to get a good nights rest!! Orientation tomorrow!
Until next time, drive safely!
TruckerMike
Related Articles: