Review Questions - Click On The Picture To Begin...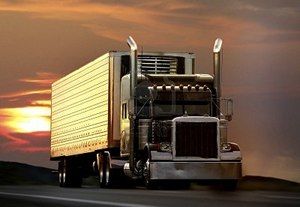 If you're feeling drowsy, you should:
Turn up the radio and start singing
Find the closest place to safely stop and sleep
Take caffeine pills
Open the window
Quote From The CDL Manual:
Drivers often do not realize how close they are to falling asleep even when their eyelids are falling shut. If you can safely do so, look at yourself in a mirror. If you look sleepy, or you just feel sleepy, stop driving! You are in a very dangerous condition. The only safe cure is to sleep.
When an approaching vehicle has bright headlights, you should:
Stare directly at the oncoming vehicle so you don't lose sight of its location
Look towards the left side of the road such as the left shoulder or curb
Look towards the right side of the road such as the right shoulder or curb
Flash your high-beams to let the other driver know their lights are too bright
Quote From The CDL Manual:
Drivers can be blinded for a short time by bright light. It takes time to recover from this blindness. Older drivers are especially bothered by glare. Most people have been temporarily blinded by camera flash units or by the high beams of an oncoming vehicle. It can take several seconds to recover from glare. Even 2 seconds of glare blindness can be dangerous. A vehicle going 55 mph will travel more than half the distance of a football field during that time. Do not look directly at bright lights when driving. Look at the right side of the road. Watch the sidelines when someone coming toward you has very bright lights.
At what distance should you dim your high-beam headlights for oncoming traffic?
Within 500 feet
Within 250 feet
Within 1,000 feet
Within 750 feet
Quote From The CDL Manual:
Glare from your headlights can cause problems for drivers coming toward you. Headlights also can bother drivers going in the same direction as you, when your lights shine in their rearview mirrors. Dim your lights before they cause glare for other drivers. Dim your lights within 500 feet of an oncoming vehicle and when following another vehicle within 500 feet.
With low-beam headlights, approximately how far ahead can you see?
Quote From The CDL Manual:
At night your headlights will usually be the main source of light for you to see and for others to see you. You cannot see nearly as much with your headlights as you can see in the daytime. With low beams you can see ahead about 250 feet and with high beams about 350-500 feet. You must adjust your speed to keep your stopping distance within your sight distance. This means going slow enough to be able to stop within the range of your headlights. Otherwise, by the time you see a hazard, you will not have time to stop.
Please select an option