Losing Weight As A Truck Driver
Losing weight as a truck driver is a very difficult thing. Actually, what I should say is gaining weight as a truck driver is very easy! When I first started truck driving, by some fluke, I lost 10 pounds in about 4 months. I'm still scratching my head about that one. I have no idea why I initially lost that weight. But in the end, it didn't matter.
My Weight Was Getting Out Of Control
I remember the day it "hit me." For several months, I was able to actually feel myself getting fatter. I could literally feel how my stomach was changing. How it felt different as I sat in the drivers seat. I could even feel the extra padding in the seat (not the truck seat, my own seat!). But this wasn't enough to change my eating habits. Nope, I continued to slurp down Mountain Dew and eat fast food on a nearly daily basis.
Finally, a turn of events started occurring. One day I weighed myself, and I was disgusted with what I saw. It literally scared me. I've always been slightly overweight, but quickly, I was becoming obese. I was gaining weight at an alarming rate. Yet, for some reason, this still wasn't enough for me to do anything about it. Sure, I told myself I'd eat healthier. I told myself I was going to lose a few pounds. But in the end, I wasn't all that serious about it. I had no plan.
The Day My Life Changed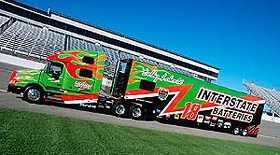 After having a nice big dinner from the truck stop buffet, I was stuffed. I ate so much they almost needed to roll me out of there in a wheel-barrow. As I was sitting in the drivers seat recovering from what I had just put into my body, I noticed several things. First, I saw the guy next to me trying to climb into his truck. He was a big dude. It was almost comical watching him (but not really). In order to get into the truck, he had to do it one step at a time. As he reached the top step, he sort of had to swing his body in. It looked like simply climbing into the truck was extremely difficult and challenging.
Shortly after that, I saw another driver walking towards the truck stop. He had gained weight so quickly, apparently, that his gut was too big for his shirt. The bottom of his gut was completely exposed. Unfortunately, that wasn't the first time I had seen that, and wasn't the last. Truckers gain weight very quickly.
I don't know what it was that day. But I had an epiphany. There was no way in hell I was going to end up like one of those guys. I had to do something, and I had to do something now!
Losing Weight Without A Diet
I was in a pickle (pun intended). While I had never been on a diet before, I had seen friends lose an incredible amount of weight very fast, only to put it right back on even faster. I've never been a fan of these fad diets such as the Atkins Diet, the South Beach Diet, etc. Sure, you'll lose weight really fast, but what's the point if you end up gaining it all back anyway? What I had to do is relearn how to eat. I didn't want a diet. I wanted something I could do for the rest of my life. And sorry, I just love carbs way too much to use any of those fad diets for the rest of my life.
The Answer Was Simple
Notice I said simple. Not easy. There is a difference. Simple means the process is straight forward and just about anybody can do it. Easy means it doesn't take work. This takes work, but it's simple.I don't claim this will work for you. I'm only sharing my own experience, because it worked for me.
After much searching, I finally decided to count calories. Why? Because counting calories would allow me to eat whatever I wanted. I simply had to limit my portions (previous to this I was always eating until I couldn't eat anymore). And the lower calorie foods I ate, the more I could eat. It just seemed like a system I could live with the rest of my life. So that's what I decided to do.
And I was in luck. I found an application for my iPhone called Lose It! I highly recommend this app for anyone considering losing weight. The app is simple. First, it asked my sex, age, and current weight. Then, it asked me to put in my "goal weight." Finally, it asked how much I wanted to lose each week, between 1/2lb to 2lbs per week. I set it for 1.5lbs per week. Seeing as though I wanted to lose 45lbs, it was a little discouraging to know it would take so long to lose all that weight. But I kept reminding myself. This is not a diet. I'm changing my eating habits for life. So just go for it.
I kept track of every single thing I ate. I'd select my food, and the app automatically told me how many calories that food item was. I started off real strong and motivated, usually finishing the day well below my limit. After about 6 months of doing this, I started to stray from the path.
My Motivation Started To Fade
For about a month, I had completely tossed my Lose It! app to the curb. I was watching what I ate, but wasn't keep track of calories. To my surprise, I still managed to lose a couple pounds that month! This was a huge burst of confidence for me. My main goal was working! I was successfully teaching myself good eating habits. Even without the app, I was still losing weight. Nice!
The Final Push
At this point, when I'd take my hometime, I was getting all sorts of comments from people. Everyone was telling me how great I looked and asking me how I was able to do it. That felt real good, and gave me the extra motivation I needed. I started using the app again, and continued to teach myself how to eat properly.
Just a couple days ago, about 11 months from when I started the program, I reached my goal weight. I didn't reach my goal nearly as fast as I had hoped for, but I successfully lost 45lbs in under one year. Not bad! Especially considering I did all this out on the road driving a truck with absolutely zero exercise! Can you imagine if I had actually exercised during this?
It Is Possible For Truckers To Lose Weight
There are plenty of healthy foods out there. Some days are more difficult than others, but if you look hard enough, you can almost always find something at the truck stop that is low enough in calories. A sandwich, a salad, an apple or banana (instead of a candy bar), etc. Heck, even fast food places have some healthy options. I love getting the McDonalds Southwest Salad with the 100 calorie Southwest Dressing. I get the grilled chicken with it instead of fried. Comes out to be around 600 calories, but that sucker will fill you up! The more you use the Lose It! app (or use some other calorie counter - there's lots of them), the more you'll start to learn what you can get away with and what you can't.
I don't even use a calorie counter anymore. I simply "eyeball" my foods. And guess what? I'm still losing weight! I've decided to push it another 10lbs. Heck, I've already lost 45, so what's another 10? I now weigh less than I did when I graduated high school. And for the first time in my life, my weight is considered to be "normal" instead of "overweight" or "obese." I literally can't recall a time in my life, until now, that I've been in the "normal"category.
Eat What You Want But Use Self-Discipline
I really believe that counting calories is a great way to lose weight. I still eat pizza, pasta, and anything else I want. I also give myself "free days" where I just don't worry about it. Normally I save those days for when I take my hometime. Eating whatever you want for 3 or 4 days out of the month won't kill you. As long as the rest of the month, you stick to your calorie budget. I'm finding that even on my free days, I don't eat nearly as much as my "old self" did. I've learned a new life skill. One that will keep me healthier forever. And I really hope to see more drivers doing the same. It is possible!
Stay healthy, and as always, drive safely!
TruckerMike
Related Articles: