Getting Started - and Schooled
If you read my first article, then you know that my husband of three and a half months and I have decided to go OTR. While Dee is a twenty four year veteran truck driver, I have never even been in the cab of a semi truck. I have spent most of my adult life in offices and working political or charity events. I know nothing of trucking beyond what we all know; that there is a great deal of commerce traveling the roads each day and it takes skilled truck drivers to make that happen. And that truckers drive too slowly. (I'm being facetious, calm down). I never imagined I would find myself married to a truck driver, let alone going long hauling with him. Of course, I fell madly in love with this awesome guy whose profession happens to be...you get the picture.
An Anxious Wife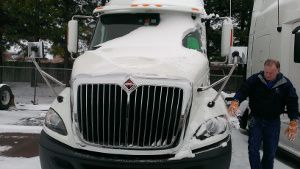 Dee Cleaning The Snow Off His Truck
I refer to Dee as my last husband. It's wonderful to be in your forties and to be head over heels. I like to think that as I get older I also get wiser. In marrying Dee, I made a very wise decision. Trucking is what he does and it makes him happy to be doing what he does best. That means I need to get on board. I'm good with that. But I had no idea what to expect.
I went online to do research and could not find what I was looking for. How do I prepare? What do I take? What does a typical day look like? What are the living conditions like? Since I could find little information to help me understand, I decided to chronicle my trip so that others like me will get the big picture.
Last week Dee attended his orientation for the Company. Upon completion, I drove to the city to pick him up. The three days he was gone were torture for me. When I saw him standing on the other side of that glass door my heart just melted. My hope was that he had gotten the information I craved. What kind of truck would he be assigned to? What did the sleeper berth look like? In my anal need to plan and prepare I needed this information. Dee knew he would be driving an International Prostar. So, of course, I went to Youtube to see if anyone had posted any videos of this particular rig. And they had. I got an inside view. The dilemma was, we did not know any of the dimensions so we couldn't purchase a refrigerator or storage units. And it's a good thing we didn't, because the truck we ended up with was not like the videos I had found.
Surprise!
There was a snow storm in Arkansas over the weekend and we planned to go to the terminal Sunday to pick up Dee's truck. I was to drop him off and follow him home so that we could start moving in. I was not allowed to ride in the truck until such time as the paperwork I had completed and turned in was approved and I received a waiver. We anticipated getting that waiver Monday and being able to get the truck ready to go so we could head out Tuesday. We arrived at the terminal and Dee found the truck (identified by truck number) and our hearts sank a little. The sleeper cabin in the truck was obviously small. The recruiter had told Dee that, because I would be with him, we would get a big sleeper with the biggest bed (which, by the way, is only 54 inches wide, so imagine the one we actually ended up with. It's a good thing we are newly married because we will have to take turns sleeping on top). I guess he forgot to have that discussion with the Company.
When Dee retrieved the key from the guy on duty and opened the truck, we realized that it was going to be very cozy with two of us living in this berth meant for one. Still, I am an optimist and we decided that cozy was good. We could make it work. And we finally knew for sure that the Company had installed an inverter, which would allow us to plug in various appliances just like we do at home, but would draw the power from the truck battery. DC to AC or something like that. Only 1500 watts, but I was glad to know that we would at least have that. Dispatch had Dee find an empty trailer and allowed him to head back home so we could move in. Off we went.
As mentioned, there was a snow storm the day before, and those are not frequent occurrences in Arkansas. At a mere mention of the possibility of snow, groceries fly off the shelves and people hunker down in their homes as if they are expecting the zombie apocalypse. The few who do venture out tend to end up in ditches along the highway. The four hour drive to the terminal had been difficult in my SUV. The thought of driving a semi truck home on the same "scenic" road was not appealing. Dee decided to stay on the highways. Still, the highway west of the mountain we had to cross was covered in frozen slush, and the best they can do is to throw down some sand and tell people to stay home. It was slow going, but we did get a parade of onlookers who were parked along the highway at odd angles.
An Introduction to a Truckers World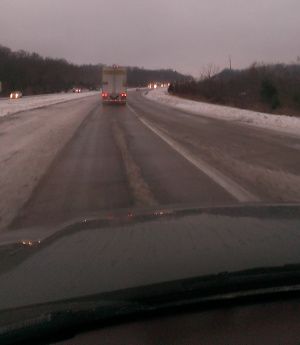 Bobtailing Around After A Snowstorm
I became familiar with the ever popular truck stop on that trip. Knowing now that we would not be able to fit a dorm fridge in the truck, we ended up buying one made for trucks. Dee bought a new pair of work gloves, a lock for the trailer (once assigned cargo, he is responsible for it, so it would be really bad to let it get stolen), and a kingpin lock, so that no one can drive off with the trailer when he has to drop it somewhere. Yes, I'm learning all the ins and outs. As with any job, you really don't know what is involved until you get into it yourself.
Of course, I am just an observer, a tag along, the girl who used to complain about semi trucks being allowed on the highways during rush hour. Don't hate me. Dee explained the whole "highways were built for us and the military. It wasn't until later that cars were allowed on" thing to me. Who knew? All I can tell you is, truck drivers get a bad rap. I'm learning that there really are a great group of people out there making sure your mangos get to market on time. So show a little respect, will ya?
Related Articles: