The Structure Of CDL Schooling: Four Weeks To My CDL
In my previous article, My First Day Of Truck Driving School! I talked about my first day of CDL training and my impressions of the school, the teachers, and the owner. Now I'll tell you a little bit about how the schooling is structured and how they plan on getting us from ground zero to being a licensed CDL driver with our first truck driving job in just four weeks!
The way my class is set up, we will be in the classroom for the entire first week. We are going through the DOT handbook (in my case, the Illinois DOT handbook) and the goal is for us to pass the written exam for our CDL permit on Friday. This will allow us to get into the trucks as early as next week! There are about 6 of us in the classroom and there will be 12 of us sharing trucks together, 4 students per driving instructor. They claim we will get more driving hours than what is mandated by the state and will have more hands on experience than most schools. Better yet, the trucks we train on and the routes we drive will be the same trucks and routes we will be tested on for our CDL test with the Secretary of State. So that helps too! Apparently we will drive away from the usual "test route" so we can gain other valuable experience, but most of our driving will be on the same route the examiner will take us on.
If you'd like to follow me along in the Illinois CDL Study Guide, check out this PDF: http://www.cyberdriveillinois.com/publications/pdf_publications/dsd_cdl10.pdf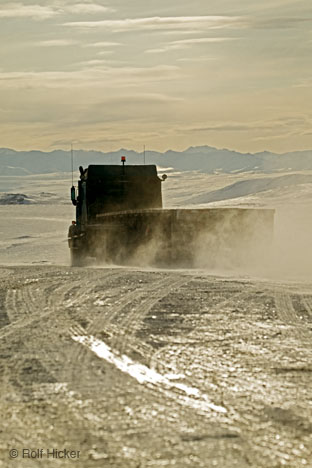 Today, we covered from the very first page to page 34, with some educational videos mixed in. We basically took turns reading out loud in class and our instructor would stop us at various spots to point out areas to pay special attention to and give real world advice, experience, and tips. He knows what students generally have trouble with and what type of questions are frequently missed during the test. Bottom line for the Illinois DOT is they are huge on numbers. Anywhere you see a number, you probably need to know it. For example, tire tread-wear on the front tires (or steer tires) need to be a minimum of4 /32 in tread depth and the rear tires (or drive tires) need to have at least 2/32 in tread depth. Do you see numbers? Yup. Memorize! Do you see the entire section on pre-trip inspections? Do you see all of the weight restrictions? How many pounds per axle? How many pounds per tandem? What is the maximum allowable weight? And by the way, those limits are different for designated and non-designated streets. What is the maximum height and length a truck can be (both semi and otherwise)? What is the typical perception distance/time, reaction distance/time, braking distance/time, and total stopping distance/time of a truck? How far should you follow behind vehicles? How far should you look ahead (in both seconds and distance)? How much should you reduce your speed by in wet, snowy, or icy conditions? Numbers, numbers, numbers! These are all just some of things I learned today, and we're not even into the airbrakes section yet! Yikes! My intent isn't to scare anyone off. Like I said, my school has a 99% success rate. But it's going to take some work!
Man, after just one day, there is so much information I've already learned. Just scan through the PDF link I posted above and check out all the numbers and specific info. Class started at 8 am, I got off of class at 4:30 pm, and as soon as I got home I made flashcards and studied until I started writing this post. It's now 11pm. So as soon as I'm done writing this post, I'm going to bed so I can do it all over again tomorrow! Am I going overboard? Maybe. But that's just me. I want to score 100% baby!
The rest of this week will just be more of the same. We will be watching more videos and covering everything in the CDL Study Guide that we need to know for the test this Friday so we can obtain our permits. Then the real fun will begin! Who wants to sit in a classroom when we can sit in a freakin' truck!I'll be sure to post on a daily basis so you all can follow me through this journey. So far, it's been fun! And I'm looking forward to the days that lie ahead.But now, it's time for bed!
Until next time, drive safely.
TruckerMike
Related Articles: