Arnold Transportation Company Profile

Arnold Transportation was founded in 1980 and is based out of Jacksonville, FL. Truck driving jobs available at Arnold Transportation include over the road positions as well as regional fleets in the Southwest, Southeast and Northeast. There are more than 800 company owned trucks and an additional 500-plus owner operator units within the company.
Compare Arnold With A Similar Company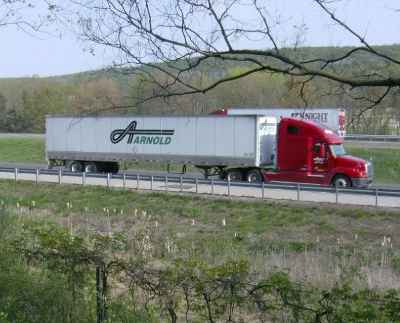 Terminal Locations
Jacksonville, FL
Paris, TX
Grand Prairie, TX
Austell, GA
Camp Hill, PA
Dayton, OH
Muskogee, OK
Baldwinville, NY
Minimum Qualifications
The basic requirements include, but are not limited to:
Has graduated from an Arnold Transportation Services Accredited Truck Driving School.
Minimum age 21 years.
Have obtained a Class A CDL issued in your home State of residence.
Has the ability to acceptably pass all physical and knowledge tests.
Has a stable employment background.
Has no more than one (1) minor traffic violation and/or one (1) minor at fault accident while driving any motor vehicle in the last three (3) years. No major at fault accidents. No more than a total of six (6) of a combination of minor moving violations and/or minor accidents in the last seven (7) years.
No major felony convictions. Minor felonies and misdemeanors subject to review and approval by Recruiting and Safety.
No DUI, DWI, reckless driving, careless driving, open container, refusal to take a test (drug or alcohol), leaving the scene of an accident (hit and run), eluding a police office, reckless homicide, involuntary manslaughter, transporting an illegal or controlled substance, auto theft, or prearranged speed and drag racing in the last six (6) years. No more than one (1) DUI, DWI or open container conviction in the last ten (10) years.
No license suspensions in the last five (5) years for point or infractions. Suspensions may be allowed at the discretion of Safety Department. No more than three (3) financial suspensions in the last five (5) years, i.e. insurance, child support, failure to pay fines.
Hiring Area
Arnold Transportation hires from the following states:
Alabama
Arkansas
Connecticut
Delaware
Florida
Georgia
Illinois
Indiana
Kansas
Kentucky
Louisiana
Massachusetts
Maryland
Michigan
Missouri
Mississippi
North Carolina
New Jersey
New York
Ohio
Oklahoma
Pennsylvania
South Carolina
Tennessee
Texas
Virginia
Operating Area
Arnold operates throughout the entire lower 48 United States.
Company Training Duration
A Trainee just out of school will be required to train a minimum of 150 BTW (behind the wheel hours) with an Arnold Certified Trainer. The trainee will be paid $58.00 a day for every day seated on the training truck and available. Upon completion of training, the driver will be paid in accordance with the pay schedule established for student drivers.
If a student graduated from an Arnold approved school and went to another carrier and wishes to leave that carrier and join Arnold, they may come on board as a student driver if they were with the previous carrier for 30 days or less.
A student driver must come on board within 30 days of graduation from truck driving school or within 30 days of attaining a Certificate of Completion for a refresher course from the same school if they have not previously been with another carrier.
Forced To Team After Training?
Unless drivers choose to join the team driver division, they are assigned their own truck after company training is complete.
Type Of Freight
Primarily 53ft dry van trailers. Arnold also hauls 57 foot super wide body plate trailers in select states.
Pay
During training, drivers will earn $58.00 for each day they are on the truck and ready for a load. After training, drivers will earn 30cpm and then earn the following:
After 6 Months: 33cpm
After 1 Year: 34cpm
After 2 Years: 35cpm
After 5+ Years: 37cpm
In addition to mileage pay, drivers receive the following:
Layover Pay: Compensated $35.00 paid in form of per diem (tax free), after first 36-hours and for each additional 24-hour period during which they are unable to provide a load or work assignment.
Detention Pay: Detention at any shipping or receiving facility will be compensated at the rate of $12.50 per hour, after allowing for 2 hours
Load / Unload Pay: $65.00 flat pay. A driver load/unload is defined as 100% hand touch freight. This would include reloading pallets from big wood to small wood and vice versa.
Driver Assist Pay: $30.00 flat pay. Defined as anything less than 100% touch freight. Examples would be loading or off-loading with a pallet jack, shrink-wrap, breakdown, etc. Counting freight while being loaded or unloaded by a third party or machine does not constitute an assist. All driver assist is subject to dispatch approval.
Local Work Pay: Drivers will be paid a flat rate of $50.00 for for loads 100 miles or less.
Stop Off Pay: $30.00, excluding initial pick-up and final delivery point.
Benefits
After 90 days of employment, drivers become eligible for insurance benefits including:
Life & Disability Insurance: $10,000 life provided at no cost to employee. Employee may elect short term up to 60% of avg. gross weekly income and long term disability up to 60% of base salary.
Health Insurance: There are two different health insurance plans available. If you or any of your dependents are tobacco users, add $20 per week to the following:
Standard Plan: Single $28.00/week, Employee + Child(ren) $68.00/week, Employee + Spouse $72.00/week, Family $80.00/week. $1200 Single/$2400 Family Deductible.
Premium Plan: Single $54.00/week, Emp + Child(ren) $121.00/week, Emp + Spouse $129.00/week, Family $147.00/week. $600 Single/$1200 Family Deductible.
Vision Plan: Single $1.51 per week, Employee + 1 $2.29 per week, Family $3.98 per week.
Dental Insurance:Single $4.94 per week, Family $14.17 per week, $50 Single/$150 Family Deductible, in network and out-of-network.
Following 6 months of employment, you may also participate in the company 401k plan. You can contribute up to 75% of your base salary to the program.
Tuition Reimbursement
Tuition reimbursement is pad at $150.00 per month up to $5,400.00. Students must apply for the tuition reimbursement program within 30 days of hire.
Hometime Policy
Drivers typically stay out for 7 to 10 days, then spend 24 to 36 hours off at home.
Rider And Pet Policy
Riders over the age of 12 are permitted with a $20 non-refundable insurance free. A pet is allowed with a $400 non-refundable pet deposit.
Team Opportunities
Team drivers are typically assigned newer model Freightliner Cascadias. Starting pay is 48cpm (split) and increases with experience. Teams typically stay out for 6 weeks before taking 5 days off and operate anywhere within the Arnold freight network.
Canada Border Crossing Policy
Arnold does not operate in Canada and you will not be required to cross the Canadian border.
New York City Dispatch
If you elect to go to New York City, a premium of $75.00 will be paid. New York City is not forced.
Drop And Hook
Approximately 80% of all freight is drop and hook.
Hazardous Materials
Drivers are not be required to transport hazardous materials.
Forced Dispatch
Drivers are not under forced dispatch.
Local / Regional / Dedicated Opportunities
Various regional and dedicated positions are available after experience. Some local positions are also available.
Average Age Of Equipment
The majority of tractors three years of age or newer.
Transmission Type
The fleet is equipped with a mixture of automatic and various manual transmission types.
Speed Of Trucks
Most of the fleet is set at 65mph.
APU / Idle Policy
Very few trucks are equipped with APU's. Otherwise, drivers are allowed to idle during poor weather. Idle percentage allowed is 40%.
Electronic / Paper Logs
Paper logs
Explore Other Opportunities
The more research, the better!