H.O. Wolding Trucking Review
H.O. Wolding is based out of Amherst, WI and has been a family owned business for over 75 years. They specialize in hauling dry-van goods and mostly operate regionally. H.O. Wolding (also called H.O.W) is a medium sized company which hires experienced drivers as well as recent truck driving school graduates. Tuition reimbursement is offered with many new drivers landing a regional position with weekly hometime immediately following training.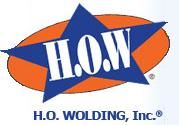 Compare H.O. Wolding To Other Similar Companies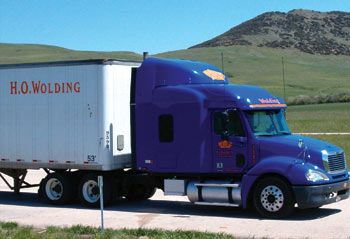 Terminal Locations
Since HO Wolding is a smaller company, they only offer a terminal at their headquarters in Amherst, WI. They do, however, have 16 drop yard locations across the United States and all drivers are allowed to take their trucks home with them during time off.
Minimum Qualifications
The minimum qualifications to become a driver with May Trucking are as follows:
Applicants must be 21 years of age or older.
Recent class A CDL School graduate (within 30 days of graduation) or at least 6 months of recent driving experience.
All applicants are required to hold their own valid Class A CDL in the state in which they reside and must have held a valid Drivers License for the past four years.
Applicants are required to complete a ten-year verifiable work history with either W2's or written verification. If self-employed, applicant will need legal documentation to verify dates (tax records).
Applicants must live in H.O. Wolding specified recruitment hiring area.
No more than one preventable motor vehicle accident in past five years. All preventable accidents require applicant to provide copy of the accident report.
No more than one moving violation in past 12 months and no more than three moving violations within past five years, including speeding tickets.
No more than two moving violations in any 12-month period for past five years.
No suspension or revocation of license due to a moving violation in past five years. Reviewing Committee will review any non-moving violations and suspensions.
No Careless, Reckless or Following-too-Close convictions within past five years (At Fault Rear-End accident considered following too close).
No major violations in past three years such as 15 Miles or More over Speed Limit.
No DWI, DUI, OWI or BAC convictions within past five years, no more than one in a lifetime. No DWI, DUI, OWI or BAC convictions with commercial vehicle within any time period.
Hiring Area
See the below map for current hiring locations and fleets offered. Please note that OTR positions are available in all hiring areas and central Arizona has a very small Southwest Regional fleet as well.
H.O. Wolding Official Hiring Map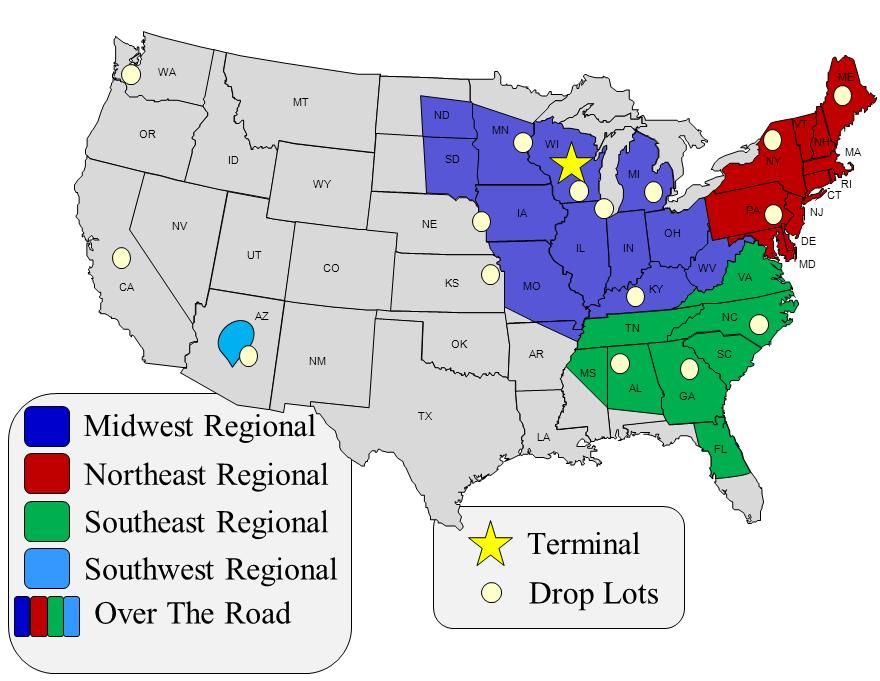 Midwest Regional Fleet
North Dakota
South Dakota
Minnesota
Iowa
Missouri
Wisconsin
Illinois
Michigan
Indiana
Kentucky
Ohio
West Virginia
Northeast Regional Fleet
Maine
Vermont
New Hampshire
Massachusetts
Rhode Island
Connecticut
New Jersey
Delaware
Maryland
Southeast Regional Fleet
Virginia
North Carolina
South Carolina
Tennessee
Mississippi
Alabama
Georgia
Florida
Operating Area
While H.O. Wolding operates through all 48 continental United States, most of their business is regionalized in the Midwest, northeast, and southeast. Most new drivers will have the opportunity to run regional directly following company training.
Company Training Duration
Drivers who have graduated from an approved CDL school within the past 30 days will receive 3 weeks of paid company training.
Forced To Team After Training?
No, all drivers are able to become solo drivers directly following training.
Type Of Freight
H.O. Wolding pulls dry van freight exclusively.
Pay
The first week of orientation is paid at $250. During training, drivers will earn a base salary of $75 / day, not to exceed $450 per week. After training, drivers will earn the following mileage based pay:
Entry Level Base Rate
Experience Driver Base Rate
First Six Months: $.290
Six Months: $.300
Nine Months: $.310
One Year: $.330
Two Years: $.340
Three Years: $.345
For every year you drive for H.O. Wolding beyond 3 years, you will receive a $.005 raise each year until you have 14 years of service capping out at $.400 per mile. All mileage pay is paid on Practical Miles instead of Short Route Miles which typically equates to 5% higher mileage than other companies. Drivers are also eligible to receive the following:
Short Haul Premium: On trips of 260 miles or less, drivers will receive and additional $.03 per mile.
Progressive Stop Pay: Drivers will receive the following for additional stops:

First Additional Stop: $20
Second Additional Stop: $30
Third Additional Stop: $40
Fifth Stop Or More: $50

Quarterly Bonus: Any driver who completes a minimum of 28,250 miles during a 4 month period will receive an additional $.01 to $.04 cents per mile for all miles driven during the previous quarter.
Safety Bonus: Drivers that do not have any preventable accidents during the previous 4 calendar quarters are eligible for the quarterly safety bonus. The bonus is $.01 per mile paid quarterly.

Drivers will receive 1 extra week of vacation following 5 consecutive years without having a preventable accident.
A cash award of $50 following the first year and an additional $50 for each consecutive year thereafter, up to a maximum of $500 per year, for driving without a preventable accident.
We've found that H.O. Wolding pays about average, but it's always best to do your own comparison by researching similar companies.
Benefits
Here is a partial list of some of the benefits offered at H.O. Wolding:
Eligibility for enrollment is available after 60 days, with coverage starting the first of the following month. Eligible spouse and dependents are welcome.
Two medical plan options to pick from.
Dental plan that can cover you from preventative care to major care levels.
Eye exams are covered under the medical plan.
A $10,000 Life/AD&D insurance policy is offered to all full-time employees with the company paying the full cost of the premiums.
Short Term Disability coverage is offered to all eligible full time employees with the company paying the full cost of the premiums.
Medical plans offered are a Base Plan, with low weekly premiums and premier coverage, as well as, a Buy Up Plan that has a higher weekly premium with platinum coverage level. Both plans offer greater saving in deductibles and discounts when a preferred in network provider is used. But there is a coverage level still available with both plans outside the preferred network.
Supplemental policies are offered for additional life insurance, long term disability insurance, accident, critical plus a vision plan that will cover the cost of eye wear is also offered.
For a pre tax saving opportunity, an FSA (Flexible Spending Account) is available to all eligible participants in the group health plan.
Tuition Reimbursement
Tuition reimbursement is offered to recent graduates of an approved CDL truck driving school. Graduates must have been hired within 30 days of graduation in order to receive tuition reimbursement. If all eligibility requirements are met, drivers can receive up to $10,000 in reimbursements paid at $200 per month.
Hometime Policy
For drivers in the OTR fleet, one day off is earned for each week on the road. However, the majority of H.O. Wolding drivers run a regional fleet with weekly hometime, usually on the weekends. A regional fleet is usually available immediately following training but will depend on each individual drivers home location.
Rider And Pet Policy
An immediate family member is allowed with pre-approval and a small insurance fee. Pets are not allowed on any company equipment.
Team Opportunities
The majority of drivers operate solo, but team opportunities do exist. Drivers with less than one year experience will earn $.35 per mile with drivers earning $.41 per mile with more than one year of experience. All mileage pay is based on truck miles and split between two drivers.
Canada Border Crossing Policy
You will not be required to travel into Canada.
New York City Dispatch
Drivers in the Northeast Regional fleet may be required to carry freight into or out of NYC.
Hazardous Materials
You are not required to have a hazardous materials endorsement.
Drop And Hook
Approximately 80% of freight is drop and hook.
Forced Dispatch
Drivers are forced dispatched.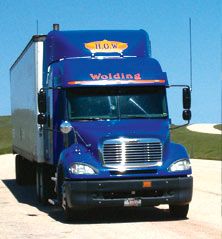 Local / Regional / Dedicated Opportunities
While local positions are somewhat rare, there are some positions available in certain major metro areas which can get drivers home everyday. A wide range of regional and dedicated positions are available which will get drivers home at least once per week and usually on weekends. These opportunities will depend entirely on where you live.
Average Age Of Equipment
Average age of a truck is about 2.5 to 3 years old.
Transmission Type
Most trucks are 10 speed manual Eaton Fuller transmissions.
Speed Of Trucks
Trucks are limited to 65mph.
APU / Idle Policy
Most trucks are not equipped with an APU. Idling is allowed during uncomfortable temperature ranges.
Electronic / Paper Logs
Electronic logs are currently being implemented.
Comparisons
Here are some other companies you may be interested in comparing H.O. Wolding to: