Conway Company Profile

Tyson Foods was formed in 1931 when a truck driver learned about the profit potential of hauling chickens. As an owner operator, John Tyson repeatedly took loads hauling chickens to maximize revenues. Today, Tyson Foods is a multi-billion dollar company and the largest meat processor in the nation. Currently based out of Springdale, Arkansas, Tyson operates a private trucking fleet of nearly 1,000 trucks and over 2,100 refrigerated trailers carrying approximately 15,500 loads each week. Tyson accepts both experienced drivers as well as drivers who recently graduated from CDL school.
How Does Tyson Foods Compare?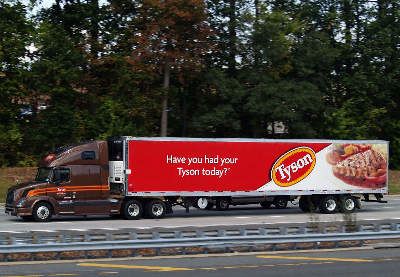 Terminal Locations
Tyson owns and operates nearly 100 different locations from trucking terminals and distribution centers to processing plants and office locations. Nearly all of these locations are accommodating to trucks and many locations offer amenities such as large cafeterias, showering facilities, shops, scales, and other driver conveniences.
Minimum Qualifications
Tyson's minimum requirements are:
Must have a valid Class "A" Commercial Driver's License in the state of residence
Age 23 or older
Must have one (1) year or more of verifiable OTR Tractor Trailer driving experience within the last 18 months
Must be able to pass a D.O.T. Physical Examination and Drug Screening as outlined in the D.O.T Regulations
Must be able to pass a road test
Must live in defined hiring area
Willingness to work a flexible schedule
Must be at (12) twelve points or less on the Tyson Driver Evaluations System as pertains to Accidents, incidents and moving violations
Must not have felony convictions in the last 8 years
Must not have a DUI or DWI conviction in a commercial motor vehicle
Must not have a DUI or DWI conviction in a personal vehicle in the last (8) eight years or more than (1) one in life time
No suspension for moving violations in the past 5 years
Have an acceptable driving record
Must not have tested positive D.O.T. Drug or Alcohol test in the past (3) three years
Hiring Area
While the Tyson Foods trucking hiring area changes periodically, they typically hire from the following areas:
Illinois
Iowa
Missouri
Pennsylvania
Kansas
Oklahoma
Texas
Virginia
Arkansas
Mississippi
Tennessee
Maryland
Alabama
Indiana
North Carolina
South Carolina
Operating Area
Tyson Foods operates across the entire United States.
Company Training Duration
Drivers in training must drive for a minimum of 2 weeks with a company trainer.
Forced To Team After Training?
After training, drivers may choose to either drive a team truck or be issued a truck of their own.
Type Of Freight
About 98% of all Tyson Foods freight consists of their own freight which is usually refrigerated chicken, beef, and pork.
Pay
During your first week of orientation, you will be paid $350. After that, you will receive a set salary of $400 per week for the duration of company training. Once you go solo, your starting pay is $0.36 per mile. You will then earn $0.39 per mile after 1 year and another $0.01 per mile each year thereafter, toping out at $0.41 per mile. Solo drivers at Tyson Foods average 2,600 miles per week.
In addition to your normal mileage pay, you will earn an additional $0.03 per mile on all single trips less than 500 miles. For single trips less than 250 miles, you'll receive an additional $.06 per mile. Tyson Foods also pays the following:
Holiday Pay: Eight paid holidays at $115.00 per holiday
Layover Pay: $85.00 after the first 24 hours and not repositioned over 200 miles
Unloading Pay: Tyson pays for loading and unloading. Driver may have to locate lumper and get fees approved by dispatch
Drop and Pickup Pay: Multi drop loads/pickups are $18.00 on all pickups or drops
Always make sure you compare pay scales to other companies in the industry:
Benefits
After 90 days of employment, drivers become eligible for discounted health, dental, and life insurance benefits. After 1 year of employment, drivers may enroll in a 401k matching retirement program.
Tuition Reimbursement
Tuition reimbursement of up to $6,000 is offered to recent truck driving school graduates.
Hometime Policy
Most positions at Tyson Foods are OTR driving jobs which will require you to stay out for 3 to 4 weeks at a time. You will earn 1 day off for every 7 days out.
Rider And Pet Policy
Pets are not allowed on company equipment.
Team Opportunities
Tyson Foods offers a team driver fleet with team trucks averaging 5,500 miles per week. Starting pay is $0.37 per mile with an increase to $0.42 per mile after one year and another $0.01 increase for the next two years. All paid miles are paid to the truck and are split between the two drivers.
Canada Border Crossing Policy
You will not be required to cross into Canada.
New York City Dispatch
Though rare, drivers may be required to carry freight into, out of, or through NYC. Most freight going into NYC is dropped in the New Holland, PA terminal and are carried in by local drivers.
Hazardous Materials
A hazardous materials endorsement is not required.
Drop And Hook
Approximately 70% of freight is drop and hook.
Forced Dispatch
Drivers are required to take all load assignments dispatched to them.
Local / Regional / Dedicated Opportunities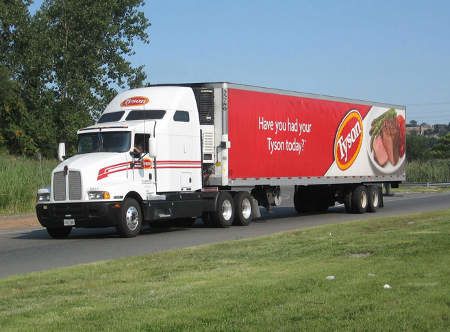 While limited, some local, dedicated, and regional opportunities exist. However, the majority of Tyson Foods drivers are in the OTR division.
Average Age Of Equipment
Most trucks are less than 3 years old.
Transmission Type
10 speed manual transmissions are used in the majority of the fleet.
Speed Of Trucks
Trucks are governed at 70mph.
APU / Idle Policy
Trucks are equipped with APU's and power inverters.
Electronic / Paper Logs
While paper logs are still used, the industry is moving towards paperless logs and as such, Tyson Foods is experimenting with switching entirely to e-logs.
Other Options To Explore