My 4th and 5th Day of Truck Driving School - Passing My CDL Written Exams!
Hello once again everyone. Well, since the title of this post gives it away, I'll start off by saying I took my CDL written exams today so I could obtain my CDL permit. I passed! In order to get my permit, I had to pass three sections; General Knowlege, Air Brakes, and Combination Vehicles. I decided to take it a couple steps further and also took the Doubles / Triples certification exams as well as the exam for Tankers. I got 100% on every single exam! Unreal!
Yesterday we went over the "Combination Vehicles" section in the Illinois CDW Study Guide. This section is supposed to be the hardest, but I didn't find it all that challenging. If you understand the Air Brakes section, the combination vehicle should come pretty easy. There are just a few things that are added into the equation with the air brakes. We took a total of 5 tests. Two of them were on air brakes, and 3 of them were on combination vehicles. I got 100% on all of the tests! Most of my class only missed a question or two, so we're really coming along.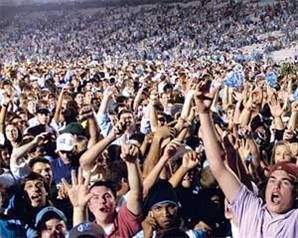 The crowd went crazy when Mike passed!
A big partof the combination vehicles section is hooking and unhooking a trailer. They want you to understand all of the steps involved. So instead of just reading it out of the book, we actually went out to the yard (in the freezing cold), so our instructor could demonstrate each step as we read it out of the book. This really helped! Instead of just reading it out of a book, we got to see it first hand which made understanding it much easier. I'm very impressed with the quality of instruction so far at this school.
At the end of the day we had covered everything needed to take the exam. So my instructor broke us up into 3 teams of 2 people. The team names were,"The Fifth Wheel", "The Wig-Wags", and "The Glad Hands". My team was the Wig-Wags. Our job was to ask the other groups questions pertaining to anything that is in the study guide (and I mean anything). If your team was able to stump another group, you got a point. The team who ended up with the most points was deemed the winner. While my team didn't win, I thought this was a great excercise and we really learned a lot from it. And it was a ton of fun too!
Today was only a half day. We did 3 tests in the morning on each section that we needed to pass and I scored 100% on them all again! Sweet! We spent the remainder of the morning reviewing everything we had covered during the week. Stress levels were high, but we were all fairly confident in ourselves. They cut us loose around noon so we could go take our exams at the testing facility.
We also found out that everyone in the previous class who had failed their driving tests ended up passing on the retest. Phew! That helps settle the nerves a bit!
I went to the testing facility (DMV) and told them I needed to take my CDL-A exams. Upon checking out my drivers license, they noticed it was going to expire in April and recommended I renew my license before I take the exams, otherwise I might have to take them again. No problem as they are able to do that pretty quickly these days. Once I got my new license, I was able to take the tests. First up was the General Knowlege Exam. All of the exams are taken on a touch screen computer with headphones if you want to be able to see and hear the questions/answers. I chose not to use the headphones. The questions were much easier than the practice questions we had in class. There were only a few that I had to actually think about. Once you select an answer, the computer automatically tells you if you got it right or wrong (this may be different in other states). Once you obtain a passing score (or a failing score), the exam is terminated. So as soon as I answered enough questions correctly, the exam ended. I got a big green screen that said, "You passed! 100%. The next exam will begin shortly."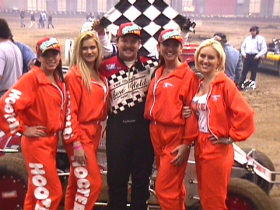 Mike was overwhelmed by the whole thing!
Next up was the Combination Vehicle Exam. Once again, I flew through this exam and got the nice green screen telling me I got a 100%. Last was the airbrakes section. 100%. When I went to pick up the form which has my test scores, they told me that very few people actually pass their first time and that I did a real good job. Thanks! I took my papers to another individual who actually gave me my CDL drivers permit. He also mentioned that he was impressed at my passing scores on my first try. I decided that since I was already there, I'd take the exams for driving tankers and double/triple trailers. These are not required, but I thought that I could probably pass them. Which I did, 100% on both of them!!! I couldn't believe it! The folks at the training facility couldn't believe it either. They said probably 5% of people pass their CDL exams on the first try. Honesly, I have a bit of trouble beliving that, but it's what they said. I think the people that don't pass must be people who never even opened the CDL Study Guide.
I wanted to take my HazMat exam too, but wasn't able to do it. In order to take the HazMat exam, you must first get fingerprinted by Homeland Security. I don't really think I would have passed HazMat on my first try anyway. There's a lot to it and I haven't really studied this section. So this will give me some time to study. I went and got my fingerprints taken which will take about two weeks to process. Then I'll be able to take the exam. I'm going to try passing it on my own, and if I fail, I'll sign up for the HazMat class through my school to help me pass it. I'll get reimbursed for the expense anyway (most companies will reimburse you for it).
As soon as I got into the parking lot, I called my instructor to let him know I passed. He was thrilled! Everybody in my class passed on their first try. So, Monday we start driving the trucks! On Monday they are going to teach us how to shift. I already drive a manual transmission car, so I'm sure there will be a lot of habits I'll have to break. For example, "double-clutching" is required in a semi. This is not how I drive my personal car. We'll see how it goes!
So anyway, that's where I'm at going into the weekend. I have my permit and we will start driving on Monday. This is one of the few times that I'll ever say; "I can't wait until this weekend is over!"
Thanks for all the support everyone. It's nice to be able to share my experience with all of you!
Until next time, drive safely!
Trucker Mike
Related Articles: