Note: Your are not logged in. We can not keep your scores or track your progress unless you Register and Log In
13.5 Sleeper-berth Provision
If you drive a truck that has a sleeper berth, you may use it to get the required off-duty time in several ways. The most common way this is accomplished is to take 10 hours off duty. Of course you will want to get some sleep in the sleeper during that time.
10 Consecutive Hours Off Duty
You may spend time in your sleeper berth to get some, or all, of the 10 consecutive hours of off-duty time. When getting your 10 consecutive hours of off-duty time, what is most important is that you do not go on duty or drive during those 10 hours. At the end of the 10 consecutive hours of combined sleeper and/or off-duty time, your 11-hour and 14-hour limits would completely reset.
The following is a sample log showing a full 10-hour break. In this example the driver has combined both off-duty time and sleeper-berth time in his break. That is perfectly acceptable. One way to think of it is that you want your logs to show what it is that you are doing. If you spend a couple of hours inside the truck stop eating and enjoying some time in the driver's lounge before you bed down for a good rest, then you would log it like this example.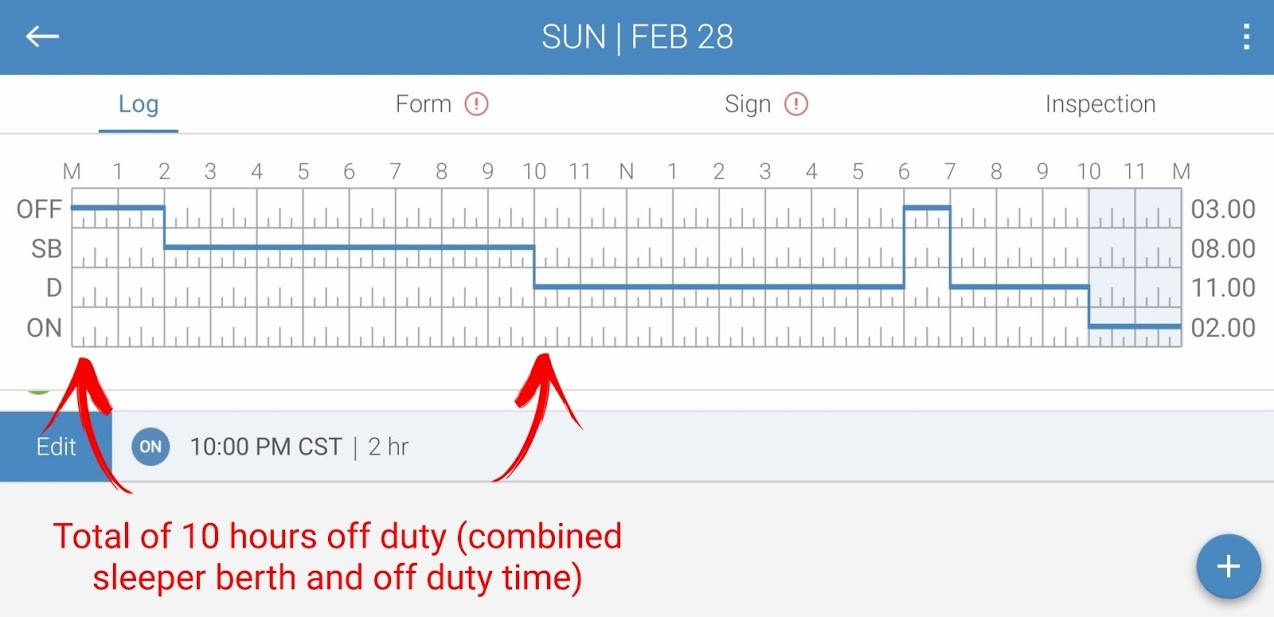 Split-sleeper-berth Rule
We tip our hat to those of you who have made it this far into learning the HOS regulations - you are a serious student! Congratulations, you are about to get into the "good stuff!"
Earlier when we introduced the 14-hour rule we said, "There are some ways to extend this 14-hour period, but we will get into that later." Now we are at the point where we want to learn some rules that can be really helpful to a trucker's productivity. This stuff can be a little confusing, but it is worth the effort to learn it.
The split-sleeper-berth rule is a powerful tool in your time-management arsenal. It not only allows you to satisfy your 10-hour break by dividing it into two different sections of time that equal 10 hours, but it also provides several ways to extend your 14-hour clock. Here are the four main basic points of the rule as it is presented in the FMCSA "green book."
Split sleeper berth rules:
You may divide your 10-hour break into two separate breaks. One break has to be at least 2 hours long. You can use any combination off-duty and sleeper berth time.
The other break must be a minimum of 7 hours. The longer of the two breaks must be logged as sleeper berth.
When you combine the two breaks they must total 10 hours.
Neither break period counts against your 14-hour clock.
Before we start slogging through the details, let's make one thing clear. Only 10 consecutive hours off-duty will fully reset your 11 and 14-hour clocks. You cannot fully reset your 11-hour and 14-hour clocks when utilizing the split-sleeper-berth provision. This is important to understand. You will get back some of your time, but not all. At the same time you will be extending the limit on your 14-hour clock. Confusing? Yeah, we realize it is. We will do our best to try and make it clear.
You have already noticed that one break has to be a minimum of 2 hours while the other must be a minimum of 7 hours. That doesn't total the 10 hours that are required when you combine the breaks does it? You are on to something there! In order to satisfy that 10-hour total, you could do one break for 2 hours and the other break for 8 hours. Or you could do one break for 3 hours and the other for 7 hours. You can also do any combination in between those two limits as long as the total of your two breaks equals 10 hours. You could do 2 hours and 15 minutes for one and 7 hours and 45 minutes for the other. You have some flexibility here. Any combination within the prescribed limits will work.
You just have to meet these requirements for the split sleeper berth rule:
Make sure your breaks meet the 2-hour and 7-hour minimum length requirement
Make sure the combined breaks total at least 10 hours
Make sure the longer break is logged in the sleeper berth
It also makes no difference what order you take your two breaks in. It's perfectly legal to take the longer break first and the shorter break later. You can also take the short break first. Either way is acceptable. This gives you a lot of flexibility in how you use this rule to help manage your time out on the road.
Let's say you have been driving for 4 hours and you are getting a little sleepy. You could find a place to park and take a nap for 2 or 3 hours without it burning up your 14-hour clock. Remember what the rule said? Neither break counts against your 14-hour clock! You can do split-sleeper-berth breaks back to back if needed. You are not limited to how many you may do in a row. Just remember that you will never fully reset your 11 and 14 hour limits until you take a continuous 10 hours off duty.
Let's dig into this "taking a nap" scenario a little deeper. A driver started his day at 1 a.m. He logged 15 minutes on duty for a pre-trip inspection, and got on the road at 1:15 a.m. After driving 4 hours he began to feel unsafe because he was getting really sleepy. He finds a place to park, puts himself off duty at 5:15 a.m., and then takes a nice 2.5-hour nap. What happens to his 14-hour clock? The rules say that a 2 to 3-hour break doesn't count against it. When he started this day at 1:00 a.m. his 14-hour clock was going to run out at 3:00 p.m. That 2.5-hour nap now extended his 14-hour window to 5:30 p.m. He wakes up refreshed and ready with more time in his day to accomplish what he needs to. He doesn't have to feel rushed under the pressure of the clock. He gets to control the clock as opposed to the clock controlling him.
Using Only One Of The Two Breaks
Another intriguing thing about the split sleeper berth rule is that you can take only half of the split sleeper berth time if you like. Some ELDs have a button that you push to indicate you are pairing a break to accomplish a split. You must identify the breaks that you want to pair together. Let's take our driver who just took the 2.5-hour nap. He has extended his 14-hour clock to 5:30 p.m. Let's assume the circumstances of his day made it so he finished his day at 5:30 p.m. and he found a place to park for the night at a truck stop. He could log 7.5 hours in the sleeper and fulfill his second half of his split sleeper break by pairing that break with his previous one. His 2.5 hours earlier combined with 7.5 now would equal his needed 10 hours. That would be a legal example of using the split sleeper berth rule.
Let's say he doesn't really need to start that early tomorrow. He could just do his full 10 hours off duty and start his day at 3:30 a.m. That would reset his 11 and 14 hour clocks fully and he still had the advantage of taking a nap the day before without it counting against his 14-hour clock.
Due to some ambiguity in this rule, we recommend that drivers log the second break in the sleeper berth, even if it's a full 10-hour break. Remember, if you extended your 14-hour clock by taking a minimum 2-hour break, you need to show a corresponding longer break in the sleeper. So when extending your 14 hour clock with a short break, make sure you have a corresponding longer break in the sleeper berth, even if you are taking a full ten hour break to reset your 11 and 14 hour limits.
If you take a break to extend your 14 hour clock and follow that with a full 10-hour break, you still get the benefit of that earlier break. You don't have to follow the first break with a second break that makes the two breaks equal 10 hours. You still get the same effect by taking a full 10-hour break if that is what works well for your schedule. You will not be punished for taking more than the legally required amount of rest.
There's a world of opportunities once you understand how to use these rules, but you've got to make sure you understand them so you can log them properly. You don't want to get yourself in a bind with your logs.