It's hot out there, what's a trucker to do? Can't idle.
Last Updated: Sun, July 21, 2019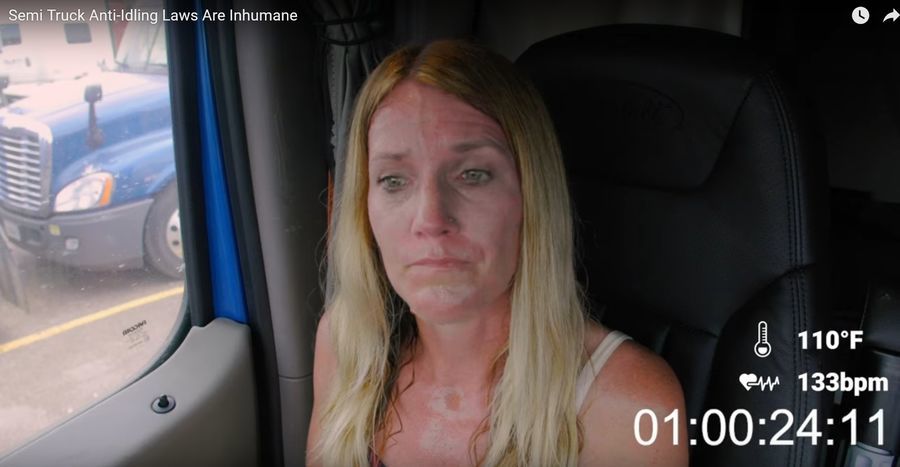 One miserable team member -- Photo from CDL Life YouTube video
I live in Phoenix, Arizona, and when I say, "Baby, it's hot outside!" can I get an, "Amen?"
Would I want to be parked six hours at a grocery DC here waiting for an interminably long and slow unload … without an APU when it's triple-digits during the day, and still in the 90s at midnight, and the low for the night is in the high 80s, with no idling allowed? That's a rhetorical question, by the way.
Arizona's Maricopa County, which covers all of Phoenix and outlying areas, has declared trucks can idle the main engine for no more than 5 minutes. Blessedly, Arizona recognizes the FMCSA-mandated rest periods as a permitted idling time.
Fines for idling violations in Arizona are $100 for the first violation, and $300 for the second and subsequent violations.
CDL Life, a trucking news and entertainment website, underwent an experiment recently to illustrate the danger for truckers of anti-idling laws.
"A growing number of cities and states have enforced restrictive idling regulations (and hefty fines to go with them) without seeming to understand the underlying cruelty behind those regulations," CDL Life reported in its article.
We'll get back to the CDL Life experiment shortly, but more about idling and fines.
Making a career out of snitching on idlers
Apparently, there are those who are making a career out of ratting out idling drivers. A New York Post article from a few months ago tells how some entrepreneurs are taking advantage of a New York anti-idling reward program, and are taking in some serious big bucks.
The reward program has caused idling citations to increase from just 24 in 2017 to more than 1,000 just one year later. The Department of Environmental Protection has awarded some $20,000 to 13 snitches who get a 25-percent share of the fines levied against the engine idlers – fines which can range from $350 up to $2,000.
One such tattle-tale is a lawyer who has garnered almost $5,000 from 47 incidents, and another is a theater worker who has a second job cruising around looking for idlers, and has raked in about $4,600 for his efforts, according to the Post article.
George Pakenham, a New York City banker, is responsible for initiating the reward program with the city. He's no slouch when it comes to dropping a dime on engine idlers. His take for 34 incidents comes to $4,300, but his total is around $10,000 for cases he has initiated on his own outside of the reward program.
He's definitely an anti-idling activist, and has offered to train anyone who wants to join the crackdown.
"Citizens are doing the job that the police don't wish to do and they're being compensated for it, and at the same time they're cleaning up the air in New York City, so it's a trifecta of wins, so to speak," he is quoted in the Post article.
New York has some of the most restrictive idling laws in the nation. Idle time is no more than 3 minutes, but drops down to 1 minute in school zones.
The CDL Life experiment
The folks at CDL Life have heard a lot of people who think they are trying to save the planet focus on restricting the idling of commercial vehicles. So they wanted to illustrate how dangerous such ill-conceived thinking is for the trucker who is not allowed to idle his main engine in hot weather.
They decided to set up an experiment and make a video where they locked two team members into a hot truck when it was 95 degrees outside.
The windows were rolled up, and no idling was allowed, thus no air conditioning.
The video illustrated just how quickly the temperature inside the truck rose to a dangerously high level. After an hour, the truck was uninhabitable.
CDL Life recommends truck drivers take a pro-active approach to combat the increasingly anti-idling sentiment out there. California and New York, as we've seen, are particularly egregious in regard to idling restrictions.
They provide a link to the American Transportation Research Institutes list of idling regulations for every state, or you can directly download a PDF.
They also recommend contacting legislators representing your state of residence and letting your voice be heard about this important issue. OOIDA has a webpage with a form that makes it easy to identify and write an email to your state's two senators and U.S. House of Representative congressmen.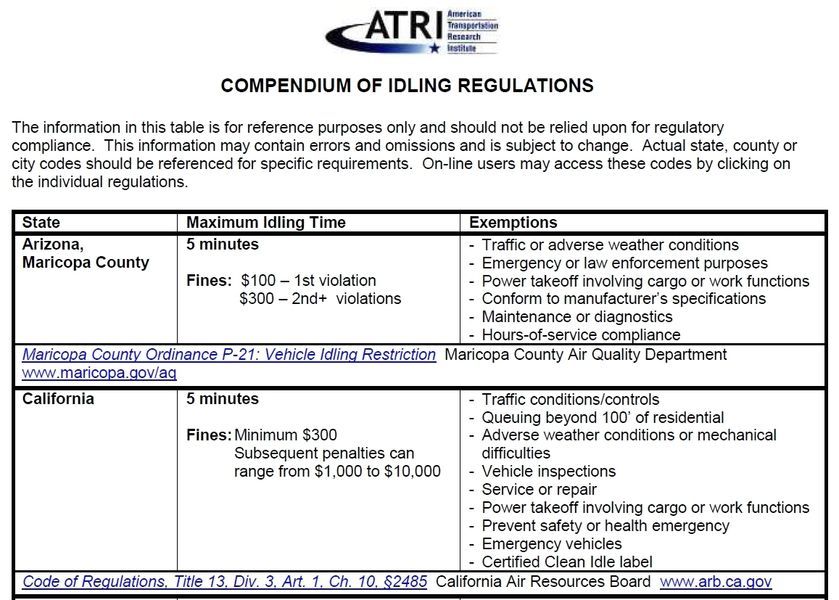 An example of state listings in the ATRI pdf
A quick browse through ATRI's list of state regulations is an eye-opener.
Connecticut has a 3-minute idle-time restriction with fines up to $5,000 per violation. The only exception for weather is if it is colder than 20 degrees Fahrenheit.
The District of Columbia allows 3 minutes of idle time with the only exception being if the engine is required to be run for a power take-off. Fine is $500. Oh, and truckers can idle for 5 minutes if the temperature is below freezing.
Nevada allows 15 minutes idle time, but levies fines up to $2,000 with no exceptions for weather.
South Euclid, Ohio, allows 0 minutes of idle time (not a typo). But does allow idling when it is below freezing or above 85F.
Some cities and counties in Utah allow 1 minute idle time, with an exception for health and safety.
Sources: New York Post, CDL Life, ATRI pdf
Tagged Under:
Adverse Conditions
Dealing With The Weather
Health Concerns
Life On The Road
Truck Driver Safety
Truck Driving Lifestyle
Trucking Industry Concerns
Understanding The Laws