Friday Short Haul - Self-driving certificate, truck platooning, trade war stacking up cargo
Last Updated: Thu, June 13, 2019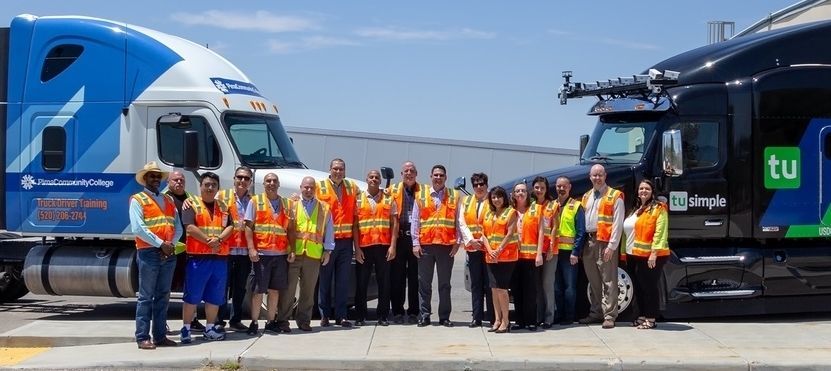 Pima Community College to offer first-ever self-driving driver certificate
The self-driving truck industry, often thought to be ultimately responsible in the future for costing truck drivers their jobs, is having to deal with a driver shortage of its own.
TuSimple, one of the most aggressive innovators in the autonomous big rig industry that is already hauling freight on a limited commercial basis, is priming the pump for its labor needs by helping Pima Community College, Tucson, Arizona, develop a certificate program for self-driving big rig drivers.
Graduates of the program will hold the title of autonomous vehicle driver and operations specialist.
Tucson is home base for TuSimple, and the company promises that graduates of the community college's program will have hiring preferences.
Prospective students must have already obtained their Class A commercial driver's license. They will take five classes beginning this September in autonomous vehicles, industrial safety, computer hardware components, electrical systems and transportation and traffic management.
TuSimple made the news recently when it announced a contract with the United States Postal Service to haul freight between Phoenix distribution centers, and from Phoenix to Tucson facilities. A pilot program concluded last week hauling mail and packages between Phoenix to Dallas USPS distribution centers.
The company said it is on track to have more than 50 big rigs based at its Tucson facility by the end of this month. For now, the human element still exists for self-driving innovators as licensing restrictions mandate they continue to have human drivers on board for safety reasons.
Truck platooning eyed in terms of its effect on bridges
Truck platooning, the subject of a March 25 Trucking Truth article, is getting another look, this time in terms of what the effect of virtually linked, closely following big rigs will have on the nation's bridges.
Federal Highway Administration engineers talked about platooning with members of the American Society of Civil Engineers during a recent conference, saying the FHA is researching its impact on structural safety, bridge fatigue limits and design standards.
FHA bridge management engineer Derek Constable told members, "Connected and autonomous vehicle technology is advancing rapidly and has the potential to significantly change highway transportation infrastructure requirements."
Platooned trucks, he explained, impact infrastructure differently than individual big rigs. Current bridge formulas were designed around the characteristics of single trucks, but weights, spacing and the number of trucks in a platoon mean that new formulas must be developed.
The truck industry is interested in platooning as potential fuel savings for the lead trucks of about 4.5 percent, and 10 percent savings for the following trucks. And because platooning today, unlike the convoys of trucker lore, will incorporate semi-autonomous features they are proposed to have a positive effect on driver safety.
Braking and accelerating will be automated and digitally slaved to the lead truck, but a driver will be in control of the steering wheel of each truck at all times.
Not everybody is a proponent of the platooning concept. In January of this year Daimler, the parent company for Freightliner trucks, announced it was ending experimentation and testing for its platooning program.
After several years and thousands of miles of testing on America's roads Daimler said that the fuel savings from platooning was less than expected, and was made even less when less-perfect conditions were experienced, such as something that causes the platoon to disconnect and makes trucks have to speed up to connect again.
Among the problems needing addressing before platooning becomes mainstream are:
Having to rely on motorists to resist trying to swoop in and fill the very narrow gaps inherent in the platooning scheme.
That the guy in the front truck, like the lead bird in a flock, takes the brunt of fuel hit. There wouldn't be much incentive for that lead truck in a mix of trucks from different trucking companies.
Not all states have following-distance laws that allow a small enough gap to capture the fuel savings from platooning. Those that do, generally have restrictions on the following distance, none less than 40 feet, and they require digital tethering, and automatic braking.
Trade war causing cargo overload at SoCal ports
Los Angeles and Long Beach ports, which together handle 47 percent of all incoming cargo from China nationwide, are experiencing a glut of shipping containers that is impacting the industries down the line, like trucking, railroads, warehousing, construction, manufacturing, and farming.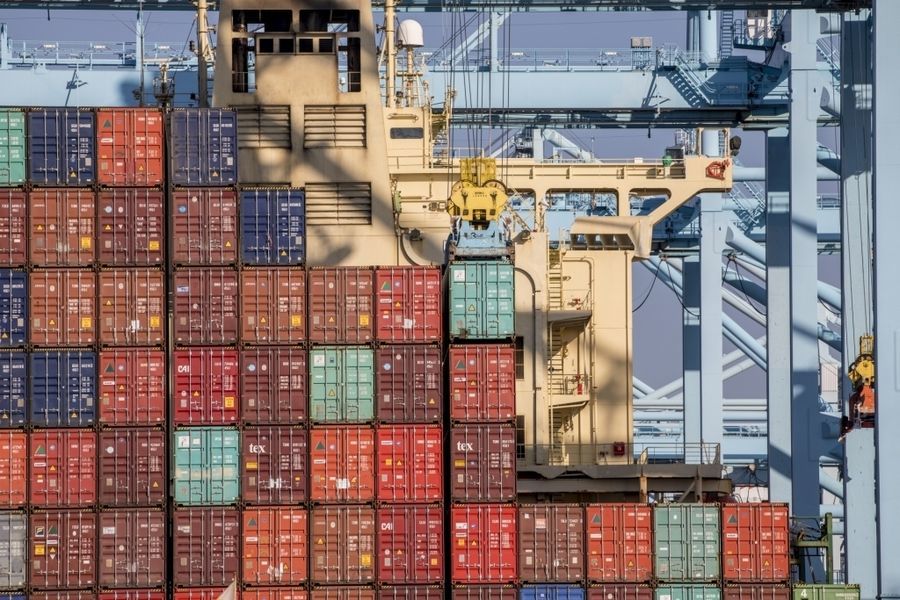 Most attribute the container port bottleneck to President Trump's new tariff policies, but much of the problem appears to be self-inflicted by importers overreacting to the new trade policies.
Apparently, in anticipation of higher tariffs for the cheap Chinese goods that retailers and manufacturers have been benefiting from for years many importers have made huge advance orders, filling their warehouses, and causing containers to stack up at the ports.
The changes have "really gummed up the operations of the supply chain," Eugene Seroka, executive director of the Port of Los Angeles, told the LA Times. "We've got a lot of cargo coming in that just sits. Containers are stacked high. Truck lines are long. And warehouses are bursting at the seams."
One estimate is that so much extra cargo is filling up area warehouses that the average 5 to 7-percent vacancy has been reduced to about 1 percent.
But the news is not all bad for everybody. In a June 11 press release the Port of Los Angeles reported it had moved 828,662 20-foot equivalent units in May, making it the busiest May in its 112-year history.
"I'm extremely pleased with another record month of throughput," Port of Los Angeles Executive Director Gene Seroka said in the release. "As we prepare for our traditional peak shipping season in the months ahead, we're closely monitoring global trade tensions that have created heightened unpredictability."
Sources: Autonews, Transport Topics, SafeHaven, DC Velocity
Tagged Under:
Autonomous Trucks
Driver Solutions
Self-Driving Vehicles
The Economy And Politics
Truckers Technology
Trucking Industry Concerns