Friday Short Haul - Thinking electric, Penske opens charging station, border crossing crisis, railroads taking trucking business
Last Updated: Thu, April 25, 2019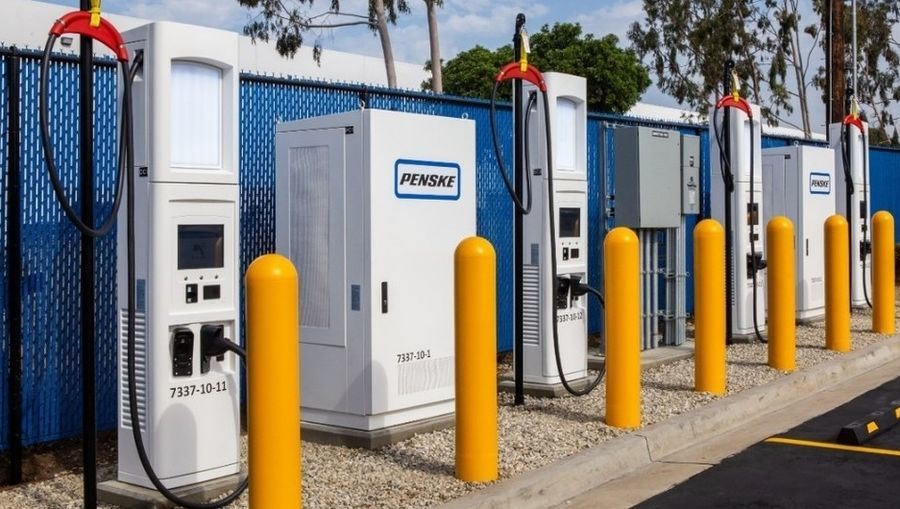 Trucking companies urged to begin thinking about going electric
One topic that got attendees' attention at the recent Advanced Clean Transportation Expo in Long Beach was the idea that regional trucking companies need to begin looking at electric trucks.
"If you don't look toward the future, all of a sudden, your business goes away," said Amanda Phillips, general manager of OEM sales at Meritor, as reported in Transport Topics.
Industry experts suggest that entry into electric vehicle freight hauling is easier for regional freight companies because the current limited range of electric vehicles wouldn't be as much of an issue.
It was discussed that small fleets and independent owner-operators are reluctant to embrace this new zero-emission technology. But it is believed they will come along as the technology develops.
Truck manufacturing giant Daimler Trucks North America, maker of Freightliner trucks, is a forerunner in the zero-emissions technology with its hydrogen-powered and electric trucks. It has more than 30 trucking firms participating in its advisory council exploring electric trucks.
"We have a ton of interest throughout our regions," Greg Treinen, a sales and marketing manager at Daimler Trucks North America told Transport Topics. "They've already done a lot of the homework and want to get the ball rolling."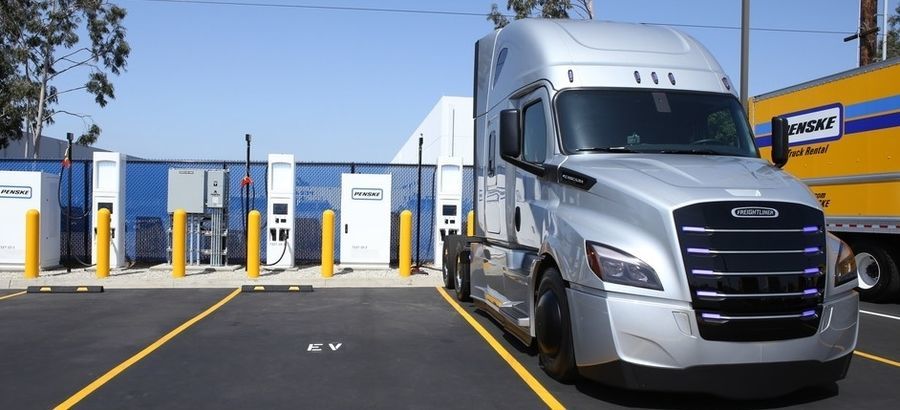 Penske opens electric charging stations in Southern California
Penske Truck Leasing, which has light-duty, medium-duty and heavy-duty commercial electric trucks in its fleet, has opened 14 high-speed charging stations in four locations in Southern California.
Penske expects to add six more stations in the near future. The company believes these are the first DC fast charging stations in the United States designed specifically for heavy-duty commercial electric vehicles.
Daimler Trucks North America had its class 8 Freightliner eCascadia on hand at Penske's La Mirada facility Wednesday to charge up for a demonstration during a ribbon-cutting as part of the Advanced Clean Transportation Expo.
The chargers are installed in Penske leasing facilities in San Diego, Chino, Anaheim and La Mirada. The facilities offer 50-kW to 150-kW chargers which connect directly to the truck's battery charging system. And Penske claims that an all-electric class 8 truck can be recharged from zero to fully recharged in less than a half a shift.
Border crossing crisis may soon impact fruit and produce prices
The U.S. Department of Agriculture estimates that 43 percent of all fruit and vegetables consumed in America comes from Mexico. And, normally the process of getting quality produce from Mexican farms to America's tables in a timely manner is a smoothly oiled machine.
But the ongoing delays at the border crossings with Mexico are throwing a monkey wrench into the gears of the machine, throttling the supply of produce coming across; and, because of the delays, much of the produce is riper than stores and consumers are accustomed to.
Industry watchers say that these issues may cause Americans to see higher prices for fruits and vegetables.
One distributor, Amore Produce, located just 20 miles from the border, told Fox News they have less produce than normal and they cannot make their usual deliveries of fresh produce to the 10 states they deliver to like Florida, Maryland, New York, New Jersey and Colorado.
Another distributor, Marabella Produce, said they have to throw out produce that they do get because by the time it would make it to the grocery store shelves it would be spoiled.
Marabella owner Alejandro Knight told Fox News that Mexican growers are holding back produce until the border crossing situation eases.
Salavador Contreras, an economist with the University of Texas Rio Grande Valley, said, "It's going to be felt at the grocery stores when we start paying more for limes and our avocados at the grocery store."
He added that the U.S. economy is affected by reducing the number of border agents and reducing the number of lanes open to cross. "It's been estimated that staffing one to three additional booths increases U.S. GDP by $2 million and adds roughly 33 additional jobs," Contreras told Fox News.
"So, trade flows are very important for the U.S. economy. They have a big impact on the U.S. economy. And if we reduce the number of agents at customs and increase the wait times, then that would have the opposite effect of reducing U.S. GDP and then reducing U.S. jobs."

Rail carriers taking advantage of truck driver shortage
The truck driver shortage, which has caused carriers to increase driver salaries, fight capacity woes, and which has resulted in increasing freight rates, has boosted the bottom line for their competition in the rail freight industry.
Loadstar reported recently that the biggest rail operators are struggling to increase their intermodal volumes, but they had been gaining by acquiring freight business that had normally been assigned to trucking companies.
In the Loadstar article, chief executive of CSX James Foote told investors that "every day" the carrier was winning new business from the trucking sector.
"In the past, they may have given 60 percent of volumes to rail and 40 percent to road, because they didn't trust the reliability of the railroad to get their products across to market," Foote said.
Some industry watchers attribute rail's success at taking business from the truck industry to the newly enforced mandate for all drivers to use electronic logging devices; which has impacted costs and contributed to less carrier production.
They recognize that in the past shippers would look to rail service because of circumstances like weather, changes in the economy, fuel prices, strikes and the ups and downs of a driver shortage. But patterns would cycle back and forth, with shippers often returning to the truck carriers.
However, they say now that because of the ELD mandate that cycling might end and many shippers may not end their conversion to rail and return to truck shipping.
In a recent report, the FMCSA noted that ELDs have been successful in improving truck driver compliance with hours of service, but the downside for carriers has been a decrease in trucking capacity. So the era of trucking to rail and back to trucking again might be over as trucking companies are unable to compete with rail freight rates and capacity.
"This is the first time we've gone through a cycle where we've had ELDs in place, meaning everyone has to follow the hours of service rules, so we're seeing what happens when there's just not enough capacity to meet all the demand," Jim Filter, senior vice president and general manager of intermodal for Schneider told Supply Chain Dive. "I don't think carriers will be able to drop their rates as they did in the past, so we won't see those big swings where rates crashed and we converted back to over the road."
Schneider reported a 3-percent to 6-percent decrease in productivity when the carrier began using ELDs in 2010.
So the rail services are taking up the slack, and it just might not return back to truck services.
Sources: Transport Topics, PRNewswire, Fox News, The Load Star, Supply Chain Dive
Tagged Under:
Electric Semi
Electronic Logbooks
Hours Of Service
Regional Jobs
Schneider National
Truckers Technology
Trucking Industry Concerns