WIT announces first-ever Driver Ambassador, names February Member of the Month
Last Updated: Wed, February 5, 2020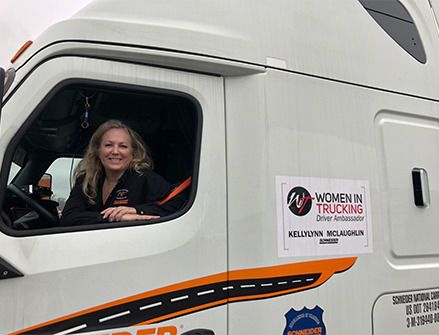 Kellylynn McLaughlin named WIT's Driver Ambassador (Source: WIT)
Kellylynn McLaughlin, a driver and training engineer for Schneider National, has been named as Women In Trucking Association's first ambassador in its just-launched Driver Ambassador program.
During her tenure as ambassador McLaughlin will be busy spreading the message to encourage more women into the trucking industry.
Among her activities will be speaking at trade shows outside of the traditional trucking industry, and speaking at driving schools, associations and other industry events.
Stories of her life on the road driving for Schneider will come alive in a blog that she will maintain, in addition to the media interviews that she will conduct. Legislators, regulators and the media will be invited to join her on rides.
A later phase of the program will find her hauling a WIT-branded trailer that showcases a video promoting trucking for women, as well as exhibiting educational resources and success stories of women in the industry.
"Trucking is an incredibly rewarding career, and there is so much opportunity, especially for women," said McLaughlin in a WIT news release. "As the Women In Trucking Driver Ambassador, it is my mission to effect change in this industry in a positive way for women and for men — for every driver."
McLaughlin jumped right in to her new position as ambassador on Tuesday as she appeared at Central Tech Truck Driver Training Program, a diesel mechanic and CDL training school in Drumright, Oklahoma. The WIT Driver Ambassador program will be managed by WIT Vice President Debbie Sparks.
"This program gives a voice to the women behind the wheel and the opportunity to share their stories of how they were called to drive," said Sparks. "Amplifying their voices will allow us to further the WIT mission and attract more women to our great industry."
According to the WIT news release, the purpose of the program is to "raise awareness of the non-profit association's mission, promote the career opportunities women have in trucking, celebrate their accomplishments, remove obstacles female truck drivers face, and increase membership for the organization."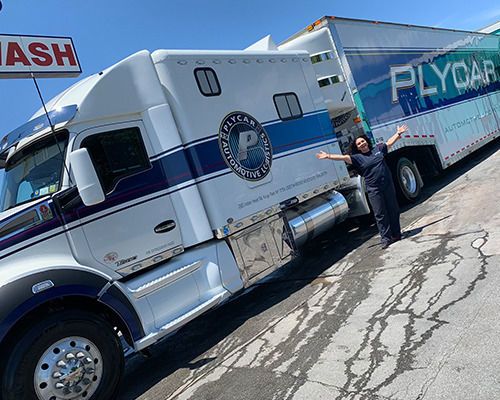 Jacinda Duran named WIT's November Member of the Month (Source: WIT)
Plycar Transportation driver named WIT's February Member of the Month
Jacinda Duran, a driver for Plycar Transportation, is named WIT's February Member of the Month.
Duran has a pedigree that seems to have custom-designed her for a driving career. She follows in the footsteps of two generations of truck drivers in her family. As a youth, Duran accompanied her mother, who was a professional truck driver for 23 years. While her father drove dump trucks and cement trucks.
Duran's grandmother hauled produce in California for more than 50 years, and her grandfather was a truck driver in the 1950s.
Claiming it was inevitable that she enter the trucking industry too, Duran entered the logistics field working for FedEx Express as a courier, and began driving big rigs in 2014. She gained experience driving limos, buses, charter buses and everything in between.
She caught the attention of Plycar Transportation recruiters when they saw her social media page called Jacinda Lady Trucking. Plycar, based in Kings Park, New York, transports unique, one-of-a-kind cars, and they recognized that her passion for trucking would be a great fit for their elite trucking team.
She underwent a six-week training program learning how to transport, load and unload Plycar's high-end cargo, and became the company's first solo female driver.
Her routes have seen her driving from coast to coast, and in all 48 contiguous states. She says she enjoys the freedom of her job and vows to make "every day an adventure and continues to explore this great country."
"I stay out on the road for a long period of time, living in my truck. I get to travel the country, seeing friends, making new friends and living the best life out on the road. I am blessed and thank God every day for my health, my life and my blessings," said Duran.
She has two children; a daughter in nursing school at Northern Arizona University, and a son who is a cadet in the United States Air Force Academy, going for a degree in Aero Engineering.
Women in Trucking is accepting nominations for their award to be given to a Female Driver of the Year. The nomination period ends February 15. See more information at
WIT and Walmart seek nominations for Female Driver of the Year
.
Tagged Under:
Becoming A Truck Driver
Changing Careers
Schneider National
Women In Trucking