HOS rules relaxed for COVID-19 relief effort
Last Updated: Mon, March 16, 2020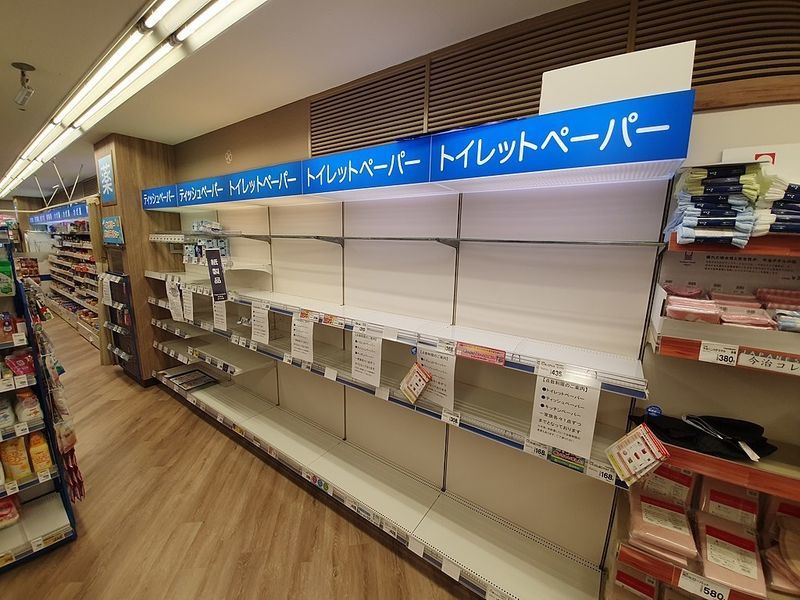 The caption for this photo of an Asian market out of toilet paper explained that a rumor spread that all the paper products would disappear because of paper being used to make masks. Similar empty shelves are appearing in stores across the United States.
On Friday, in answer to President Trump's declaration of a national emergency over the COVID-19 outbreak, the Federal Motor Carrier Safety Administration has announced a nationwide exemption to hours of service rules for truckers transporting essential supplies, equipment and persons in support of relief efforts.
The FMCSA declaration is titled, "Emergency Declaration Under 49 CFR §390.23," and is addressed to "The Fifty United States of America and the District of Columbia."
"Because of the decisive leadership of President Trump and Secretary Chao, this declaration will help America's commercial drivers get these critical goods to impacted areas faster and more efficiently," said FMCSA Acting Administrator Jim Mullen in a news release dated Friday.
"FMCSA is continuing to closely monitor the coronavirus outbreak and stands ready to use its authority to protect the health and safety of the American people," he added.
The emergency declaration was deemed necessary in order to ensure adequate and prompt provisioning of equipment and supplies to emergency service provides. It is reported that hospitals are running low on supplies of medical masks, and hand sanitizer, for example.
Also of concern is replenishing stores of low or non-existing stocks of goods like bottled water and toilet paper where shelves were wiped clean.
The FMCSA regularly relaxes HOS rules regionally in reaction to local disasters like hurricanes, flooding, etc., but this is the first-ever all-states exemption to HOS rules encompassing all commercial carriers, throughout all of the United States.
The full text of the emergency declaration can be downloaded as a PDF from the FMCSA's website.
To qualify for the HOS exemptions drivers must be engaged in providing direct assistance in support of relief efforts related to COVID-19. And that direct assistance is defined as providing supplies, equipment or persons necessary for the immediate restoration of essential services such as medical care or essential supplies of food.
According to the emergency declaration, essential transportation in support of the COVID-19 outbreak include:
Medical supplies and equipment related to the testing, diagnosis and treatment of COVID-19
Supplies and equipment necessary for community safety, sanitation, and prevention of community transmission of COVID-19 such as masks, gloves, hand sanitizer, soap and disinfectants
Food for emergency restocking of stores
Equipment, supplies and persons necessary to establish and manage temporary housing, quarantine, and isolation facilities related to COVID-19
Persons designated by Federal, State or local authorities for medical, isolation, or quarantine purposes
Persons necessary to provide other medical or emergency services, the supply of which may be affected by the COVID-19 response
Not included in the emergency declaration are routine commercial deliveries, or transportation of mixed loads that include essential supplies, equipment and persons, along with supplies, equipment and persons that are not being transported in support of emergency relief efforts related to the COVID-19 outbreaks.
Drivers engaged in activities that earn the exemption will revert back to regular HOS rules when they transport cargo that is not in support of the emergency relief effort, as in when the driver is dispatched to another location to begin operations in general commerce.
An exception to this termination of the exemption is that drivers may return empty to their terminal or to their normal work reporting location. But once at that location drivers must be given a minimum of 10 hours off duty.
Drivers engaged in relief transportation must also be allowed 10 hours off duty upon informing their carriers that they need immediate rest.
The emergency declaration applies only to HOS rules and does not include any exemptions from controlled substances and alcohol use and testing requirements, the commercial driver's license requirements, the financial responsibility (insurance) requirements, the hazardous material regulations, applicable size and weight requirements, or any other portion of the regulations not specifically exempted under the HOS rules.
Commercial carriers and drivers under out-of-service orders are not eligible for the relief HOS exemptions unless they have met the requirements for reinstatement by the FMCSA.
This emergency declaration is effective immediately and will be in effect until midnight April 12, or until the emergency ends; whichever occurs sooner.
Sources: FMCSA, FMCSA News Release, Wall Street Journal
Tagged Under:
FMCSA
Hours Of Service
The Economy And Politics
Trucking Industry Concerns
Trucking News
Understanding The Laws