Friday Short Haul - U.S. Xpress report, DRIVE Safe Act, Illegals
Last Updated: Fri, March 12, 2021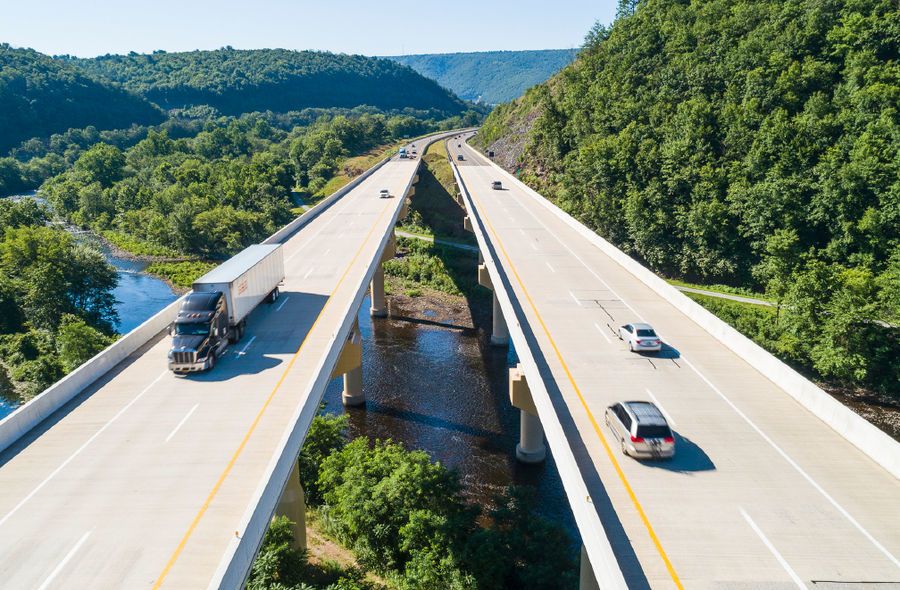 U.S. Xpress gets behind $2 million insurance premium minimum
In its report titled, "Safe Trucking Report: March 2021" major carrier U.S. Xpress says that 76 percent of U.S. adults agree or strongly agree the government should increase the minimum amount of liability insurance for trucking companies operating tractor trailers to $2 million.

The report starts out by stating that trucking is a very fragmented industry, with even the biggest carriers making up a small percentage of the market share.
"And while large carriers like U.S. Xpress have tech-enabled trucks, robust driver development programs and strict safety policies, many smaller companies simply don't have the same resources," the report stated.
U.S. Xpress says that the current minimum required liability insurance for commercial trucks of only $750,000 hasn't changed in nearly 40 years. But the cost of catastrophic accidents are spiraling these days into the millions of dollars.
In the report, U.S. Xpress states that for years it has maintained insurance above the minimum, but that in the fragmented trucking industry there are thousands of small carriers who still insure at the minimum levels.
U.S. Xpress says it has maintained insurance above the Department of Transportation-required minimums for years to ensure its drivers and those sharing the road are protected. But in such a large and fragmented industry, there are thousands of small carriers who are insuring at bare minimum levels.
"That's why there's a movement and support in Washington, D.C. to increase trucking company insurance minimums to $2 million," the report stated.
The company admits that more than doubling the insurance minimum would create a hardship for smaller carriers, and may even put some of them out of business, but U.S. Xpress leadership believes it would be for the greater good.
"If a carrier can't afford premiums on a $2 million insurance policy, you might question whether it should be operating a trucking company," says U.S. Xpress Chief Legal Officer Nathan Harwell.
Harwell believes that shippers should be in favor of the increased minimum as well.
"Customers want to work with safety-conscious carriers who are true partners in their business," he says. "Shippers are becoming increasingly sophisticated and want a similarly sophisticated carrier partner. That's a value proposition U.S. Xpress offers."
Interstate driving for under-21 drivers is introduced into 117th Congress
American Trucking Associations' truck driver shortage analysis from 2019 projects that in the next decade the trucking industry will need to hire about 1.1 million new drivers, an average of about 110,000 a year, to meet the demand from the aging of the truck driver population and the expected increase in freight.
ATA has long been outspoken in its belief that the federal ban on under-21 drivers driving interstate has been "a major impediment to recruitment, as local in-state routes are generally reserved for seniority."
That's why the ATA applauds that the DRIVE Safe Act has been introduced into the 117th Congress by a bipartisan group of legislators in both the U.S. House of Representatives and in the U.S. Senate.
In its news release supporting the legislation, ATA said that the Act would expand job opportunities for younger members, while at the same time strengthening safety training and technology safeguards for younger drivers wanting to enter into interstate commerce.
"This bill has strong, bipartisan backing because it's both common sense and pro-safety," said ATA President and CEO Chris Spear.
"It raises the bar for training standards and safety technology far above what is asked of the thousands of under-21 drivers who are already legally driving commercial vehicles in 49 states today.
"The DRIVE Safe Act is not a path to allow every young person to drive across state lines, but it envisions creating a safety-centered process for identifying, training and empowering the safest, most responsible 18- to 20-year-olds to more fully participate in our industry. It will create enormous opportunities for countless Americans seeking a high-paying profession without the debt burden that comes with a four-year degree."
ATA says that even though 49 states allow under-21 drivers to obtain a CDL and drive within their states, federal restrictions have prohibited them from crossing state lines. This regulation makes the driver shortage worse and sends potential driver candidates to other industries instead.
The DRIVE Safe Act would allow under-21 CDL holders to participate in an apprenticeship program in order to master interstate driving.
It would work by putting under-21 CDL holders through a two-step program, including requiring them to complete at least 400 hours of on-duty time and 240 hours of driving time in the cab with an experience driver.
"All trucks used for training in the program must be equipped with advanced safety technology including active braking collision mitigation systems, video event capture and a speed governor set at 65 miles per hour or less. Only once all these benchmarks are successfully met will the candidate be permitted to cross state lines," ATA stated.
ATA says that a coalition of almost 90 companies and trade associations in the industry, including manufacturing, agriculture, retail and restaurants, have long supported the proposed under-21 legislation.
"The DRIVE-Safe Act comes at a time when the national economy is reeling from pandemic-related job losses," said Mark S. Allen, President and CEO of the International Foodservice Distributors Association.
"At the same time, the pandemic highlighted how essential professional drivers are to our everyday life, increasing the demand for this specific kind of job. The DRIVE-Safe Act will hasten our economic recovery by providing an opportunity for new drivers to enter the workforce while reinforcing a culture of safety far and above current standards."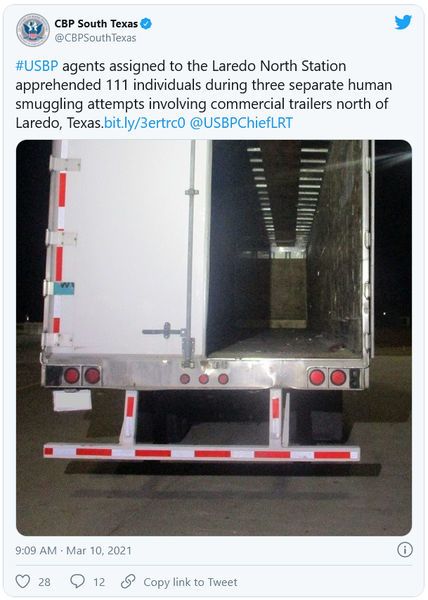 Human smugglers taking advantage of open border "Welcome mat"
Taking advantage of the administrations open-borders policy it appears that human smugglers are now streaming across the southern border with illegals packed into the trailers of semi rigs.
In three latest operations beginning March 8, U.S. Border Patrol agents caught smugglers in three attempts north of Laredo, Texas. Altogether some 111 individuals were arrested. None of the illegals were wearing protection against the virus.
On March 8 a tractor-trailer at a checkpoint on I-35 failed a dog-sniff inspection, and 44 persons were found inside the trailer.
That same day, agents did a vehicle stop on a tanker on the west access road, and found 43 illegals.
On March 9, another tractor-trailer tried to make it past the I-35 checkpoint, and again a dog sniffed out 24 illegals hiding in the trailer.
The illegals were all medically screened and provided with protective equipment, and were then arrested. They were entering the United States illegally from Ecuador, El Salvador, Guatemala, Honduras and Mexico.
---
Dave Wickenhauser went on the road driving big rigs after retiring from 33 years in newspaper journalism. His trucking novel, "Crimson Highway" the first in the Hugh Mann series, is available as an Amazon paperback, and as an Amazon Kindle ebook.
Sources: PRNewsWire, U.S Xpress report, CDL Life
Tagged Under:
Changing Careers
Company Trainers
Truck Driver Training
Truckers Technology
Trucking Industry Concerns
US Xpress Transport