Predictive hiring assessments becoming popular recruiting tool. But will it cure turnover?
Last Updated: Sun, December 6, 2020
It's not exactly a trade secret that trucking companies want their recruiters to find them the best, most-qualified drivers. After all, it's in everybody's best interest for a carrier's drivers to be able to safely and efficiently move freight from Point A to Point B.
Many trucking companies are realizing, however, that technical know-how, driving skills, even an excellent safety record, do not necessarily indicate that a driver employee is the best fit for their companies.
And, with it being a given that drivers must be qualified to do their job in the first place, "best fit" these days for many carriers means a driver who won't leave the carrier after a year in order to chase down a sign-on bonus with another carrier.
There is much talk about a driver shortage, but many say that it is really a driver turnover problem that averages 80 percent to 90 percent within the industry. That's a lot of money spent every year – some estimates are about $9 billion -- by carriers in orientation and training of new drivers, and it's a lot of incentive to figure out a way to keep those drivers longer.
"We've been hiring drivers the same way for the last 25 years: screening drivers based on qualifications, hiring drivers based on qualifications," T.J. Graff, director of driver development at TTJ Recruiting, told FleetOwner in a recent online article. "And we know that that hasn't worked, because we're still maintaining that 75 to 125% driver turnover."
To find drivers who are the best fit for their trucking firms -- meaning qualified drivers who will stay with them longer -- recruiters are now turning to a hiring practice called predictive hiring – hiring based on the results of a behavior assessment test.
Predictive hiring tests are also called predictive behavior assessments; which to the layman are more simply called personality tests. It's similar to the predictive technology using on-board telematics, but applies to drivers even before they are hired.
Carriers are especially enthusiastic about this new way of evaluating driver applicants as the driver pool overall has shrunk because of the virus shut-down situation. Driving schools and state motor vehicle departments are simply not turning out new drivers this year as in years past.
One statistic is that the number of new commercial licenses being issued is down by 40 percent, making driver retention a vital necessity for carriers.
One company that offers its predictive hiring assessment service to trucking companies is JOBehavior of Gig Harbor, Washington.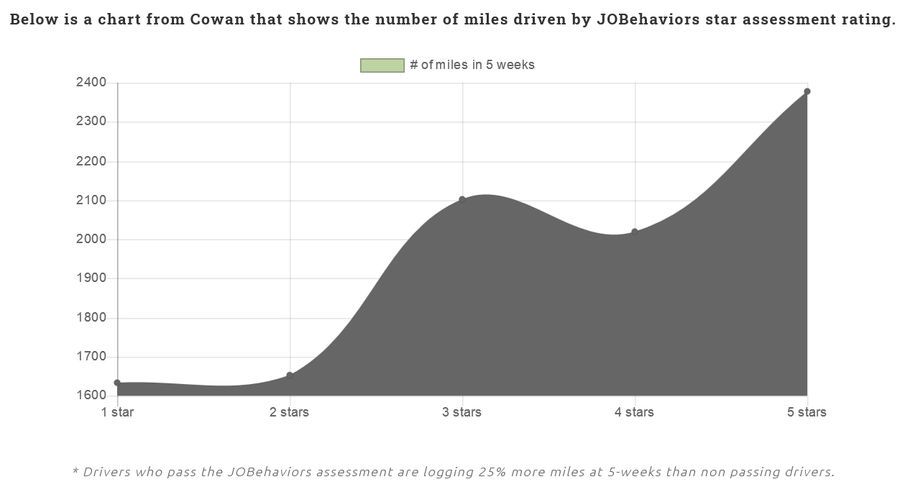 Their online test comprises 100 questions that should take a driver applicant about 10 minutes to complete. There are no right or wrong answers, and no passing or failing of the test.
But that's where the assessment comes in. The applicants' answers are compared to a JOBehavior database of answers from almost half a million drivers. The applicant is ranked from one star to five stars, with five stars being the best. The company can then use this ranking to predict what a driver's core values might be.
An example from the Fleet Owner article was of asking an applicant if it is more important to keep fuel levels high, or to arrive at a depot on time.
Evaluating the applicant's answer on just this one question alone does not lead to much understanding of whether the applicant is a good fit for the company. But, the answers to all of the questions overall, when churned through JOBehavior's algorithms gives a good picture to the carrier of what to expect from their prospective new driver.
The point to this kind of recruiting method is not to disparage "one-star" applicants, many of whom might have excellent driving skills.
JOBehavior founder, president and CEO, Mark Tinney, told FleetOwner that for one-stars, "It doesn't mean they have a bad personality, it doesn't mean that they're not intelligent. At the end of the day, it's a very strong indication that they wouldn't be terribly happy over the long term doing this kind of job."
On the other hand, Tinney told FleetOwner, "Drivers rated at the highest level act as an effective representative for the employer, maintain self-control in stressful situations, are patient at all times, come to work well-rested, focus on driving at all times, and make every effort to be the best job possible."
Statistically, about 50 percent of applicants fall into the one and two-star rankings, which JOBehaviors has discovered account for almost two-thirds of behaviors that fleets managers are wanting to avoid – missing shifts, poorly maintaining equipment, poor customer interactions, etc.
The upside is that the three to five-star applicants provide carriers the best return on their investment into drivers and equipment, with the result that those drivers are driving more miles and getting into fewer accidents.
For example, one fleet of 1,500 drivers that employs JOBehavior's predictive hiring service found that their drivers who passed the assessment were driving 25 percent more miles than those who did not pass.
So, does making hiring decisions based on predictive assessments improve driver retention? JOBehaviors things so.
Overall, according to Tinney, companies that hire the higher-ranking assessment-approved drivers experience retention that is two to three times better than the industry average.

What if you are faced with such a test? Can you fake it?
The flip side to carriers increasingly employing these predictive hiring assessments in their hiring practices is that it is becoming more likely that job-jumping drivers and new CDL holders will encounter one of these tests.
Many might feel this deep-dive into their personality is an invasion of privacy, or they might be afraid that their answers might scare away prospective employers.
The folks at Predictive Index, billed as a "talent optimization platform," caution against trying to "game" the system by attempting to fake answers to the test.
"As a job candidate, it's perfectly acceptable and recommended that you ask the employer questions related to the workplace culture or specific role that will give you a sense of the behaviors they are looking for," Predictive Index states on its website.
"Regardless of whether assessments are involved, asking these questions will help you better understand if you think the job is worth going after. It will also show the employer that you are truly interested in finding a good fit for all."
However, that's different than before taking the assessment trying to get ahead of the hiring companies' thinking about what they are looking for in an employee.
For example, hoping to fake the test by tailoring their answers applicants can study up on the hiring company's website, scour their social media platforms, carefully examine the job description, and even try to find employees in the same position to pick their brains for details about what the company likes in an employee.
The problem with that approach, Predictive Index states, is that, "Yay! You passed the test. Now what? Well, now you don't know if the employer accepted you because of your amazing dishonest results, or maybe your attempt to fake the test was foiled and the results are accurate."
Bottom line is people who have "gamed" the system have put themselves into a job with a company that they are not ideally suited for. In other words, they actually should be in that one or two-star category of drivers that aren't a good fit for a carrier.
"The last thing you want is to be in a role that you are not a good fit for in the first place," Predictive Index stated.
"If you game the test, you're gaming yourself. The best advice for taking a personality test is to not overthink it and be yourself. And, regardless of the outcome, don't be afraid to ask for the results. Although the employer may not be obligated to show you, if you do get your hands on them, you will gain a little self-awareness."
Sources: Fleet Owner, JOBehaviors, Predictive Index
Tagged Under:
Becoming A Truck Driver
Choosing A Trucking Company
First Truck Driving Job
Pre-Employment Screening Program
Recruiter Issues