Female drivers are safer bet for trucking companies
Last Updated: Mon, September 30, 2019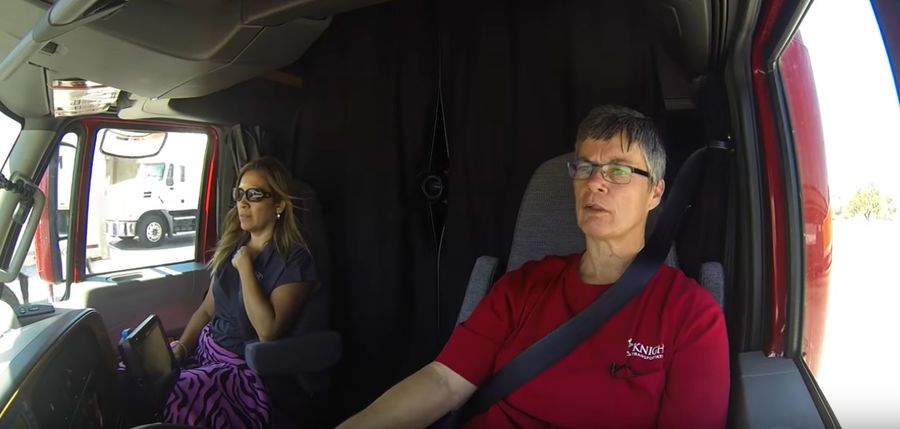 Carriers hoping to ease the driver-shortage burden would be well-served to look at what it would take to recruit more women drivers.
And, from the latest survey co-partnered by FreightWaves and Women in Trucking, that's what it appears trucking companies are doing.
The number of female over-the-road drivers reportedly working this year compared to last year has increased by almost 30 percent – from 7.89 percent to 10 percent.
Besides filling drivers' seats, carriers are benefiting from an added bonus by hiring women – it appears that they are safer drivers than their male counterparts in most categories.
The American Transportation Research Institute released some interesting and surprising statistics following compilation of data from its 62-page 2018 study titled, "Predicting Truck Crash Involvement: 2018 Update."
The study was conducted over a two-year time frame, and collected data from 435,000 truck drivers. It found that there were almost a dozen behaviors that raised a driver's risk of being involved in a crash by more than 50 percent.
ATRI doesn't claim to have a crystal ball that can predict the how and when of the likelihood of a big-rig truck crash occurring. But they did discover some interesting statistics pointing to the fact that male drivers were always more likely than female drivers to have a specific conviction for violations which indicates the likelihood of being involved in an accident.
For those who are interested in digging into detailed statistics about all factors predicting crashes, not just gender, the entire report is available on the ATRI website. It is downloadable by filling in a non-intrusive online form.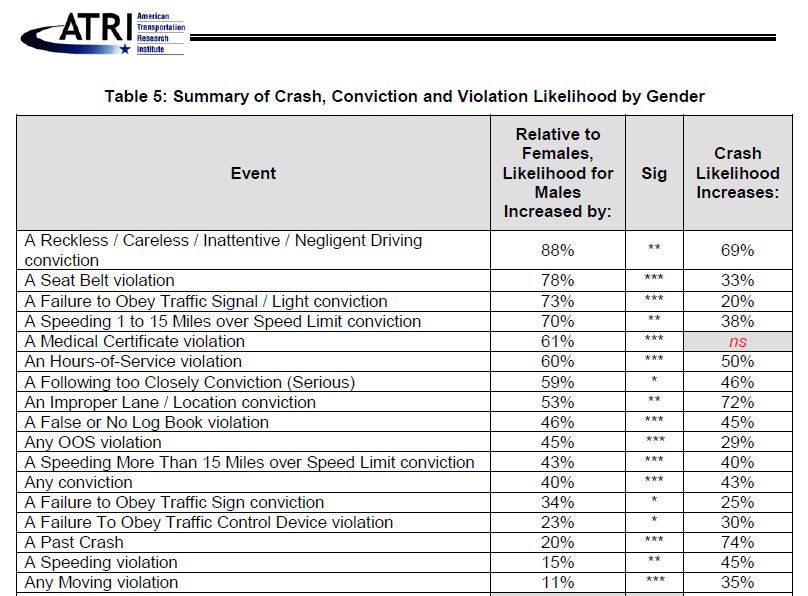 ATRI found that there were statistically significant relationships between the likelihood of a crash and the numbers of moving-violation convictions … all areas led by men.
For example, men were 88 percent more likely to have a conviction for reckless, careless, inattentive or negligent driving than women.
Men led in the area, as well, for failure to obey a traffic signal or light, and speeding 1 to 15 miles per hour over the limit – 73 percent more likely than women for failure to obey traffic signals or lights, and 70 percent more likely than women to have a speeding conviction.
Furthermore, men were 40 percent more likely than women to have been convicted of any offense.
Seat belt violations, medical certificate violations and hours of service violations were more prominent with men than with women. Seat belt violations are associated with a 33-percent increase in future crash probability, and HOS violations predict a 50-percent increase in future crashes for men over women.
In the study men were found to be 45 percent more likely than women to have an out-of-service violation, and 11 percent more likely to have a moving violation.
Overall, male drivers were 20 percent more likely to be involved in a crash than female drivers.
Interestingly, although a statistical difference held true between male and female drivers in the areas of moving violations and such, there was no statistically important difference between men and women in the area of size and weight violations – 11.18 percent for men, and 10.37 percent for women.
And, generally, the top two behaviors predicting an increased likelihood of a future crash across all categories, not just gender, were reckless driving (114 percent) and failure to yield the right of way (101 percent). Not surprisingly, having had a prior crash means the driver is 74 percent more likely to become involved in a future crash.
The report summed up the benefit to carriers of hiring women drivers:
"The gender analysis findings can guide motor carriers in gender-specific training to better address problematic driver behaviors. Furthermore, the gender analysis findings demonstrate the value of industry efforts to recruit and retain more female truck drivers. Continuing to make the truck driving profession more accessible to women has the potential to improve industry safety as well as mitigate the impacts of the driver shortage."
The report concluded the gender section by stating that recruiters should emphasize their wages and benefits, that they have female trainers, have safe equipment and offer adequate home time, along with emphasizing their team-driving programs if they have one.
The ATRI study also found a correlation between fewer truck crashes and a higher level of enforcement conducted by state highway agencies. Indiana tops that list, followed by New Mexico, Washington, California and Maryland.
Sources: ATRI, ATRI Crash Predictor, FreightWaves, FreightWaves
Tagged Under:
Driving Record Issues
Knight Transport
Trucking Accidents
Women In Trucking