Clearing up concerns about the drug and alcohol clearinghouse
Last Updated: Sat, August 31, 2019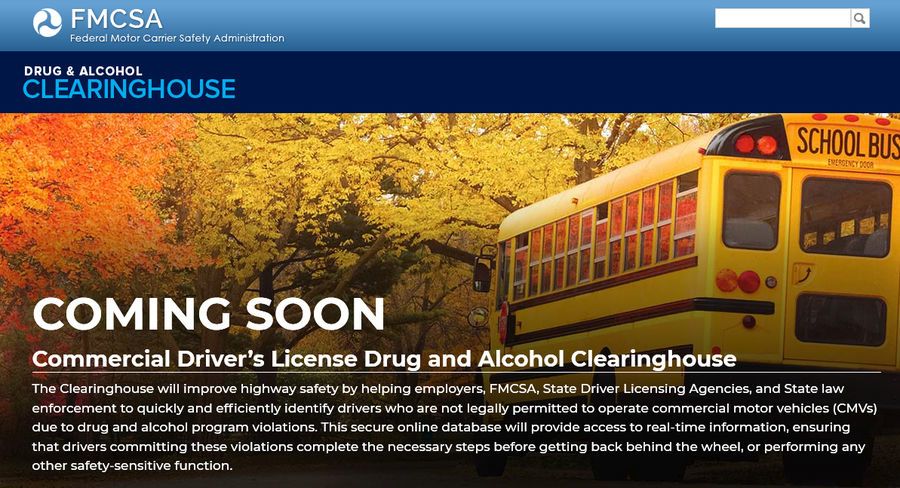 In March of this year Trucking Truth ran a comprehensive article about FMCSA's new drug and alcohol clearinghouse.
As the time to allow registering with the new clearinghouse approaches this fall, questions and concerns have begun to surface. Refer to the above-mentioned article for details about the clearinghouse itself, and read further in this article for answers to some of the questions and concerns that drivers and employers are having about the new program.
Background
By way of review: In short, the Federal Motor Carrier Safety Administration's Drug and Alcohol Clearinghouse is a secure online database that will allow FMCSA, CDL employers, state driver licensing agencies, and law enforcement officials to identify – in real-time – CDL drivers who have violated federal drug and alcohol testing program requirements.
Although registration at the clearinghouse will begin this fall for employers, the date set for making its use mandatory is January 6, 2020. That's when anyone employing drivers requiring a commercial driver's license, including CMV schools, must conduct both electronic queries within the clearinghouse, and manual inquiries with previous employers to cover the preceding three years.
Employers are still required to contact previous employers as well, but by 2023 the rule to contact previous employers will be phased out, and queries must be made exclusively through the online clearinghouse.
Other authorized users, besides employers and drivers, include third-party administrators, medical review officers, substance abuse professionals, state driver license agencies, and law enforcement personnel.
As its name suggests, the clearinghouse will be a catch-all for information accessible by all authorized parties regarding the drug and alcohol-based eligibility of a driver to drive with a commercial license.
Employers will be required to query the clearinghouse before hiring any new drivers, and must query at least once a year for all existing drivers. The system is geared toward preventing the situation where a driver would "job-shop" to a less-diligent carrier to avoid consequences of his or her drug or alcohol use.
There will be a $1.25 charge for each query by employers. Drivers may access their clearinghouse information at no charge.
FAQs
Q. If a driver has a drug and alcohol program violation in one State, then applies for a commercial driver's license in another State, will the clearinghouse be able to connect that driver's drug and alcohol violation history to the new CDL?

A. Yes. The clearinghouse will identify drivers who move frequently and obtain CDLs in different States and link those CDLs, in order to maintain complete and accurate information on such drivers.

Q. Will driver data be protected?

A. Clearinghouse information will not be available to the public; only authorized users will be able to register and access the clearinghouse for designated purposes.

The clearinghouse will require authentication, via a login.gov username and password, to access records. Login.gov, a shared service which offers secure online access to participating government systems, also requires the completion of a user verification process to ensure the proper person is using those credentials.

FMCSA will only share detailed drug and alcohol violation information with a prospective or current employer, and/or their designated consortium/third-party administrator, when an employer or designated C/TPA has requested and received specific consent from the driver. Drivers will be able to see the information that would be released to an employer before consenting to the release.

Q. Do drivers need to register for the clearinghouse?

A. No, and Yes.

No, drivers need not register for the clearinghouse if they are never asked for consent by an employer to do a full query.

Yes, drivers must register at the clearinghouse to give their consent for a prospective or current employer to do a full query.

And, Yes, if the driver wishes to review the information about himself or herself that is in the database.

Q. Will drivers be notified if/when information is added about them into the clearinghouse?

A. If drivers are already registered with the clearinghouse and information is added, revised or removed about them they will receive notice either by mail or email depending on the preferences they set during registration.

Drivers who are not already registered will receive notice by mail at the address that is on their commercial driver's license.

Q. Can drivers correct or challenge information about them in the database?

A. Yes, to a degree. Drivers can petition to correct information provided in the database, but cannot challenge the accuracy or validity of test results, or their refusal to submit to testing.

Q. Will there be retroactive information about drivers in the clearinghouse?

A. No. As long as previous violations have been resolved and the driver is in return-to-duty status only violations occurring after January 6, 2020, will appear in the database.

Q. What about abuse of the clearinghouse process by employers or others, like providing false information?

A. An employer or service agent who knowingly submits false information to the clearinghouse may be subject to criminal and/or civil penalties.

Q. Is there a time limit how long drug and alcohol violation information will be held in the database?

A. Driver violation records will be available in the clearinghouse for five years from the date of the violation determination, or until the violation is resolved through the successful completion of the return-to-duty process and follow-up testing plan, whichever is later.

Q. What about drivers running in the United States who are working for Mexican or Canadian carriers?

A. All Mexican or Canadian employers, employees, or service agents operating in the United States that are subject to the FMCSA drug and alcohol testing requirements must comply with the clearinghouse final rule, including reporting driver violations.

Q. What is the difference between a limited and a full query?

A. A limited query allows an employer to determine if an individual driver's clearinghouse record has any information about resolved or unresolved drug and alcohol program violations, but does not release any specific violation information contained in the driver's clearinghouse record.

Limited queries require only a general driver consent, which is obtained outside the clearinghouse; this general consent is not required on an annual basis, it may be effective for more than one year. However, the limited consent request must specify the timeframe the driver is providing consent for.

A full query allows the employer to see detailed information about any drug and alcohol program violations in a driver's clearinghouse record. An employer must obtain the driver's electronic consent in the clearinghouse prior to the release of detailed violation information during the full query.

Q. What's this about "consent?"

A. The rule states, "No employer may query the clearinghouse to determine whether a record exists for any particular driver without first obtaining that driver's written or electronic consent." The type of consent required depends on the type of query.

Q. I'm an independent owner-operator. Do I have to conduct a query on myself?

A. Yes. Anyone who employs a commercial driver's license holder must query the clearinghouse. This requirement includes owner-operators, who must comply with all clearinghouse requirements imposed on both employers and employees.

An owner-operator's designated consortium/third-party administrator may conduct queries on their behalf. However, the C/TPA is responsible for reporting drug and alcohol program violations to the clearinghouse for the owner-operator.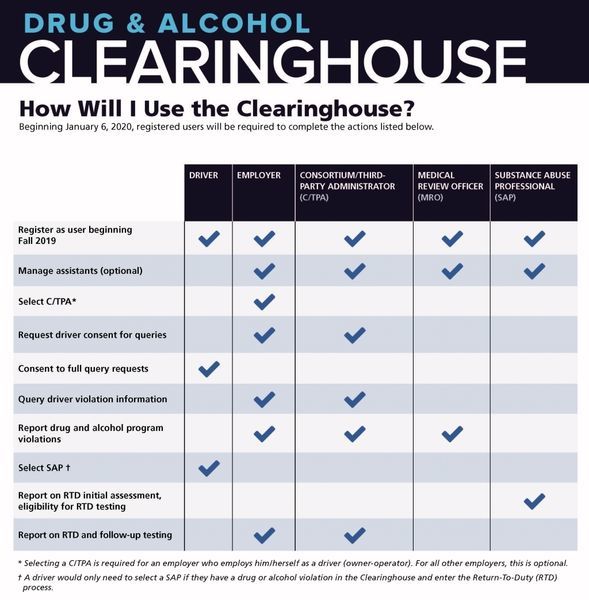 Sources: FMCSA, Clearinghouse website, FAQs
Tagged Under:
Background Checks
Becoming A Truck Driver
CDL Qualifications
Drug and Alcohol Testing
FMCSA
Foreign Drivers
Hair Follicle Drug Testing
Medical Certification
Pre-Employment Screening Program