Dwell and detention times begin to decrease post-virus
Last Updated: Tue, June 2, 2020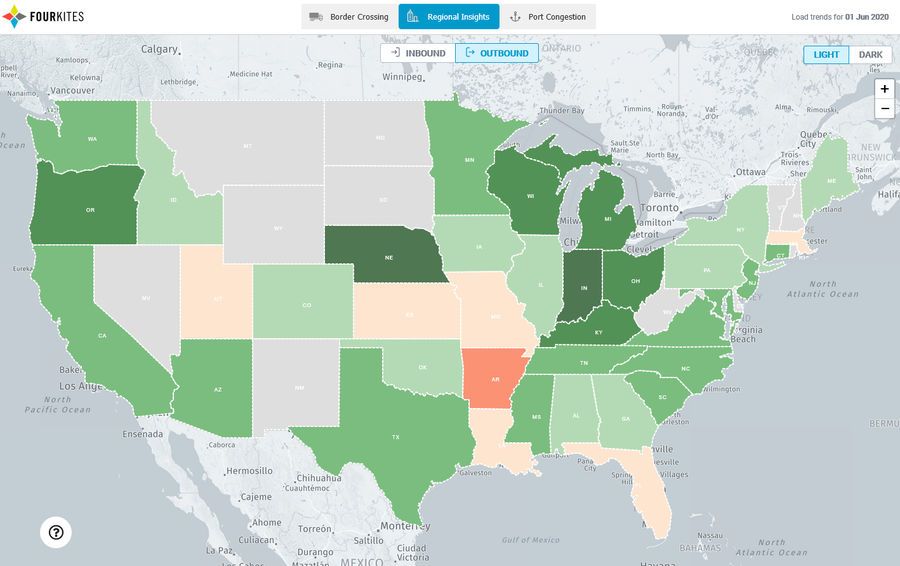 In this Fourkite interactive truck movement and dwell time map green shades indicate increased truck movements over a two week rolling average period, tan/orange shades indicate decreased truck movements, and gray indicates states where no data is available.
Interactive map --
Fourkites
As every driver knows who enters a shipper/receiver's facility with anything but a drop-and-hook load a certain dwell time is to be expected. The bane of drivers, however, is when that dwell time turns into detention time.
During the past few months of the virus crisis drivers said they were experiencing longer-than-normal detention times – sometimes 24 hours or more. But, now that the crisis has largely passed on in most locations, and panic buying has subsided, those detention times have begun to decrease.
As shippers and receivers adjust to the new post-virus way of doing things, more logistics workers are back on the job, and as freight volumes are increasing with the re-opening of states, drivers are reporting a drop in dwell times.
According to statistics provided by Fourkites in a JOC.com article, dwell times at pickup and delivery locations beginning about mid May were seen to be decreasing by 10 to 20 percent.
Glenn Koepke, vice president of network enablement at FourKites, said that in March demand dramatically increased for freight that was essential to combating the COVID-19 virus outbreaks.
"We heard of wait times as long as 24 hours," Koepke told JOC.com. "It was just, 'Get the truck to our facility and we'll unload it when we get to it.'"
But as April went into May businesses were able to make adjustments, he said. "Companies have had about six weeks to get their workforce in better alignment (with volumes), they've improved their driver check-in processes, and they've been able to minimize dwell."
This decrease in dwell times is not uniform across the nation, as states have re-opened at different times, and with varying degrees of accessibility.
An interactive map at Fourkites illustrates where businesses in some states have done a better job of reducing driver dwell time.
Truck movements and dwell times state by state
An interactive map at Fourkites.com tracks inbound and outbound truck movements and load times state by state, and at locations within each state within a two-week moving average – updated daily. The map also has similarly detailed information for border crossings and port operations.
The border crossing information is useful to truck drivers, but port operations details apply only to container vessels – the dwell times are measured in days, rather than in minutes or hours.
On the map, green indicates that truck movements are on the increase, and as of June 1 there are only a few states that maintain a decreasing status coming out of the virus-induced trucking slowdown.
Some of the states with the strongest increases in outbound truck movements include:
Indiana – 38.22%
Nebraska – 23.84%
Oregon – 14.39%
Michigan – 11.69%
Wisconsin – 10.72%
Kentucky – 10.52%
Ohio – 10.18%
States that are experiencing decreasing truck movements post-COVID include Utah, Kansas, Missouri, Louisiana, Florida and Massachusettes.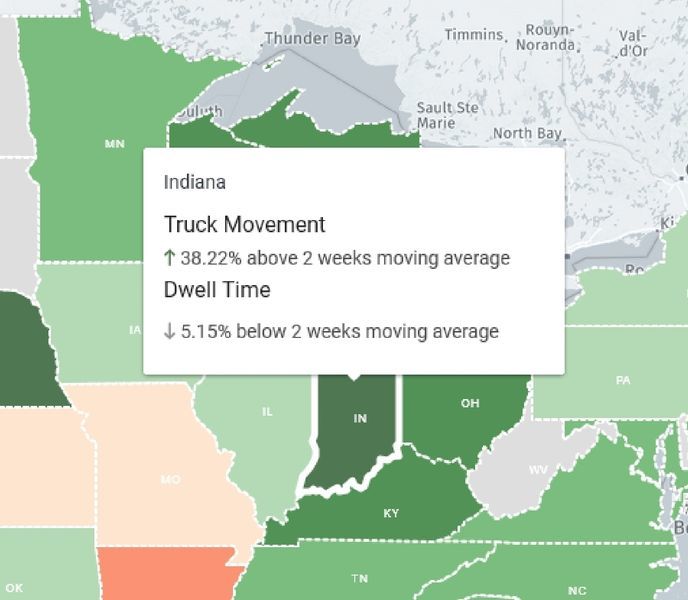 However, truck movements tell only part of the tale.
Considering dwell times in those states, drivers have shorter wait times to get loaded in Indiana by 5.15 percent, but are having to wait 14.35 percent longer as they get loaded in Oregon.
Nebraska shipping, which saw an increase in truck movements of nearly 24 percent, has seen a very slight decrease in dwell time of only a little over 1 percent.
Ohio, which posted a moderate truck movement increase of nearly 11 percent, saw dwell times increase by nearly 6 percent.
According to Fourkites, when truck movements are on the increase but dwell times are longer that means the facilities are getting congested in serving more than their usual number of trucks.
On the other hand, when truck movements increase and dwell times decrease those facilities are doing a good job in proactively serving customers despite increased business.
The leading states that show the greatest increases in inbound truck movements since the virus crisis began to abate are North and South Dakotas, New Mexico and Indiana, with numbers ranging from 35.68 percent for Indiana to 15.54 percent for New Mexico.
Border crossing wait times are much improved
Border crossing wait times; which recorded extremely long waits during the illegal immigration crisis last year, have improved dramatically. Drivers can use the Fourkites.com interactive map to determine what their wait times will be at United States border crossings with Canada and Mexico.
For example, at last year's heavily-congested U.S.-Mexico crossing at San Ysidro, on June 2 at 2:57 pm there was only a 4-minute wait crossing from the United States into Mexico, and no wait crossing back from Mexico into the United States.
Tagged Under:
Adverse Conditions
The Economy And Politics